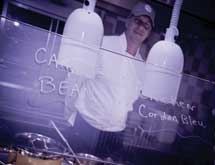 New York University Dining Services
In a location like New York City, it is no easy task for New York University (NYU) to offer its students a strong value in its meals. Owen Moore, assistant vice president for campus services, says the Dining Services program has to provide creative, quality products while managing the increasing costs of goods, labor and healthcare benefits.
"Those are rising very fast," he admits. "You're trying to manage these expenses without passing these costs to the customer and maintain a very good value."
However, by working diligently, NYU meets the challenge regularly, Moore says. Today, ARAMARK Corp. operates 14 locations on campus, including five residential dining halls, three retail locations, and four coffee and tea cafes. Additionally, NYU has a full catering operation. "We serve an average of about 10,000 meals a day," Moore says, adding that NYU has a population with 14,000 undergraduate students.
Quality-Focused
Moore, who came to NYU in 2004, has a strong background in hotels and restaurants. "[I have] 20 years of hospitality and 10 years of onsite foodservice management," he says, noting that he also worked in foodservice for the U.S. Air Force as a Hennessy traveller in 2007.
A factor in NYU's success, he notes, is a program the university started in 2005. That year, NYU focused on creating good experiences for first-year students with its products and services.
Additionally, the university obtained feedback from students on how it could improve its dining program. "The biggest thing students were looking for was quality food, quality service, [convenience], flexibility and value," he recalls. "Those were really the biggest drivers of our customers."
Adding Value
NYU's recent initiatives to add value include the opening of a new academic resource center on campus that features an Argo Tea shop. Founded in Chicago, the boutique tea concept sells beverages that are made from teas grown around the world.
Moore adds that another academic resource center also features a location for Burger Studio, an ARAMARK concept. At the eatery, students can create burgers via a touch screen kiosk and select from 30 toppings, cheeses and special sauces.
Attached to Burger Studio is another ARAMARK concept, P.O.D. Market, where students can purchase fresh to-go items, Moore says. "You can go order your burger, and while that is being created, you can do the rest of your shopping," he says.
NYU also recently added Lifeworks restaurant, which serves made-to-order sushi, salads, pizza, entrees and operates a gourmet deli. Additionally, Moore says, the restaurant has a guest series where local ethnic restaurants will serve items off their menu. The Indian and southwestern cuisines are extremely popular.
"[That keeps] the variety flowing in and out," he says, noting that NYU has won a positive reaction from students due to the variety of foods. "They're happy with the quality and ethnic flavors."
Preparing for Growth
Moore says NYU plans to build a 24-hour location in the next 18 months. "We're going to renovate a dining hall and a food court that are stacked on top of each other," he says, noting that the project also includes a gourmet convenience store that will focus on global flavors.
NYU also plans for the renovation of the remainder of its locations, which will begin this May, Moore says. "I would like to think that it would be [finished] at the earliest [by] fall 2013," he says. Moore notes that the first phase consists of a full kitchen renovation and the addition of a 1,500-square-foot store.
NYU also plans to follow the lead of other organizations by implementing a hospitality culture, Moore says. "Fif¬teen years ago, the philosophy was you really didn't want students hanging around a dining hall," he recalls.
"We actually [look] at the dining hall and retail locations as an extension of their living room," he asserts, noting that NYU looks at ways to make its dining areas into places where students can meet or study.