Food innovation
Whether to enhance employee satisfaction and productivity or create meaningful differentiation for a company, senior living community, healthcare provider, or independent school, NEXDINE Hospitality and its sister brands XENDELLA, Corfinity, and STREATS work together to provide the best possible dining and hospitality service experience
NEXDINE Hospitality (NEXDINE) believes that to create a unique and exciting dining experience, food must be made from scratch and have only the freshest, locally sourced ingredients. NEXDINE's integrated Wellness Program Live Forward and Corfinity's Fitness, Wellness, & Lifestyle Brand, combined with the adherence of the NEXDINE Culinary Commitments, ensure that every vegetable is peeled, sliced, and chopped, freezers are bare, every soup and sauce is made in-house, and wellness is part of the guest experience. NEXDINE's professionally trained chefs are empowered to create menus that reflect seasonal and regional availability, the latest in culinary trends, and the diversity of the customers it serves.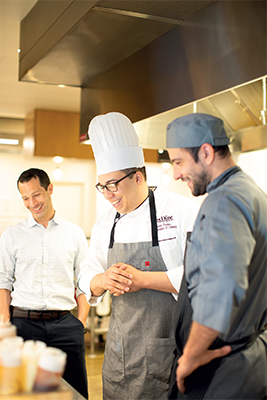 Furthermore, NEXDINE is the only dining service provider to offer a Jewish lifestyle brand. Through their collaborative approach, NEXDINE explores what Chai DiningSM can mean for their Jewish Senior Living Communities that celebrate Jewish tradition, life, and culture. The Chai Dining Brand ensures residents and guests can expect an experience steeped in Jewish tradition and values, operated by experts, and supported by an organization that is fully committed to the success of its strategic partnership. Fresh ingredients responsibly sourced with bold flavors take Bubbe's favorite recipes to an exciting, new level. NEXDINE reimagines Kosher dining as a culinary destination that rivals the finest restaurants. Utilizing its 'Dine Your Way' platform, it can track each resident's preferences to ensure 100 percent guest satisfaction every day. NEXDINE's residents and guests enjoy traditional events paired with kosher dining services. Combining Jewish tradition, life, culture, and dining experiences, NEXDINE is proud to pioneer the first Jewish lifestyle brand in the industry.
Holistic approach
NEXDINE's culinary mission is to empower its team to craft a dining experience that delights, nourishes, and promotes the well-being of its customers. To make this possible, the business is determined to balance great culinary traditions while embracing innovation and representing the highest professional standards of safety, efficiency, and fiduciary responsibility for its clients. In addition to that, NEXDINE honours the connection between food, the longevity of the planet, the welfare of communities, and sustainable practices at all levels of the organization, all while fostering the passion, creativity, and aspirations of its colleagues, which we dive into deeper detail further on.
NEXDINE takes a unique approach to managing its business by using technology to assist its operation. It relies on data from point-of-sale systems, customer surveys, and ordering platforms to help it craft an operation that works within its clients' needs. Through this, the company believes that technology can marry NEXDINE's approach to its people and the requirements of its customers.
Integrated platform
The reason the company is focused on technological innovation and partners with cloud-based platforms like Toast for its business and industry clients is to provide real time data on sales trends, menu, pricing, and payments. The company offers customers online ordering, self-checkout, mobile surveys, a mobile app, and many other tech-savvy applications that are currently in demand from their dining service partners.
Its strategy to deliver exemplary customer-centric service recently found the business being awarded a title in the 'Top Ten Food Service Management Companies' by CIO Coverage in 2021. Considering the turbulence that the global economy has faced over the past two years, trends and consumer habits have dramatically changed. For this transformation to be handled effectively, food tech organizations were required to adapt to market instability. As a premier food service provider, NEXDINE Hospitality is changing how the industry functions. The organization's easily adaptable, cost-effective solutions, along with its full operational and financial transparency enabled NEXDINE to rapidly replace the traditionally costly legacy systems.
Another example of its cutting-edge technology is CrunchTime, which allows companies to source items directly from vendors, manage their labor, and import sales data from a variety of point-of-sale systems. Since all of these tasks can be managed from one spot, there is the added advantage of time and capital saving. NEXDINE also introduced its meal suite-powered menu management program. By connecting forecasting, inventory management, menu planning, and production, recipe development, and nutritional content development, NEXDINE's completely integrated software platform optimizes foodservice outcomes, resulting in the benefit of both its clients and their end-users.
From the customer's perspective, having mobile ordering, self-checkout 24 hours a day, and desktop delivery capabilities in place allows the company to rapidly meet its customers' evolving needs.
Of course, this could not be achieved without the hard work of its colleagues, and NEXDINE takes great pride in a company culture that thrives on dedication to a successful career. The organization's leadership values its colleagues and understands that this very pool of extraordinary talent is the fundamental driving force behind NEXDINE's expansion and success. Its culture focuses on the empowerment of its colleagues, offering them a clear path for growth and progress.
Community work
A further demonstration of the company's passion for people can be seen in its commitment to giving back to the community, and recently, the company held its annual golf tournament, a primary fundraiser. This year, the business donated $50,000 to support the Paediatric Advanced Care Team, a nationally recognized palliative care service, and an additional $5000 to support the Suffolk University's food pantry, which helps students experiencing food insecurity.
NEXDINE and its sister brands, XENDELLA, Corfinity, and STREATS take quality service seriously in the hospitality industry. Whether it's Facility Management, bedside tablet order-taking in hospitals, mobile ordering, and 24-hour self-checkout functionality in retail operations, NEXDINE's state-of-the-art technology empowers consumers to customize their dining experience and subsequently encourages its team to offer the best. In the future, guests can look forward to tried and tested processes that allow their service to run smoothly and efficiently. With a perfect blend of innovation, technology, Wellness, Diverse Lifestyle Brands, and fresh seasonal cuisines, NEXDINE has established the combination for all levels of the hospitality sector.
www.NEXDINE.com