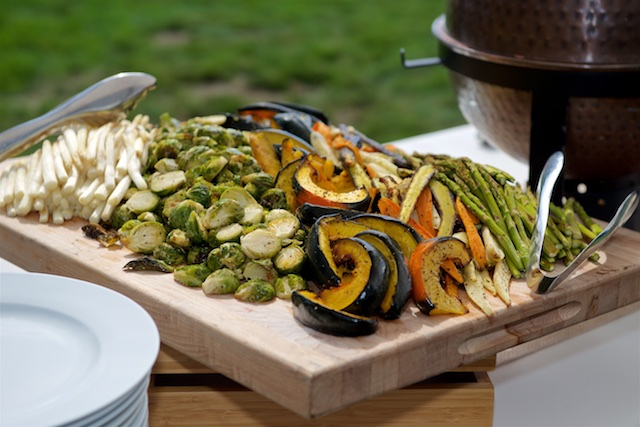 NexDine is expanding its focus on wellness with its new fitness division.
Some managers put buffers between themselves and their customers, but NexDine founder and CEO David Lanci likes to keep both sides close. "Customers tell me all the time they appreciate the fact that they can call me up directly," he says.
"I'm active in the business and I can make decisions that are right for them," he continues. "We look at what our customers' needs are and we build a program around them."
This focus has separated the Mansfield, Mass.-based foodservice company from its competitors. Lanci started NexDine with a partner 10 years ago, after gaining extensive experience in contract dining services and restaurants.
Although he once left the industry to sell software, he returned to form NexDine. "Dining and restaurant service is in my blood," he says, adding that NexDine serves a broad range of markets, including corporate dining, schools and colleges, healthcare, senior living communities, and catering and cultural venues.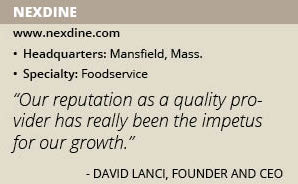 Today, NexDine has a customer base that includes General Electric, Stanley Black & Decker, and Estée Lauder, and expects to enjoy sales of more than $50 million in 2019. "We've been growing at 20 percent per year for the last five years," Lanci says.
"Our reputation as a quality provider has really been the impetus for our growth," he says, adding that this has helped it compete against the "Big Three" of foodservice. "That has appealed to many of our customers."
Doing it Better
Fresh ideas are an important focus for NexDine, which has undertaken several new initiatives, including the implementation of technology at the customer and employee engagement levels. "This is a significant differentiator for us in the marketplace," Lanci says.
For example, NexDine allows its customers to order food digitally and take a view of their own operations through traffic cameras. It also provides surveys that allow clients to tell what they think of the company's services through their mobile phones. "All of these initiatives enable us to consistently align our services with the needs of our clients and customers," he says.
This year, NexDine plans to continue implementing new technology. "We're about to implement back office systems for ordering, receiving and inventory," Lanci says, adding that it will also add a tool from CrunchTime! Information Systems.
"CrunchTime! is a great restaurant operator tool," he says, noting that it covers multiple aspects of the business, including cash management, inventory and even recipes. "All of which can be handled in one web-based platform that can really help us dial in and manage costs."
Fitness Focused
This April, NexDine will launch a new division, Fitness by NexDine, which will allow it to manage its clients' fitness centers. Many of NexDine's customers also have a fitness center in their facilities, Lanci says.
"Everyone else in our space talks about health and wellness, but they talk about it one-dimensionally," he says. "In our world of wellness, you can't eat yourself to a healthy lifestyle, nor can you out-exercise a bad diet."
If an employee at one of its clients' sites wants to lose 30 pounds, "we can put them on an exercise regime and diet," Lanci says, noting that the company will launch the division in April, at a location in Worcester, Mass.
NexDine's client, he notes, already has a fitness center at the location with equipment that includes treadmills. "We're going to take over managing it and integrate it directly with the cafe that we're operating there," Lanci says.
Sustainable Sources
NexDine also focuses on sustainable initiatives in its work. "We look at everything we buy, where we buy, and what happens to it before and after we use it," Lanci says. "The company was founded on that."
Thirty percent of its purchases, he adds, are made from sources within 200 miles of its facility. But the company does this for a reason far more important than being able to say NexDine is sustainable, Lanci asserts. "We do it for the economic impact of those local jobs," he says. "We always try to support local people."
Lanci adds that much of the produce that the company buys locally is superior to what NexDine can find anywhere else, particularly its tomatoes. "We have to buy those a lot," he says, noting that its larger competitors are more interested in cheaper, lesser quality products. "Our model is completely different from that."
The Very Best
Lanci takes pride in his people at NexDine. "No matter who you are in the organization, I demand people get treated with respect," he says, noting that this has helped keep the company's turnover rate lower than the industry average.
He sees a strong future for NexDine, which plans for growth. Today, "We're as far south as Baltimore," he says, adding that the company plans to be in the Raleigh-Durham/RTP market by the end of the year, and in Atlanta by 2022.
"We're going to grow geographically, based on our client requirements and needs, and continue to have a discerning eye for which clients we like to do business with," he says. "[We want] clients that want to have the very best of dining services in their operation.