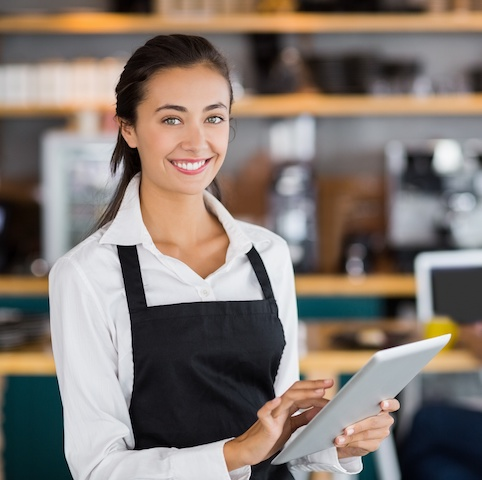 Increase table turns and reduce walk-outs with NextME.
Tired of losing guests due to long wait times? Thanks to a new app, called NextME, patrons no longer have to bother asking a frazzled host every few minutes if their table is ready. They can watch their progression in line right from their own phones, and stay engaged with access to menus, specials, and the restaurant's social media page.
In 2015, brothers John and James Yi launched NextME to help restaurants with no advance reservation policies manage their customer wait times. NextME not only eliminates the need for customers to carry expensive and clunky pagers, but also makes life easier for hosts who won't have to waste time yelling out customer names or trying to find wayward parties.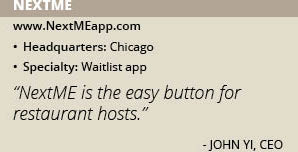 Many prominent Chicago-based restaurants, such as Lou Malnati's Pizzeria, now use the app, as do international chains like Le Pain Quotidien. All restaurant operators have to do is download the NextME app from the app store, then sign up using the name of the business, business phone number and email. Currently, NextME supports iOS devices, including iPhone, iPad and iPad mini.
"Think of us as OpenTable for walk-in reservations as opposed to advance reservations," CEO John Yi says. "We typically work with full-service restaurants like breakfast and brunch concepts who do not have a reservation policy. We built this mobile app for the host to use. It's a pure B2B application for the host that replaces the pen and paper waitlist many restaurants still use today."
Key Features
Although some might think NextME is only a text message notification system, it's so much more than that, according to Yi. "First, we text-notify a restaurant's guest when their table is ready," he explains. "When a diner is entered into our waitlist app, we send the diner a text message with a web link where they are one click away from checking their position in line."
NextME also provides its restaurant partners with a mobile marketing page to display promotions, specials, and other branded messages to waiting patrons to help them pass time. "That's one of our biggest differentiators," Yi says. "We're not only keeping diners engaged about their position in line during a long wait, but right underneath their position we also provide them with the restaurant's menu to help increase table turns."
Yi maintains that displaying digital menus to waiting patrons can increase table turns by two times. Restaurant partners can even include drink specials to upsell their bars, or boost their online presence by adding social media pages. "We've really innovated the process because, unlike other digital waitlists, we don't require diners to download a separate app to check their positions in line," Yi says. "Since we don't have a diner-facing app, we're not competing in the over-saturated consumer app space."
This is a big bonus for restaurants concerned about guest buy-in, he adds, which makes it easy to increase customer engagement and leads to a "more pleasant" experience all the way around. "We just use SMS text and a web link that allows restaurants to easily market themselves on our mobile platform," Yi explains. "In addition to marketing their social media pages and menus, restaurants can also market their own apps."
Ultimately, NextME is taking the guessing game out of waiting. "We built this app to help restaurants and their staff manage wait times more efficiently," Yi says. "Not only are we significantly enhancing the customer experience, we're also improving our restaurant partners' operations."
NextME has been shown to reduce diner walkout rates by up to 25 percent during peak hours, Yi claims. "Often times when diners see lines out the door or receive a long wait time estimate, they walk out and leave," he notes. How big is this problem? On average, restaurants using a traditional pen and paper waitlist have only about a 60 percent retention rate. That's four of ten parties walking out the door, right off the bat. However, if you tell them you're using NextME, which allows you to text them a simple web link through which they can track their wait time, they're likely to stick around.
"Patrons can plan their evenings accordingly when they know the restaurant is using an app like ours," he adds. "For example, they can chill at the bar without worrying about listening for a host shouting their names. It makes for a far more pleasant social visit, as they can concentrate on friends while checking their positions in line."
Looking Ahead
As NextME moves forward, the Chicago-based app wants to be the leading source for the no-reservations dining experience. "We want to be the OpenTable for walk-in reservations as opposed to advanced reservations," Yi explains. "We see a lot of trends in the restaurant space, especially popular restaurants that don't have a reservation policy.
"For example, OpenTable still hasn't found a clear solution to their no-show rate, which can sometimes make or break a restaurant if they're holding down a table and the patron doesn't show up," Yi continues. "Using a walk-in reservation system like ours is a great compromise that saves restaurants the pain of dealing with no-shows, yet helps reduce the walk-out problem caused by no-reservation policies."