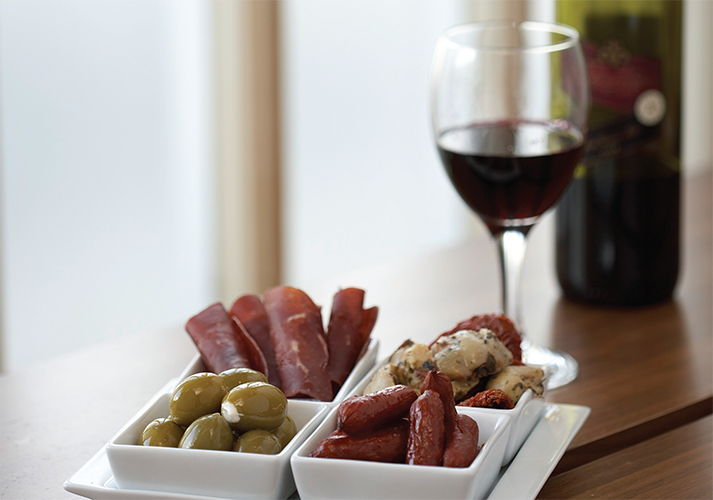 Snacks appeal
Only five years old, Nibblers is already putting its stamp on the premium snack market as Philip Christopherson explains
With the smoking ban now in place, bars are quickly changing their look and appeal to ensure they attract smokers as well as non-smokers – the new breed of customers who are beginning to brave the pub scene. "Twenty or 25 years ago, you couldn't stop by a bar after your afternoon shopping to enjoy a lovely glass of red wine, because they were all shut. But today, it's becoming more of an all-day scene, and when customers walk in for that cup of coffee or a glass of wine, they are not going to be overly impressed if all that is on offer is bags of crisps or packets of dry-roasted peanuts," says Nibblers' owner, Philip Christopherson. "If they're drinking at a non-traditional time – between lunch and dinner, for example – they probably don't want a menu or starter or to go to a dining table. A plate of four or five antipasti costing less than £10 is the solution. The deli-plate doesn't require a chef and it earns the operator money he or she wasn't earning before."
Philip hit his eureka moment five years ago when he and his wife, Rachael, walked into a gastropub in the Cotswolds and were offered, as an accompaniment to their 1996 Chassagne Montrachet en Virandot, a packet of Big D salted peanuts. Being more than aware that the snack market within the bar industry was dominated by the likes of Walkers, United Biscuits and KP, his ambition was to raise the game. However before he could taste the success, he bumped into his first hurdle: "Our real problem was that the managed houses weren't interested. The purchasing managers of these big companies only had the choice of two competing snack companies – Walkers, manufacturer of Walker Crisps, Snack-a-Jacks and Wotsits; and United Biscuits, which produces McCoys, Hula Hoops and Mini Cheddars."
Rather than give up at this first hurdle, Philip and a handful of salesmen knocked on the door of every free-house and tenanted pub within a hundred-mile radius of his Gloucestershire home, offering a luxury fruit-and-nut-mix service, delivered overnight by courier. Within just two years of launching Nibblers, the company was supplying more than a thousand pubs with major customer names including Mitchells & Butlers, Marston's, Young's, Greene King and even Gordon Ramsay's pub, the Warrington. Not one to be easily defeated, Philip now serves 32 different products consisting of Tyrrells crisps, 13 different nuts, nine variation of olives, Japanese rice crackers, Swedish salami and Nibblers' latest venture – the deli-plate.
Launched earlier this year, Nibblers' deliplate is an enticing new range of Mediterranean antipasti for gastro pubs and other sophisticated outlets looking to introduce a bar side snacking menu to meet the increasing trend for grazing and sharing appetizers. The authentic Mediterranean delicacies include sun-dried cherry
tomatoes, aromatic forest mushrooms, anchovies wrapped in sun-dried tomatoes, baby onions in balsamic vinegar, chargrilled halumi and artichoke, peppers filled
with artichokes and Peppadew peppers filled with pesto and cheese; all preserved in sunflower oil. Other bite-size nibbles include cheese wrapped prosciutto, sliced air-dried beef from Switzerland and spicy salami, all packed full of flavour and ready to serve. Far from an exhaustive list, Philip is not afraid to go further afield for authentic ingredients and is constantly trawling local stalls abroad to bring to his customers an exciting and exotic concoction.
Continuing, Philip adds: "We've also recently launched another concept where we select the most popular products we have and ask customers how they'd like to serve them because we have just the solution. Four of our olives and eight of our most prominent nuts will be packed using various methods; if you have a mini bar then a smart jar with a nice label will do the trick, for smaller bars you could utilise the plastic containers and if you have a contemporary bar our hexagonal jar system, which is supplied FOC, will not only fit in well but will also look good.
"We also have the perfect solution to serve the deli-plate. There are deli plates being sold by a UK catalogue company for £10 each but they are unable to handle the increasing orders. However we are able to offer our services to the clients and plates made in China for only £5."
Commenting on the condition of the market, he states: "The smoking ban has created enormous opportunities and the entire bar system is changing to a bar/café, where people go for a cup of coffee or drop in for a glass of wine in the afternoon. The sale of coffee is almost as important as beer in some places because the profitability of coffee is enormous. People tend to want something to nibble on, particularly if they used to drink and smoke. What we're noticing is the sales of olives are rocketing because it's now normal to have people just order a bowl of olives. But 20 years ago, olives in a pub? You must be joking – pickled eggs maybe."
With sights on the future, Philip concludes: "I want the natural instinct ofthe purchasing departments of large companies to be that when they think of snack products, they think of the normal snacks from the likes of Walkers and United Biscuits as well as a premium alternative snack. And when they think of premium snacks, I want them to naturally think of Nibblers."