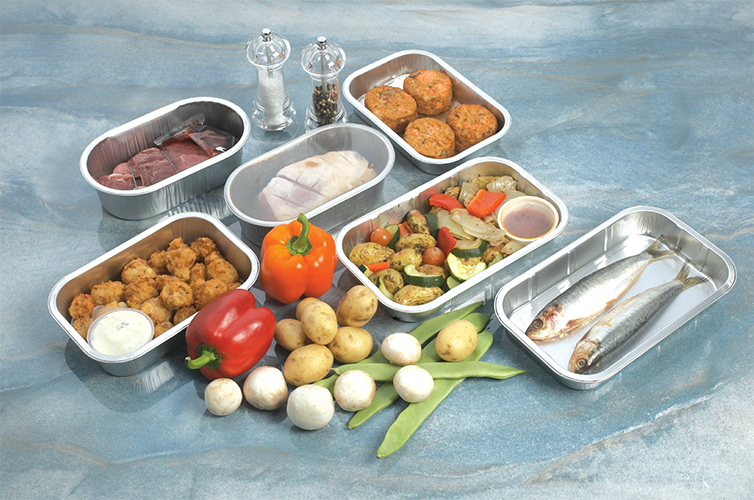 Sealing success
Nicholl Food Packaging is a leading supplier of aluminium food containers and catering disposables to all sectors of the food industry
Supplying over 1200 products to blue-chip food producers, supermarkets, bakeries and the restaurant takeaway market, Nicholl Food Packaging Limited has a  portfolio that includes conventional aluminium and smoothwall foil containers, foil board lids, packaging machinery and accessories. With operating sites in the UK, France and Belgium, it offers a service to customers across Europe, and is regarded as the market leader in the manufacture of smoothwall trays and wrinklewall foils for the food-processing sector.
Working under the credo that 'good is not enough when better is possible,' the company has grown tremendously since its establishment in 1989, developing a reputation for quality products and excellent customer service. Detailing the history of the business, one of the original founders, and current CEO, Andrew Dent begins: 'Under the management of Wilson Nicholl we began life at a small rented premises in Cannock, basing the business on our existing customer and market contacts. In 1990 we moved into a factory at Aldridge, and continued to develop organically for the next seven years, growing our turnover to £7 million.'
This strategy was to change in 1997 when the company bought Peakdale, in Chapel-en-le-Frith. Explaining the move, Andrew continues: 'It was a small family run business manufacturing aluminium bakery containers. At that stage the site had a turnover of £2 million, but after making a large percentage of the workforce redundant, rebuilding the site, and reemploying everybody, it has grown to nearly £8 million.'
A further acquisition came in 2001, with Nicholl's purchase of Ekco Packaging increasing the overall revenue of the group to nearly £60 million. "With this move we now had sites in Aldridge, Chesham, Portsmouth, France and Belgium," Andrew explains. 'In late 2003 we consolidated the business, selling the Portsmouth site, and merging Aldridge and Chesham into a new, purpose-built site in Cannock. The most recent acquisition that we made was in 2004, when we bought Watson & Watson, a Glasgow-based, smoothwall specialist, who have now been fully integrated into our factory.'
With a number of subsidiaries that include Ecopla and Watson & Watson, the Nicholl group is able to provide its customers with a wide array of choices, from standard and smoothwall trays through to packaging machinery. Offering over 800 foil container products, the company's stock meets a broad range of client requirements, although it is prepared to design a new model exclusively for a customer, if necessary.
Highlighting one such example, Andrew says: 'One of our most successful launches was foil chicken trays for Marks & Spencers. About three years ago they moved all of their premium bird products from plastic trays into our ready-to-cook, foil smoothwall trays. Available in four sizes, they wanted to offer their customers the convenience and hygiene benefit of a tray that can be put straight into the oven.'
More recently Nicholl has been exhibiting its latest product ranges at Pro2Pac, a new food and drink processing and packaging solutions event that enables brand owners, retailers, manufacturers and processors to discover the latest systems, equipment, technology and services within the industry. "We unveiled Visio Pac, a smoothwall container that features a sealed domed plastic lid instead of a flatfilm seal," explains Andrew. "It includes a special sealing ring, developed by ANL Plastics in Belgium, that ensures the product is secure during transit, yet easy to open for the end consumer."
Nicholl has obtained the exclusive UK rights for this innovative product, and with a great deal of interest from customers, it seems set to help extend the company's strong position. "Within the UK we are the market leader, holding a large proportion of the market already," Andrew says. "We have formed partnerships, where possible, with our major customers, allowing us to develop our businesses for mutual benefit."
Predominantly serving the markets where the company is present – the UK, France and Belgium Nicholl does export to Germany, Holland, Australia, Thailand, North America, Scandinavia and Ireland, and Andrew explains that this is something he hopes will increase: "In the next three to five years we plan to double the business, predominantly through acquisitions in Europe and the US, while continuing to focus on product development and running a very efficient operation."
This potential for further acquisitions has been greatly increased by the company's management buy-out in November 2006, which together with Audax Private Equity saw the original shareholders release their hold on the business. With this financial backing, Andrew expects a period of significant investment, as Nicholl Food Packaging looks to expand its market. Outlining the company's key to success, he concludes: "From one of the most hygienic, state-of-the-art facilities in Europe, and through quality employees that have a strong understanding of the demands of the marketplace, we offer the complete package, with quality, innovative products at a competitive price."