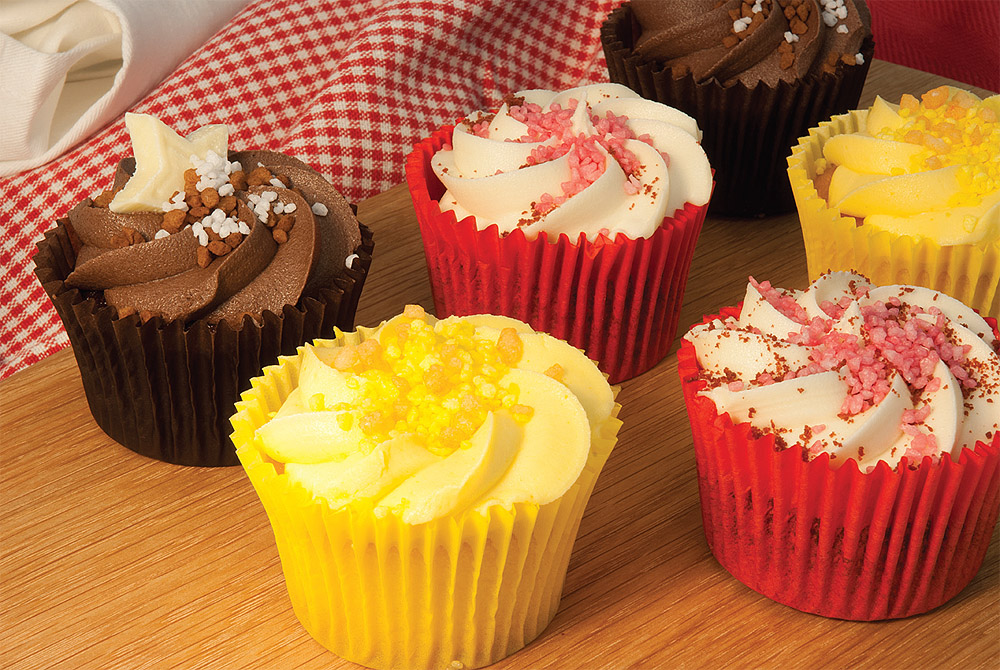 Adding taste and texture
Nimbus Foods' innovative creations have helped the company establish a colourful catalogue of inclusions, whose quality has contributed to the business' enviable reputation as a distinguished
European manufacturer
For years on end, Nimbus Foods has been constantly expanding its range of high quality toppings, inclusions, and decorations for the food industry. This has been achieved thanks to the company's dexterous ability to create products that reflect exactly what its customers desire. Nimbus Foods' origins can be traced back to 1996, when it began operation as part of Halo Foods Group, producing inclusions for the Group's cereal bars. Soon after, Nimbus Foods was established as a single company, moving into its site in Dolgellau, North Wales. In the last few years, the company has been enjoying a period of remarkable growth, which has led to it being regarded as one of Europe's premier manufacturers of inclusions. FoodChain contacted Nimbus Foods' Sales Director, Jack Proctor, to find out more about the business' most recent highlights.
"The change of strategy we undertook some three or four years ago, has enabled us to increase our turnover significantly, and we expect it to reach about £13 million this year," Jack begins. "We used to rely heavily on the retailer-led market, but recently, we decided to shift our attention to branded manufacturers, because trading with these offers a greater longevity and potentially tighter business relationships. We still maintain our strong retailer presence, but our focus has really been on serving brands, and it has seen a strong growth in the past few years. Today, we deal with many of the biggest international blue-chip companies in the food industry," he states proudly.
Market trends
Honeycomb, toffee, chocolate, fudge, crocant, sugar strands, you name it – Nimbus Foods produces inclusions of any colour, size, flavour, and texture for the bakery, confectionery, ice-cream, dessert, cereal, and snacking sectors. "Our honeycomb products have historically been the most sought-after by clients," Jack comments. "We make the best quality honeycomb inclusions in the business, and the interest we have seen in these means that if we could produce twice as much, we would sell twice as much. All the major ice-cream producers prefer our honeycomb inclusions, because of the stability and the quality of the product. Our caramels and fudges follow closely in terms of popularity.
"We follow the trends in our market to draw inspiration for the creation of new products. We closely monitor what is happening in the US and the Asian markets to gain insights for our own internal, proactive developments," Jack reveals. "I would say that about 70 per cent of what we produce, is driven by what our customers want. They will come to us, share their ideas, and we will set out to meet their requirements accurately, whilst working very closely with them along the way. It is encouraging to see that they actively seek collaboration. We face no difficulties in meeting them, because they, themselves, want to see and know what is new in the industry, and how we can incorporate it in their products. The flexibility we offer them, is one of our core strengths, and we find it a pleasure to be involved in a business, where it is so easy to interact with clients."
Facility expansion
A singular distinction one can make between Nimbus Foods and its competitors, can be observed in the manufacturing process. Unlike other producers, Nimbus Foods employs a unique process –
a more efficient and time-saving means of production, which at the same time allows the company to release inclusions of a higher quality. "We have three production lines," Jack details. "The first one produces all the caramels, fudges, and toffees. Line Two produces our honeycombs, and Line Three is dedicated to sugar strands." The production lines are fed by a number of kettles, which provide the manufacturer with the flexibility to respond to customer orders even at short notice. Further support to the production lines is offered by a large number of coating pans available at the factory.
"The challenge that we face with production, is related to the fact that we have outgrown our capacity. This is why we are in the process of extending our facility here, in Dolgellau. We are bringing in a new production line for caramels and fudges that will be commissioned at the end of April 2018. The expansion will also make room for an intensified production of our chocolate coated and fat coated inclusions, so by early May, we will have increased the total capacity of our factory by about 40 per cent," Jack outlines. "We have to invest constantly, in order to meet the demands of our customer base, and cope with the growth of our business. We are already planning Phase Two of this investment, as we are looking to quickly increase capacity once more. Our objective is to have another new production line installed in the very near future."
Growth targets
Increasing its export share is an area of the business, which Nimbus Foods will be looking to develop in the next couple of years. Jack sheds some light on the company's intentions, and the scope of its overseas activities: "At the moment, export represents nearly 20 per cent of our business, and we aim to get this figure up to 50 per cent by 2022. We export our products to 30 different countries, including Australia and some countries in the Far East. The most recent market that we exported to, was Japan, where we served one of the country's leading coffee retailers for a seasonal Christmas product they were launching. I cannot say that there is a biggest single market, as we are evenly spread across all of them, but we trade a lot in Central and Eastern Europe."
2018 is Nimbus Foods' first year under its new ownership. The company is now part of Valeo Foods Group, and the Irish producer has set ambitious targets for Nimbus to hit over the course of the year. "If we realise our goals in 2018, we will achieve a revenue growth of about 25 per cent," Jack predicts. "While our industry is growing, it is happening at a single-digit level, so we want to maintain our growth at 20 per cent or more year-on- year, which will mean that we are performing significantly better than the competition," he concludes.