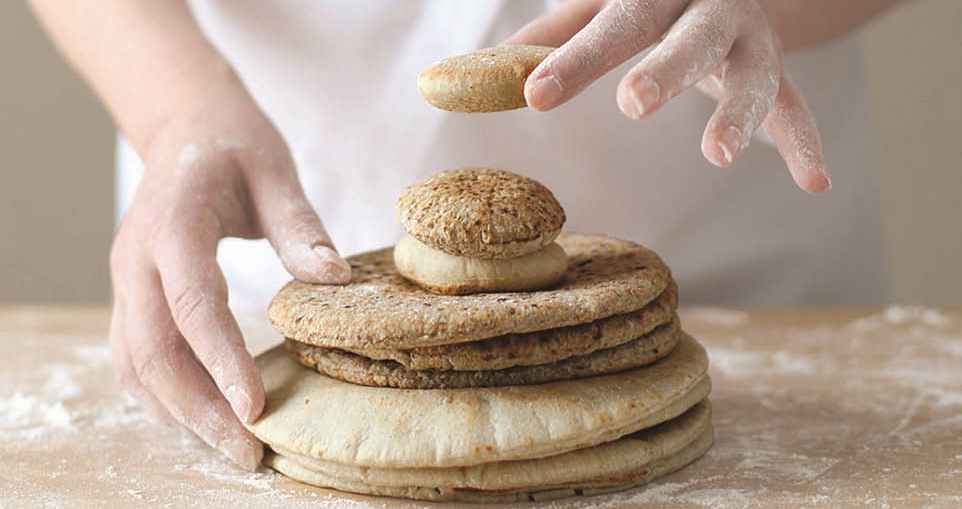 Pita bread perfection
Adopting the same degree of passion as its founder, the team behind Nina Bakery Europe helps to ensure that it remains true to its original mission of producing the very best artisan pita available
Known by several other names, including Arabic bread, pita bread is thought to have originated in Western Asia around 2500BC. A soft, slightly leavened flatbread baked with wheat flour, pita
would go on to become a staple of many Mediterranean, Balkan and Middle Eastern cuisines. The first known mention of the word in English is recorded as being in 1936, which as fate would have it was the same year that the Nasri Nehmeh founded Nina Bakery in Haifa, Israel.
Named after Nasri's daughter Nina, the company's unique and varied choice of artisan pita products have become the ideal choice for foodservice and retail/cash and carry customers. Having established a local customer base in Israel, the company would go on to procure customers across the world in 13 different countries, including the Netherlands, France, Germany, Denmark, Ireland, the United States and even Japan.
Working in close co-operation with Nina Bakery Haifa is Marlies Wolters, Head of Sales at Nina Bakery Europe, whose team use their experience and passion in the marketing of flat bread to serve the European customers of the company. From its cold store in the Netherlands, Nina Bakery Europe is able to supply foodservice and retail businesses across the entire continent.
"Slow baking, processed and baked in stone ovens with no added preservatives and additives, our purerecipe of flour, water, salt, yeast and fibres transforms the sour dough we use into our artisan pita," Marlies explains. "With typical pita breads that you find in most stores, the process of creating them typically takes around 45 minutes from preparation to baking. Where we differ is that the dough we use is given the time needed to become wealthy and mature, usually between four and five hours, in order to produce the highest quality pita products. All our products are full baked and delivered frozen to our customers making them very easy for chefs to work with."
Nina Bakery Europe's range of round pita products come in all sizes, from extra-large pitas, measuring 18 centimetres in diameter and with a weight of 200 grammes, to what it calls its Nina Cocktail pitas, measuring six centimetres across and with a weight of 18 grammes. Additionally, the company also produces oval and sub shaped pitas, as well as a range of breadsticks, which come made with either white or whole wheat dough, like its pitas, as well as a recently added Za'atar variety that sees wild oregano added to the dough to create a unique, enjoyable flavour.
New 'One Bite' range
Nina Bakery Europe has worked extremely hard to forge the reputation it has amongst its customers for delivering high quality pita products. "Ensuring consistent quality begins with the sourcing of the right ingredients from the best suppliers," Marlies continues. "From there the most important factor is that we follow our production procedure in the right way. The process behind creating the perfect pita is a very sensitive one with temperature and humidity playing a part throughout, which can affect the fluidity of the dough if not managed correctly. In order to manage this, we ensure that we have the most experienced people, who possess the skills and craftsmanship, present to ensure the job is carried out in the right way every time.
"The result is that we end up with a high-end product, one that it is important that we continue to produce in order to remain where we want to be, and that is within the very highest segment of our market. As our sales figures from recent years show, we are continuing to grow, which proves that people still love our products and the reason for that is the high quality of the pitas (which don't break when you prepare, fill and eat) and breadsticks we create. Retaining our position in the market is our sole focus for the future and we will achieve this by continuing to innovate, bringing new products to market on a regular basis."
The next wave of new additions to Nina Bakery Europe's portfolio will be formally introduced at the forthcoming Anuga food fair in Cologne, Germany, in October. Here the company will be
unveiling its new 'One Bite' range. "We have created this range to be even smaller than our Cocktail pitas, measuring 4.5 centimetres in diameter and with a weight of only nine grammes per portion," Marlies reveals. "These 'One Bite' pitas, as well as several small sized pita from our range, will come in flow packs of one or two and we will be marketing them towards specialist customers such as those supplying airline catering companies and those that produce items like salad bowls that come with an accompanying bread item. We believe this new product is perfect for these kinds of customer and we anticipate a lot of opportunities arising as a result of this."
Such is the demand for Nina Bakery Europe's products that it is currently in the process of installing its second production line, allowing it to almost double capacity in order to meet its expanding order book. "Our customers continue to demonstrate their satisfaction and need for the best quality pita bread that we are recognised for producing," Marlies concludes. "The market for these products shows no sign of slowing down and we are growing alongside it, which is important for securing our future for many years to come."