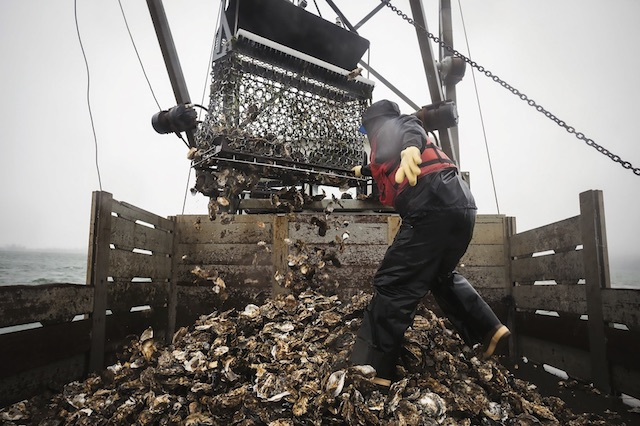 Nisbet Oyster Co./Goose Point Oyster
Goose Point Oyster invests into new technology to account for growth and improve its processes.
In an effort to further improve the quality of its Goose Point Oysters and drive sustainability, Nisbet Oyster Co. has invested into new technology.
In the past 10 years, the family-owned company has entered its second generation of family involvement and entered a new era. "We are trying to be a sustainable company that is vertically integrated from seed to table," says Kathleen Nisbet-Moncy, the company's COO and daughter of its founders David and Maureen Nisbet. "And we are becoming more technologically advanced."
As a young man doing research on oyster seeds, David Nisbet fell in love with Willapa Bay in southwest Washington. He purchased 10 acres of tidelands and founded Nisbet Oyster Co. in 1975.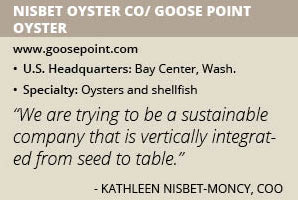 Today, the company owns more than 2,000 acres of tidelands, a processing plant in Bay Center, Wash., and an oyster hatchery in Hawaii. Its products are distributed throughout the United States and Asia.
Cutting Edge
In 2001, Goose Point Oyster became the first company on the West Coast to start using a high hydrostatic pressure (HHP) processor, which put it at the cutting edge of the industry.
"It shucks the oysters while they are still in their shell," Nisbet-Moncy says. "We basically take the risk of consuming raw oysters off of the consumer."
Goose Point Oyster calls its processing the Fresher Under Pressure system. This innovative process produces quality products that stay fresh, are free from natural pathogens and are simple for consumers to use and enjoy.
The HHP technology immerses the oysters in water and subjects them to extremely high pressure, more than 40,000 pounds per square inch. This provides a product that is vibrio-free, is pre-shucked, and retains an all-natural appearance and flavor.
Since this technology only uses pressure, all changes take place without the addition of heat, chemicals or manual manipulation – and the oyster remains raw and in the shell.
Mechanized Processes
In the past three years, Goose Point Oyster has made further technological advancements to its processes. "We have been mechanizing our production process," Nisbet-Moncy says. "We used to hand grade and sort our oysters. Now we have equipment that does it for us. For us, quality is No. 1. That's a part of the reason we have mechanized our process, to ensure that we are producing the highest-quality product."
Since the company started employing the process in 2017, it has increased its production of oysters in a shell by more than 40 percent. In addition, Goose Point Oyster's hatchery in Hawaii, which the company built in 2010, started running off of solar power in 2016 and has doubled in size in the past year.
"It's a very green facility that is very efficient," Nisbet-Moncy says. "Our hatchery is one-of-a-kind and not just because of solar power. Normally, hatcheries are on the ocean. We are about a mile inland."
In the future, Goose Point Oyster plans to add more value-added products to its portfolio and develop products that are more consumer-friendly.
"We will be looking to develop new products that will cater to the millennials," Nisbet-Moncy says. "We want to create more streamlined and transparent tray packs and also get people more involved in cooking shucked oysters. A lot of people know how to eat raw oysters. But we want to give them the tools to cook them in shucked form."
The company plans to do this via increased marketing efforts and by working with local colleges and innovation centers on ideas this year.
Goose Point Oyster processes more than 2 million pounds of shellfish products each year, sending Goose Point labels to a variety of retail stores, as well as a number of restaurants. In addition, its large-sized oysters are popular in Asian markets such as China and Hong Kong.