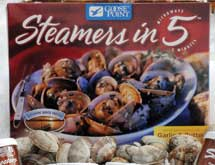 As a young man doing research on oyster seeds, David Nisbet fell in love with Willapa Bay in southwest Washington. The romance began to blossom in the 1970s with the founding of Nisbet Oyster Co. Inc. and the purchasing of 10 acres of tideland.
Now, those 10 acres have increased to more than 500 acres, and instead of peddling oysters in a pick-up truck between Seattle and Portland, Ore., Goose Point Oyster ships across the country as well as to a few international markets. Nisbet Oyster Co. Inc. operates under the brands Goose Point and Goose Point Oysters.
Kathleen Nisbet is the human resources manager at Nisbet Oyster Co. Inc., as well as the daughter of its founders, David and Maureene Nisbet. As someone who grew up in the region and in the business, Nisbet says she knows exactly what is most important to the company: the waters where its oysters are cultivated.
"The oysters we process here in the Northwest at Willapa Bay come from one of the cleanest estuaries in the country, and just that alone separates us from other regions and oyster farms," Nisbet states. "We take pride in our communities that share the landscape of our oyster beds, and it shows in the taste, quality and safety of our shellfish."
Innovative Processing
"We stress quality," Nisbet states. "A big part of the business is maintaining the quality of our products and creating innovative packaging."
To increase quality, Goose Point Oyster expanded its facilities from 400 square feet to 15,000 square feet, and in 2001 added a high hydrostatic pressure (HHP) processor, the first company on the West Coast to do so. The company notes that the HHP processor puts it at the cutting edge of the industry.
Goose Point Oyster calls its processing the Fresher Under Pressure system. The company credits this process for producing innovative, quality products that stay fresh, are free from natural pathogens and are simple for consumers to use and enjoy.
The HHP technology immerses the oysters in water and subjects them to extremely high pressure, more than 40,000 pounds per square inch. This provides a product that is vibrio-free, is pre-shucked, and retains all natural appearance and flavor. The company processes more than 2 million pounds of shellfish products each year, sending Goose Point labels to retail stores such as Trader Joe's, Walmart, Fred Meyer, Albertsons and Costco, as well as a few restaurants. In addition, the large-sized oysters are popular in Asian markets such as China and Hong Kong.
According to Nisbet, Goose Point Oysters often designs its own equipment, creating greater functionality out of its machines. "My dad is a jack of all trades," she explains. "He is kind of an engineer, and he will draw up equipment plans and take them to a local manufacturing company to see how it can be produced." This is how the company developed its shellstock washer and state-of-the-art equipment that enables the HHP machine to produce effectively.
New to the Goose Point label is "Steamers in 5," baby clams that are dockside quick-frozen and seasoned with the company's signature garlic and butter spices. "The innovative packaging allows the clams to be cooked in five minutes mixing the clam's nectar and spices to a heavenly blend of gourmet dipping sauce allowing consumers to have restaurant quality clams right at home to enjoy as they wish," the company says.
"While creating this gourmet product, we worked very closely with our packaging supplier – Cenveo / Graphic Arts Center – to ensure that we had a package to truly represent our product line," Nisbet explains. "Since then, we have continued the business to our sister products and grown the relationship. As a manufacturer, not only is the quality of products we produce vital, but the integrity of its packaging."
Recently, Nisbet Oysters added "Mussels in 5," a Mediterranean blend of sundried tomatoes and basil with the same packaging to enable consumers to experience quality mussels at their convenience.
Family Oriented
In a move that brings employees and their families in as members of the Nisbet household, Nisbet Oyster set up an account to help pay for the activities of children of employees. "We've always prided ourself on being very family oriented."
Nisbet acknowledges that it is a source of pride for her family to be able to give back to the community, which she says always comes first for the company. "The people that work at Nisbet Oyster take the same pride and enthusiasm for the products they produce as its owners and it shows through the quality of shellfish," she says.