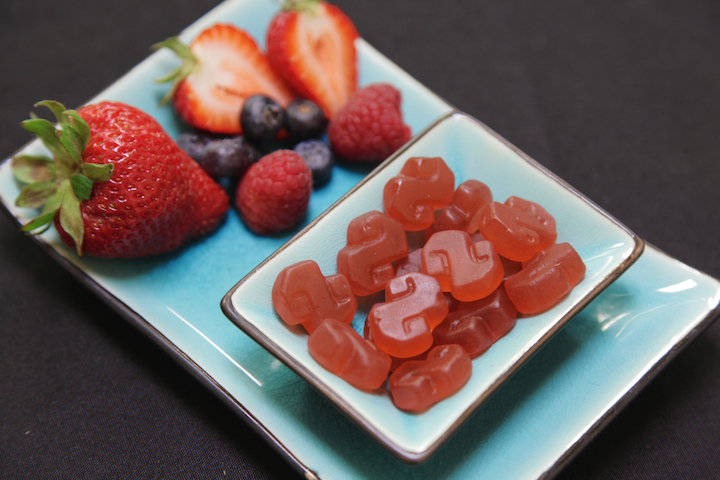 Nitta Gelatin NA introduces a new line of specialty gelatin products developed for use in starchless gummy manufacturing systems.
Since its establishment in the North American market in 1979, Nitta Gelatin NA has earned a reputation for quality gelatin and collagen peptide products.
The company specializes in the production of bovine, porcine and fish gelatins, as well as collagen peptides for use in a variety of applications ranging from food, nutritional, pharmaceutical, cosmeceutical and technical. 
A part of the Nitta Gelatin Inc. group in Japan, Nitta Gelatin NA is introducing a new line of specialty gelatin developed specifically for use in starchless gummy manufacturing systems.
"We are really excited about our value-added product lines which were developed to meet the unique needs of our North American customers," says Liz Clarke, technical marketing manager for North America.
The Morrisville, N.C.-based company first launched its new XactSet line of gelatins in fall of last year. The gelatins are formulated for superior depositing and record-breaking setting speeds of fortified gummy formats, as well as for dietary supplements and OTC medications.
"A typical gummy bear is made using a starch system for molding," Clarke says. "But the traditional manufacturing process for gummy products is fairly time and labor intensive."
Nitta Gelatin NA's food scientists can help tailor its clients' gummy formulas for optimal quality and minimal processing time using XactSet gelatins for traditional, fortified or medical applications. "Using Nitta's XactSet gelatin, it's now possible to cut gummy curing time down from 24 hours to as little as 20 minutes," Clarke says.
XactSet gelatins are free from additives, preservatives and added sugars. They are leading the new age in starchless gummy production, which is becoming a trend among dietary supplement gummy manufacturers.
"In the past five years, there's been a growing interest in getting away from using starch for gummy molds," Clarke adds. "One of the big benefits of starchless systems is cleanability because you're not using the same starch over and over again. Validated cleanability is a big deal because it ensures that there is no transfer of ingredients batch-to-batch and more precise dosage for active ingredients."
The XactSet gelatin formula also allows for versatility. Gummy texture can be easily modified from short and tender to firm and chewy. It can also be used in conjunction with other popular ingredients such as pectin and starch to create unique textures over various pH ranges.
"We are proud to continue to offer high quality gelatin for use in traditional starch-molded gummies," Clarke says. "But XactSet is a specialty gelatin that is designed specifically with starchless systems in mind."
Aside from gummy candies, Nitta Gelatin NA believes that its new product will take off with the upcoming and wave of OTC medications that use gelatin as a delivery system. It is also exploring emerging markets within the dietary supplement space.
Taking Pride
Utilizing its technical expertise, Nitta Gelatin NA prides itself on providing its customers with innovative ideas, excellent technical service and high-quality products.
To supplement Nitta Gelatin's  30 years of high-quality gelatin production in Toronto, the company opened a state-of-the-art gelatin and collagen peptide production facility in Fayetteville, N.C. It measures roughly 44,400 square feet and produces pharmaceutical and food grade gelatin and collagen peptides.
In 2016, the company expanded its product portfolio and capabilities with the inclusion of the Vyse Gelatin LLC to the Nitta Gelatin Inc. family. Chicago-based Vyse Gelatin specializes gelatin and collagen peptide products, along with blending technologies to meet even the most unique customer specifications.
"We've seen a rapid rise in demand in the North American market for our collagen peptides," Clarke says. "Collagen peptides are functional proteins that are popular in the sports nutrition market and the beauty market for skin health and anti-aging."
Collagen peptides are being used in items like nutritional bars, ready-to-drink beverages, drink mixes and certain confections. "The beauty of collagen peptides really lies in their versatility and ability to be enjoyed in a variety of convenient "on-the-go" formats," she adds. "We listen to our customers' needs and have multiple facilities across the globe to address those needs. Our ability to customize is one of our greatest strengths."
With production sites throughout the United States, Canada, India and Japan, Nitta Gelatin offers a wide variety of product sources and characteristics offering both Kosher and Halal options for gelatin or collagen peptide applications. The company also has an applications center that houses a full-scale R&D lab, confection room, pilot-plant and a full-time team of food scientists in Morrisville, N.C.