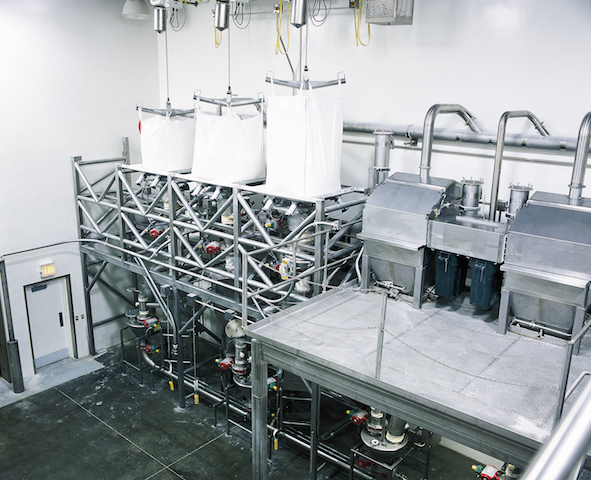 Nol-Tec Systems leverages decades of industry expertise to succeed in the food industry'smost challenging bulk material handling environments.
Nol-Tec Systems is not interested in bulk material handling projects that anyone can do. Rather, it thrives on succeeding in challenging situations. "Our company philosophy is that if anyone can do it, we shy away from it," Vice President and CMO Mike Weyandt says. "It's simple economics of supply and demand – if anyone can do something the price will drop. If you have a specialty, you are more valuable."
Becoming the go-to supplier for complex bulk materials handling equipment requires a high level of experience and expertise that Phil Nolan had when he founded the company in 1983. Nolan was proficient in process logic control and an expert in bulk materials handling, having worked in pneumatic conveying since the 1960s.
That industry knowledge continues to remain one of the key differentiators within the company today. "While we offer all our clients innovation, reliability and efficiency within our range of products and bulk material conveying systems, we offer much more than that," the company says. "Because of our years of experience, we also work with you to drive better decision-making, training and regulation expertise."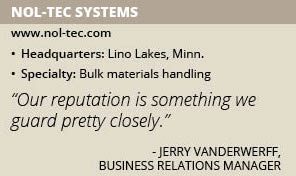 Pneumatic conveying has been in existence for more than 100 years when, according to reports, grain was loaded from ships from 1856 to 1876 in the ports of London, Rotterdam, Hamburg and Leningrad. Today, Nol-Tec Systems specializes in pneumatic conveying systems and material handling conveyors. The company's designs push or pull raw materials such as sugar, salt or flour through pipes using compressed air or gas.
With nearly 40 years of experience working in countless industries, Nol-Tec Systems has developed several techniques for conveying materials that are efficient, reliable and require low maintenance. "Our reputation is something we guard pretty closely," Business Relations Manager Jerry VanDerWerff says. "We go to great lengths to ensure our customers are happy."
Making the Impossible Possible
To truly understand its customers' needs, Nol-Tec Systems dives deep into the company's processes to ensure it fully understands that process and their pain points. "Many times, we are able to recognize their pain points before they do because we have been doing this for a lot of years," Weyandt notes. "Our experience allows us to think about the things they wouldn't, anticipate any problems, point them out to the customer and resolve the problems. We have the ability to solve problems in this crazy little world of bulk materials handling. It may sound simple, but the devil is in the details."
What makes bulk materials handling tricky? All the different material characteristics that interact when its pushed or pulled through a pipeline. What happens with salt when it gets wet, for example? It lumps together and doesn't come out of the shaker. Some raw materials are hygroscopic or absorb moisture, aerate or get light and fluffy and fluidizable, while others create static electricity as they move through the pipeline.
"There are about 10 to 15 material characteristics that are interacting when you push/pull through a pipeline," Weyandt explains. "It's these physical nuances and characteristics of bulk materials that cause them to flow differently. Every material has different combinations of these characteristics and that's what causes something to work well with flour, but not with sugar, for example. It's not as simple as pumping water through a pipeline."
In addition to all bulk raw materials being different, so are its customers' plants, which is why Nol-Tec works closely with its customers from new designs and upgrades to complete controls integration for their entire process. "We really shine in developing the process, listening to the customer and what their challenges are, and taking responsibility for the overall process," Vanderwerff adds. "There are so many variables, you have to ask a lot of questions."
For example, a large manufacturer of powdered formula for infants was filling its cans full in the production process, but customers were complaining that when opened, the cans were half full. "Even though the customer bought by the weight, it was the appearance of being cheated," Weyandt remembers. "Due to particle distribution and compaction, it looked half empty. Those are the types of concerns we have to be aware of early on in the process and the concerns are not the same for everyone."
A competitor of Nol-Tec Systems' could not resolve the problem, so the company developed new and better technology, VanDerWerff says. "We were able to convey infant formula through hundreds of feet of pipeline to the packaging lines because we were handling it so gently it didn't degrade," he explains. "The engineer on the project received a world-renowned award for the installation. We were willing to do something custom and think outside the box."
In addition, Nol-Tec has figured out how to transport dry cheese, evaporated milk, frozen mozzarella cheese and whole almonds through pipelines. "We can do the flour and sugar, but where we really shine is with the complicated applications," says Sarah Wagner, business communications specialist.
All in the Family
Nol-Tec Systems is not immune to the skilled labor shortage dilemma most manufacturers are facing, but it is fortunate in that it has a number of tenured staff members. At least 20 of its 92 employees have been with the company for 20 years or more. "It takes a long time to learn what we do," VanDerWerff notes. "You can't learn this at any school anywhere because it's not taught."
Because of this, Nol-Tec Systems invests significantly in training and likes to retain its employees because both parties have invested in each other. In addition to training, the company prides itself on having open communication throughout the organization. "The lowest-level person can speak to the highest-level person freely," VanDerWerff says. "We try to communicate openly and freely from bottom to top. We also allow people to move from department to department. If someone wants to go from sales to engineering, we allow that to happen."
Before years of industry knowledge goes out the door with retirees, Nol-Tec Systems is making a conscious effort to institutionalize and memorialize a lot of the information its mentors have. The company created its own knowledge management system to ease the pain when those with seniority begin to leave.
"Everyone likes to come to work," Weyandt says. "We like working with each other and our customers to solve problems because most of us are engineering-oriented at heart. Developing long-lasting relationships and solving a problem for the customer is satisfying, which results in job satisfaction."
Before becoming CEO in July 2018, Todd Larson previously worked for Nol-Tec and came back to lead the organization because he believed in the values of the company. "Reputation and partnerships; everyone says it, but we live it," Weyandt adds. "The values of the company were instilled by Phil Nolan back in 1983 and even though he's passed, his values still permeate the culture."
Pride in Performance
Consumers buy based on price, service and technology. When offering the best technology and service, it's hard to be the least expensive. "We tend to be priced medium to high and have to explain why we are higher than the competition and why customers should choose us," VanDerWerff says. "We had a customer using our equipment for 10 months and then called to say it wasn't working well. After doing our due diligence and more research, we found the customer changed materials and the new materials don't work as well. We didn't give up on the customer, performed re-testing and got the system running. That's why we have repeat business."
If a customer had an issue 20 years down the road, Nol-Tec would help them solve the problem, install a new system or have the aftermarket team give it a tune-up. "We have people call us with problems they are having with our competitors' systems and because we are experienced across the board, we can tweak a couple things and have it back up and running," Wagner says. "We are there when they need us and are their long-term partner."
Moving forward, Nol-Tec Systems will continue to do what it does best while making its technology bigger, better, faster and stronger to diversify into new industries. This year, the company plans to capture a greater share of the food industry as pneumatic conveying technology is still relatively new to be used in production. "We were founded on the dirty industries like foundries, steelmaking, tire and rubber, and a lot of those industries are leaving the United States," Weyandt explains. "Companies like Nol-Tec have to find other markets and food is a prime candidate. Many of the products need to be handled gently and there are so many other benefits including improved quality and food safety. We are making a concerted effort to concentrate more in the food industry."