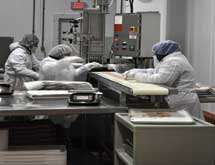 Norris Food Services' (NFS) name reflects a number of the company's attributes. It points to its family ownership – owner and CEO William Norris manages the company with his wife, son, son-in-law and a few nephews – as well as the industry in which it works.
It is the "services" part of the company's name, however, that provides the greatest clue to the operation's focus. "NFS is truly a family company that cares about its customers," President Michael Norris says. "This shows that we are really a family owned and operated company that truly goes to great lengths to make sure we are doing the right job for our customers.
"We can show many examples of customer service," he continues. "We have had one or two instances where we have had a truck break down during a route, and then have had the tow truck tow us to the remaining stores on the route to complete our deliveries. Additionally, we have made special deliveries to stores if they didn't place their orders on time."
Its customers are more than 700 7-Eleven stores in New York, New Jersey and Pennsylvania. Bohemia, N.Y.-based NFS serves them from its 130,000-square-foot facility, which opened in October 2008. Sandwiches, salads, entrees and other fresh foods are prepared in the commissary's 72,000-square-foot kitchen, which was built to meet or surpass USDA regulations.
In a recent conversation with Food and Drink, Michael Norris explains how this new facility has improved NFS's operations and how it is helping the company maintain a high level of service to customers.
Food and Drink: Can you explain how Norris Food Services got started?
Michael Norris: NFS began with one 7-Eleven franchisee that owned two stores. Bill Norris started everyday with coolers of sandwiches, salads, rolls and bagels in the trunk of his car. He visited every 7-Eleven in the area and had them see and sample the commissary products. At the same time, 7-Eleven Inc. was operating a commissary out of Austin, Texas. Soon, 7-Eleven approached NFS to become a strategic partner to produce fresh, daily delivered sandwiches to their stores. We began with two stores in 1993 and today serve more than 700 stores that receive deliveries 365 days per year.
FAD:What business benefits have you seen since moving to the new facility?
MN:In moving to the new facility, NFS has been able to streamline. We had outgrown the old facility, which was causing us to become inefficient, thus spending more labor hours. The new facility has allowed us to manage the business better from a labor standpoint, as well as work flow.
FAD:Have you made any other improvements to your operations recently?
MN:NFS has invested in the latest technologies in routing software that has allowed us to improve our routing and make it more efficient, thus helping us and our customers from a cost standpoint. NFS also purchased new equipment for the facility that allows us to be more efficient and get better slicing yields from our meats. We helped design table and production belts that were specifically built to not have right angles, thus preventing food build-up and allowing for easier sanitation.
FAD:How did your employees transition to the new facility?
MN:Transitioning into the new facility was relatively smooth for the size of our operation. Most of the employees came with us from the old facility and were very well aware of our GMPs and production practices. We did additional QA training for all the employees to show how important safety and quality is to us as a company. We also did additional training on any new equipment.
FAD:What distinguishes NFS?
MN:NFS is a fresh food provider with the ability to distribute the product as well. What distinguishes us is our commitment to our customers and the highest of quality standards, which we use to produce our food in the safest, cleanest environment possible. We are a USDA-inspected facility that has the ability to provide our customers with everything from fresh-made sandwiches and salads to hot entrees.
FAD:What are the company's plans for growth in the near future?
MN:NFS has designed our new facility – which is only a little over a year old – for 10 years of growth for our current customers as well as any future customers we may take on. We will continue to invest in the latest technologies for food processing.