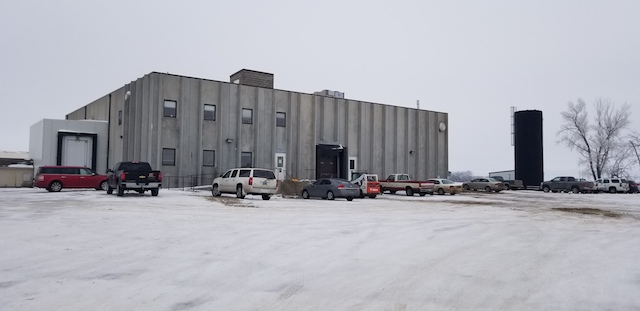 North American Bison's products bring benefits over the use of beef.
Now, more than ever, people are looking for healthy meat alternatives and North American Bison LLC is ready to fill that need. Bison meat, President and CEO Tom Riemann says, brings health benefits that some might not be aware of.
For example, "A sirloin cut from bison has 1/3 less fat, calories and cholesterol than skinless chicken," he says, adding that a bison burger tends to be less saturated with fat than one made from beef.
But it also can be more memorable. Riemann often talks with people who remember eating their first bison burger when they were young. "You can't say that about a beef or chicken product," he says. "It's unique."
Based in New Rockford, N.D., the company partners with independent ranchers to bring sustainably raised bison to market under its TenderBison brand. Riemann explains that North American Bison began operations in 1993, to develop a market for the bison being raised by ranchers.
At the time, he says, the bison industry was surging. "People were seeing the value in eating bison vs. beef," he says, noting that the numbers of buffalos increased across the country.
"An overproduction of animals at that time required immediate attention to increasing the demand and awareness of bison," he recalls. "As a result of the marketing efforts put forth by [our] sales and marketing staff, we were able to triple the sales of the company in four years-time."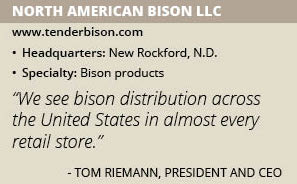 "North American Bison owns it harvest and fabrication portions of the production process thus providing a lot of flexibility and control that many of our competitors don't have as they don't own both of these production entities," he says.
Today, North American Bison works with nearly 100 independent family ranchers that take care of all the animals' needs. But unlike many of its competitors, North American Bison chooses to not have corporately owned herds, as that would then lead to competing with the independent rancher, and that would be counter-productive in helping to sustain the independent family bison rancher, he explains.
Although they do have to follow guidelines in regards to feeding requirements and humane treatment procedures, each follows their own idea of "the best way to nurture those animals to maturity," Riemann says. "They are independent thinkers."
Currently, ground bison comprises 60 to 70 percent of the company's sales. Riemann explains that is because ground bison is something consumers have a familiarity with and is also economical, making bison burgers a high-demand product.
Steps Forward
According to Riemann, the bison market is currently reaching a level of maturity. "We see bison distribution across the United States in almost every retail store," he says.
"You're seeing bison on a number of restaurant menus today, due to the great flavor, healthy attributes and America's affinity for bison in general," he continues, adding that the industry will need to adapt. But North American Bison is ready with its plan to renovate its plant in New Rockford this year.
"It will allow us to evolve as the industry evolves," Riemann says, noting that the location will grow its freezer and cooling capacity, carcass cooling area and make general updates. "That's a pretty important step for us."
It also signals to customers and ranchers that North American Bison is making investments in its future. "[This] will bring rewards for the ranchers and consumers alike," Riemann says.
Growing With The Industry
Riemann is proud of his team at North American Bison, including CFO Tim Lundstrom. "Tim has done a great job in helping develop relationships with financial institutions that have helped support the company and support us in our expansion of our facility," he says.
Vice President of Operations Mike Jacobson also has been critical. "Mike has developed a really winning culture in our facility that has helped retain employees, develop consistency and told our customers that our products meet all the safety requirements that our customers expect from us today," Riemann says.
He predicts that North American Bison will continue grow with the industry. "Much of what we do on a marketing side is really driven on how many live animals we have in the industry," he says, noting that many ranchers are expanding their herds.
"In working closely with the ranching community, we can develop a close working relationship that is necessary in matching herd development with consumer demand," he says.