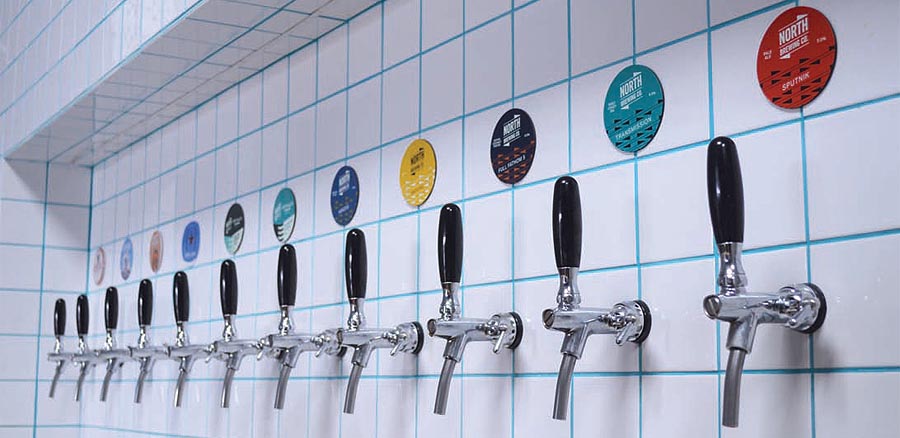 Quality on tap
One of the original pioneers of the Leeds bar boom, the award-winning North Bar Group continues to boast the finest, most interesting and comprehensive selection of beers in the North of England
Founded in 1997 by John Gyngell and Christian Townsley, North Bar opened on New Briggate, Leeds with the goal of providing a continental style bar to locals suffering in a bar desert. "The feel
we wanted for North Bar was continental, however there were only a few of these bars in London and Manchester at the time so it took a while for Leeds to work out what we were providing. Despite the early days confusion we worked 24/7 to make the bar a success."
Opening the bar with a draught selection that included Kronenbourg, Beamish Red, Guinness and Fosters, the company focused on a customercentric approach to business over the years as further varieties of drinks were added. Indeed, beers such as Chimay, Duvel and the US' Anchor Liberty Ales were added to the bar, while the first draught Erdinger, Sierra Nevada and Brooklyn Lager in the UK were all poured for the first time at North Bar. Alongside a focus on adding great tasting beers from Europe and the US to its taps, North Bar also made the strategic decision to expand its operations to seven venues over the last two decades. Viewing bars as living, breathing things, the company is proud of every single bar within its portfolio and continues to deliver on its values of unparalleled service, great drinks, an inviting atmosphere and an inspiring place to be at each and every venue.
The most recent addition to the North Bar Group portfolio is North Bar Harrogate, the company's biggest bar yet, which opened in February 2016. With 12 taps and fridges fit to burst with drinks, a broad range of spirits and wines, Harrogate also specialises in serving high quality food and coffee all day. Opening at eight am to provide coffee, freshly made pastries, sandwiches and flatbreads that are available throughout the day, the bar is perfect for breakfast and lunchtime treats.
As North Bar Group continued to expand it became clear to John and Christian that there was a burgeoningbrewing market developing throughout Europe and the US that was ripe with opportunities. "We were approached by a brew pub and went on a fact finding mission to Copenhagen around 12 years ago; there were some amazing brew pubs but it wasn't the mecca it is today. Since then we have seen the brewing market, particularly in the UK but also in Belgium, Germany and the US, transform; we didn't want to miss the boat as we had a definite market for our beer, which is why we decided to launch our own brewery in October 2015. This is something we have discussed for a long time as we felt it was a natural fit with our bars and the fact that beer is our thing. I would say we are partially responsible for the state of the beer market in the UK today as we pushed for new beers to be brought into the UK with likeminded people, selling these beers first and getting feedback.
"With seven bars that we could sell beers to we had an amazing marketpresence from the get-go, however we were also aware that if our beers weren't good that our reputation would not only be in tatters as a brewer but as a bar owner. Because of this, we were conscious not to take over the bars with our beers but instead have two taps in each bar for our own beers; we needed to make sure that our beers could stand alone against all other brilliant beers."
Core beer range
Opening its brewery and tap room in November 2015 with three signature beers, sister brewery North Brewing Company then went onto launch a core range of five beers that epitomise the
direction the bar and brewery will be taking. These beers are comprised of Transmission, a 6.9 per cent IPA, Sputnik, a five per cent pale ale, Prototype, a 3.8 per cent cask session pale ale; Full Fathom, a 6.5 per cent coconut and coffee porter and Herzog, a five per cent Kolsch style brew.
With juicy flavours, tonnes of hops and some fun and playful flavourcombinations mixed with classics,North Bar Group has already achievedstrong recognition in the competitivebrewing market, as John notes: "Wewon Best Brewing Pub Company at the Publican Awards 2017, whichwas a real surprise; we also recently received recognition as one of the Top 50 Northern Restaurant And Bar Businesses at the Northern Restaurant and Bar (NRB) Top 50 2017 awards, which we are proud of too." Covering 21 brands, 1012 sites and more than 21,800 employees in the North of England, the NRB Top 50 recognises the 50 most powerful firms in the region, as well as individuals that are instrumental to those businesses.
Having enjoyed two decades of steady success, North Bar Group will be celebrating its 20th birthday with aparty in the bar on Saturday 1st July2017. "We will use this occasion tolaunch a year of fundraising efforts with the aim of donating £20,000 tolocal charity St Gemma's Hospice,"noted John. Alongside this support forthe community, North Bar is keen tomaintain its high levels of quality in both brewing and customer service as it focuses on doubling turnover over the next 12 months. Key to making this goal possible is investment in doubling capacity and contracts with distributors such as Matthew Clark and national supermarkets. "Year-on-year we want to double turnover and sales in brewing while also continuing to gain distribution so our beers remain available everywhere," concludes John.