Northern Fish Products has been processing high-quality and value-added seafood since 1912 in the Pacific Northwest and Alaska.
For the seafood industry nowadays, sustainability is more important than ever. "Sustainability used to be just a tangential thing, but now it can supersede price and sometimes quality," Northern Fish Products President Ross Swanes declares. "We make it a point to let customers know on every item we sell how the product stacks up against the Monterey Bay Aquarium's program called Seafood Watch. In general, Seafood Watch is a very useful tool, but it's a big ocean, and you have to be really specific with people."
Sustainability is determined not only by "where" the seafood was caught but also "how" the seafood was harvested. "You have to drive into what a customer is really looking for," Swanes says. "The one thing we do focus on is trust in our supply chain. Customers can audit our supply chain. We know where every fish comes from and where it went. That's really what we provide. It's required by large retailers and broad liners to have a verifiable tracing system. It's not just about food safety. People want to know where their food came from."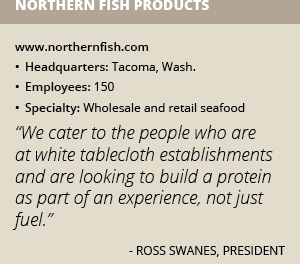 The sustainability question also centers on the carbon footprint required to transport seafood to customers. "The carbon footprint story is not very pleasant when you talk about flying fish in from Alaska or Norway," Swanes concedes. "However, if you're only talking about how renewable the resource is, Alaska is a fantastic story. You have to work with the customer's goals in mind because there are so many different certification standards and organizations trying to claim they have the best answer for sustainability. It changes all the time. There is a lot of fatigue I'm finding with consumers just understanding what is good or bad."
Northern Fish Products consists of four family owned companies, the first of which, Northern Fish, was founded in 1912 by a Norwegian immigrant, Johannes Swanes. "The four companies are all standalone businesses, but when there's opportunity to work together to vertically integrate, we take advantage of that," says Swanes, who is a member of the fifth generation to work in the family business. "When it makes more sense to bring in other partners, we do that, as well. Every company can stand on its own, but when it makes sense to really work together, we do."
Wholesale and Retail
Approximately 45 percent of the company's business is wholesale. Distribution is approximately 50 percent, online sales are 3 percent and roughly 2 percent of sales are from the company's two retail locations in Tacoma, Wash., where the company is headquartered. Approximately half the fish are obtained directly from fishermen and the rest from partners.
Northern Fish's seafood is sold to large broad line foodservice companies such as US Foods or Sysco and a handful of high-end restaurants. The company also has contracts to run the seafood counters at military commissaries on the West Coast.
Value-added seafood such as smoked or repackaged products and any seafood transported by truck is handled in Northern Fish's Tacoma facility. Seafood that arrives by boat is processed at South Bend Products' facility on the Washington Coast in South Bend, Wash., or at Northern Fish Alaska in Cordova, Alaska. South Bend Products was acquired in 2008, and Northern Fish Alaska in 2014.
Hand-cut Fillets
Northern Fish has approximately 16,000 square feet devoted to seafood processing. South Bend has roughly 8,000 square feet and 4,000 square feet are available in Alaska.
Much of the fish processing is manual with the assistance of machines for some processes such as removing heads or pin bones. "Hand-cut fillets always look the best," Swanes maintains. "You have to do a trade-off between the cost to produce vs. the quality of the fillets you want.
Northern Fish hand-cuts an average of 40,000 pounds of salmon fillets per week. "For a big automated salmon plant, 40,000 is not much because it runs through a machine, but the specs aren't as tight and the shapes are fairly erratic," Swanes says. "That is not our target market. We cater more to the people who are looking to build a protein as part of an experience, not just fuel."
Another of Northern Fish's competitive advantages is its use of oxygen transfer bags to place seafood in for long-distance shipments. The bags allow oxygen to pass through so the seafood does not decompose.
Northern Fish was established in 1912 by Swanes' great-grandfather. Swanes attributes the company's longevity to trust. "It's about trust and access to ownership," Swanes says. "I'm not an absentee president. If there is a big issue, I'll go out to a customer and sit down and chat with them. I'll spend the time in the field, and we'll do right by them."