Northern Star Cooperative Services provides a personal experience for its rural Minnesota customers and member-owners.
For nearly a century, Northern Star Cooperative Services has served the rural communities of north-central Minnesota. The company started in 1922 when eight farmers pooled together to purchased a railcar full of grain to feed their livestock. Ten years later, those farmers incorporated the loose organization into a formal cooperative.
That legacy continues even to this day. Northern Star is still managed by a locally elected board of directors and any profits the company earns are distributed back to its 15,000 members through a year-end dividend. Membership is open to anyone. "There's no cost of membership other than doing business with us," CEO Bradley Box says.
From one employee when it began, Northern Star has grown to a staff of 150 and between $40 million and $50 million in annual sales. The company operates three convenience stores, a full-service grocery store, a bulk petroleum and lubricant business and a propane delivery service. Every part of the business has one thing in common: a sense of personal service driven by the small-town, co-op spirit.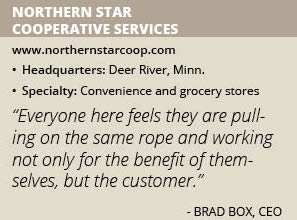 Even the company's largest community, Long Prairie, Minn., has only a 3,400 people, according to the 2010 U.S. Census, so employees get to know their customers and often greet them by name. The local feel creates a personal kind of service seldom found at corporate-owned competitors. "We strive to be the best at customer service in the industry," Box explains. "We feel we have to be. Our member-owners expect and deserve that."
Prioritizing Customers
At some point, everyone has visited a grocery or convenience store where the clerk behind the counter barely makes eye contact and doesn't even read out the total bill at the end of the transaction. Northern Star strives to do away with such complacency. Every customer and employee has a direct stake in the business, which changes the way it approaches service.
"Being a cooperative, we pay back the profits of the company, which makes everyone feel good," Box says. "It's just a different atmosphere than you have in a typical labor structure. Everyone here feels they are pulling on the same rope and working not only for the benefit of themselves, but the customer."
For its customers, every employee, regardless of age or position, is the physical embodiment of Northern Star. A bad experience reflects poorly on the entire company. To ensure team members meet its service standards, Northern Star has an extensive and ever evolving orientation program in its convenience stores.
New employees start off learning one job and move onto the next task only after they've perfected the role. Once the employee has mastered all the positions, they are eligible to become a shift manager. "It gets very well trained employees so no matter when a customer comes in, someone in the building at the time know the answer to their questions," Box says of the training process.
The personalized approach Northern Star takes to its customers extends to its vendors. "We truly look at our suppliers and vendors as partners in our business," Box notes. "We expect a high degree of service from them, but in return, they receive loyalty from us to their products and services."
Adapting to Customers
The desire to constantly improve service drives many of Northern Star's decisions. For years, the company believed it was missing morning traffic, particularly among female customers. The 2016 opening of its third convenience store – a $3.8 million project to replace an undersized location in Deer River – gave Northern Star an opportunity to better address that demographic. The company built a self-serve Caribou Coffee stand in the new store to better serve women heading to work at the nearby schools and hospital.
The success of the Caribou Coffee stand can be attributed in part to its recognizable brand. Offering food and drink items from names people know has been an important part of Northern Star's strategy since at least the 1990s when the company added a Pizza Hut Express to its Deer River store. The new Deer River store kept the Freshway Subs and Salads concept and Pizza Hut Express – which serves as many as 300 personal pan pizzas on a busy day and added an A&W Restaurant concept to its food offerings.
The location in Remer, Minn., has a Hot Stuff Pizza and Smash Hit Subs while the Long Prairie store offers a Freshway and Godfather's Pizza Express. "We've found, especially with the Pizza Hut Express, having that brand presence is really important," Box says.
While the convenience store business remains strong, increased competition from dollar stores and big-box retailers created new challenges for Northern Star Foods, the company's grocery store in Deer River. Corporate-owned competitors have used their nationally backed marketing campaigns to paint themselves as a lower-cost option, even though Box says Northern Star Foods is even on price for most items.
However, a recent survey of 100 customers gave Northern Star confidence that it will weather the increased competition in the grocery space. Consumers listed price as the No. 1 reason they shop at a store, but their desire to support local businesses was the second most-listed reason – ahead of even service. "That was encouraging to me, that people still like to spend money and do business with people that they know," Box says.
Perhaps part of the consumer appeal is that shopping at Northern Star Foods directly benefits the community because all profits go back into the north-central Minnesota region. Last year, the cooperative paid $1.5 million in cash to its members. "No one else is doing that," Box says. "Whatever money is made at the national brands – yeah, they're paying their staff – but the profits are going elsewhere."
Older customers tend to understand the long-term community benefits of shopping at a locally owned business. The challenge is figuring out how to turn instant gratification-seeking millennials into Northern Star members.
Box believes the key lies in linking electronically with younger customers through social media. Each of Northern Star's divisions now has a Facebook page and the company is more active on social media and text message promotions. "We're kind of learning as we go," he says. "In this day and age, there's nothing that isn't worth trying."