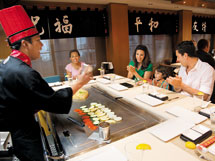 The vacation cruise industry's major trump card has always been its ocean backdrop that mankind has romanticized since the beginning of time. For years, vacation cruise companies have contrasted the freedom of the ocean with regimented programming. The lack of options led to the industry's reputation as a vacation for newlyweds and the nearly dead while its onshore counterparts attracted the buying power of everyone else. But in recent years, and spearheaded by industry leader Norwegian Cruise Line, the industry has developed concepts that now match the excitement and freedom of the water it sails on.
"People felt that cruising was constricting," explains Michael Flesch, Norwegian Cruise Line's senior vice president of hotel operations. "You dine at 5 and then go to the show and if you don't like the show, you are pretty much out of luck. And after the show you might have a drink and then go to your room for the night.
"What's different about what we're doing and what's innovative is we are about small, more intimate settings that give the guests much more choice," Flesch continues. "They like to have a more varied dining experience. Many people don't like to eat in a big 500-seat restaurant. They want a place that has character and uniqueness to it."
Free to Choose
It's called Freestyle Cruising, a term coined and constantly being perfected by Norwegian and has been mimicked by other cruise lines. It touches every aspect of the ship from dining and entertainment to activities and amenities. Passengers can do what they want, when they want, which has opened the market up to a new line of customers.
"The industry is changing because our demographic is changing," explains West Cort, director of restaurant and beverage operations. "The cruise industry is attracting a much more broad audience. The young business couples and much younger families have been looking for a more affordable vacation, and they are expecting what they see shore side in Las Vegas, New York, Chicago, Los Angeles and Miami. They expect a robust environment from their vacation experience."
In 2010, Norwegian, the world's third largest cruise ship operator, delivered on the Freestyle Cruising concept in a big way with Norwegian Epic – a 4,100-passenger ship, the newest and largest of Norwegian's 11-ship fleet. Nor¬wegian Epic is the line's Freestyle Cruising flagship, but the model applies on all of its ships and it is definitely the key theme to two new Norwegian ships being developed now. The 4,000-passenger Norwegian Breakaway will make its debut next May with New York City serving as its home port, while the equally sized Norwegian Getaway will set sail on its maiden voyage May 2014 from Florida's PortMiami.
Picky Eaters
The two new ships will build on the success of Norwegian Epic. With activities for all ages such as a casino, art gallery and Nickelodeon-themed events as well as entertainment including Blue Man Group, comedy troupe Second City and a Cirque Show, Norwegian Epic's goal is simple – be all things to all people. That applies doubly to the food. Cort explains that on a cruise ship, the societal norm of just three square meals a day floats out to sea.
"In our industry, food and beverage ranks higher in the guest's priorities from their vacation experience, more so than you would see in a land-based operation," Cort explains. "It's a much higher priority to our guests in our industry, so with that being said, it's extremely important that we fulfill those expectations, and that has evolved quite a bit over just the last few years."
A major role in Norwegian reaching those expectations is through the vendors it chooses. Flesch explains they must be reliable to a fault and have a network and support team able to support Norwegian on every sea that it travels, such as the network of Italy-based coffee maker LAVAZZA.
"We look for vendors that add value to the consumer and are well-respected – a plus-one brand," Flesch says. "They need to be at or above our level in their given market, willing to be a partner and willing to invest in our business and work with us in ways that can add value to their brand on our ship, whether through co-branding, marketing opportunities or training opportunities."
Norwegian Epic offers more than 20 food and dining options and the new ships to debut in 2013 and 2014 will include even more with many restaurant and bar concepts, including 24-hour pizza delivery – a fleet-wide amenity. The new and current ships have a mix of food and beverage options – some are exclusive to one or a few ships and others are rolled out on each one. The ships also retain the traditional large dining rooms and buffets.
"We do have a nucleus of dining operations that are the same on each ship," Cort says. "Every one has a steakhouse, which is our signature restaurant called Cagney's. And we have a French restaurant on every ship and an Italian restaurant on every ship. From there, the ships will have some additional concepts as well, like Asian restaurants with sushi, noodle bars and Teppanyaki. We recently converted all of our Tex-Mex restaurants, which receded in popularity, and converted them to a Churrascaria concept, which has done extremely well."
Norwegian's most successful dining concepts are a seamless combination of food and entertainment. The sushi and Teppanyaki chefs turn Japanese food preparation into an awe-inspiring tableside spectacle. The Moderno Churrascaria passadors also engage guests with tableside service and conversation, only in Brazilian steakhouse style. Other venues take the traditional concept of dinner and entertainment and turn up the volume a bit. These concepts include Cirque Dinner & Dreams, where the professional acrobatics are a welcomed site between appetizers and dessert. Next on Norwegian's dinner course, the company will introduce a seafood restaurant concept in partnership with a yet-to-be-named celebrity chef.
"What we look at in the development stage is something that has an exciting food and beverage concept and some form of entertainment," Cort says. "The Teppanyaki staff are very fun and very good at engaging with guests. Other concepts like the Cirque Dreams and Dinner show are highly entertaining and our supper clubs have a live show segment during the night. The combination of food and entertainment is very appealing to our guests. Unlike a hotel where some are here for business and others are here for leisure, on a cruise ship it's all leisure travel, and therefore they are all looking for fun, great food and entertainment."