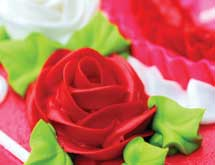 Cupcakes have had their place in the sun for many years – they comprised 10 percent of all cake sales in 2010, and cupcake stores are popping up all the time, according to the American Institute of Baking. Dena Tripp and Debra Shwetz believe it's time for another cake to take center stage, and having combined "the warmth of nostalgia with a fresh, modern approach," these entrepreneurs created Nothing Bundt Cakes.
The two women had been friends for many years, when they got the idea to combine Tripp's bundt cake recipe with Shwetz's frosting recipe in 1997. Working out of Shwetz's home in Las Vegas, the partners spent six months perfecting their recipe before bringing their idea to the marketplace.
"When we began Nothing Bundt Cakes in Las Vegas in 1997, we wanted nothing more than to please our family and friends," the founders said in a statement. "Needless to say, now thousands of others are just as excited about our delicious cakes. Like all entrepreneurs, we started small. But by using the purest ingredients, handcrafted recipes and imaginative decorations, Nothing Bundt Cakes­­ has now grown into the success it is today."
With two corporate bakeries in Las Vegas, Nothing Bundt Cakes has expanded through franchising and now has nearly 25 retail locations in California, Texas, Arizona, Colorado, Nevada, Utah and Nebraska. Con­sumers are responding to the company's offerings, and it has 13 more locations opening soon.
Serving Special Occasions
Nothing Bundt Cakes' flavors include Chocolate Chocolate Chip, White White Chocolate, Red Velvet, White Chocolate Raspberry, Carrot, Lemon, Marble, Cinnamon Swirl and Pecan Praline. Additionally, each month the retail locations offer a new cake flavor. It is the cakes' frosting, however, that distinguishes their appearance from the bundt cake you might bake at home.
"Some signatures are in ink, some in paint, but the really tasty ones are in frosting," the company says. "At Nothing Bundt Cakes, we're famous for the thick, frosted petals that adorn each of our cakes. Our signature frosting is a velvety cream cheese and real butter, but for a lighter touch, [customers] choose our drizzled frosting."
Additionally, Nothing Bundt Cakes happily decorates its cakes to fit any occasion. The company offers a variety of designs to commemorate birthdays, anniversaries, baby showers and seasonal events, as well as customized cakes for corporate clients. In its "Just Because" category, for example, Nothing Bundt Cakes offers 11 designs, such as:
Nothing Bundt the Best
Hole Lotta Love
Cute As a Bundton
Cheery-O
The brand's cakes range from the bite-sized "Bundtini" to the single-serving "Bundtlet" and larger 8-inch and 10-inch cakes. To serve larger groups, Nothing Bundt Cakes stacks its cakes in tiers.
"Perfect for any occasion, our handcrafted recipes and inspired decorations celebrate special moments with a delightful charm and wit," it says.
A Future in Franchising
Tripp and Shwetz opened their first Nothing Bundt Cakes location in 1998 in Las Vegas and opened their second site in 2002. They tried to grow with more corporate locations in Phoenix, the company explains, but soon realized they preferred owners/operators running the brand's bakeries, instead of just managers. In 2007, the two founders opened the first franchise location in Poway, Calif.
"You don't need baking experience, just the desire to please customers – because each franchise owner receives thorough baking training," the company says. "But that's just the beginning – Nothing Bundt Cakes offers terrific ongoing support through comprehensive training, strategic marketing, protected territories, site selection, store design and help with equipment selection, ordering and special ingredients.
"Our brand – with its reputation of pure ingredients, amazing tastes and personable service – is a proven success with customers. We're confident it will be with franchisees, too."