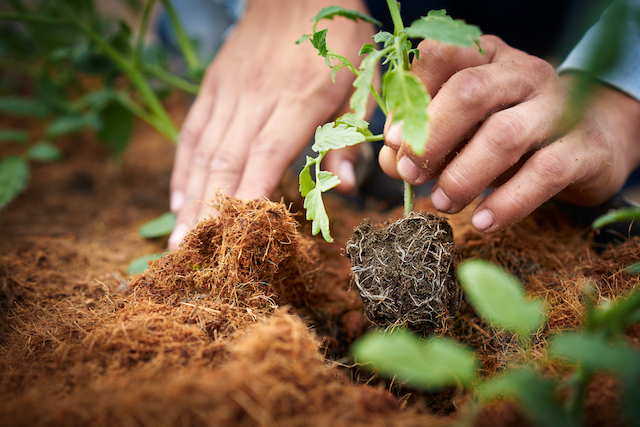 NS Brands continues to invest in production and network expansion that will expand its presence in the marketplace and increase market share in the premium produce segment.
Raising tomatoes right isn't easy, but NatureSweet sets the bar when it comes to nurturing its products to become the leading grower of the "best-tasting premium fresh produce" in North America. "Our claim to fame is producing the best snacking tomatoes in North America and we command that market," Vice President Supply Chain Matt Volker says. "We are privately held and ownership is committed to improving the standard of living for agricultural workers throughout North America through unleashing the power of people. Our success in the marketplace is dictated by our superior quality of products which is a direct reflection on our associate's commitment to excellence."
Because of its associates' dedication to the company, NatureSweet is on an aggressive growth path to increase volume and revenue by 20 percent in 2019. To achieve its promise, the company has been developing a broadline offering over the past two years that has expanded its product line into conventional and organic snacking produce. "There is a niche in the marketplace that demands there is an offering of such," Volker says. "In November, we introduced 45 new SKUs, which most CPGs would say is insane, but that's who we are – we find out where opportunities exist and proceed to aggressively enter the market."
To support its expanded product line, NatureSweet has expanded growing facilities and regional distribution centers to provide real-time supply to its customer base. "All the retailers we work with are amazed at who we are," Volker says. "Customers visit our world-class facilities and meet our associates first hand, and walk away amazed at who we are as an organization.
"The Naturesweet vision, like any consumer packaged doods company, is that any consumer will trust our product by name and believe in the quality and taste of products they are buying in the package," he continues. "Our food safety and quality assurance programs dictate an offering that is well above anyone in the industry. That's what we pride ourselves in 'being every day.'"
Solid Ground
As NatureSweet expands, Volker's team focus is having the right products at the right time to fulfill customer orders. In July 2018, the company transitioned all manufacturing sites production to flow through a centralized packaging facility, which coordinates all raw products to ensure the proper mix is shipped to regional distribution centers in the United States. Secondly, "We went from three to six regional distribution centers in the United States to be closer to the customer," Volker explains. "That's a huge undertaking and we did it in six months. Our people take pride in execution and meeting challenges that transform who we are as an organization."
In the produce industry, the supply chain tends to be a "push" system where production creates the demand. "Produce by nature, tends to be a commodity driven industry primarily because it is difficult to reliably predict yields, but we predict very well and execute a projection of volume at + 90 percent yield every day," Volker explains. "If the demand is there great, and if it's not there, we will shift our production schedules or planting cycles to different market segment opportunities. As a consolidation of packing and expansion of regional distribution centers developed, we had to shift our mentality and transform to a combination of a "pull-push" system. Between retail and commodity channels, Naturesweet now has the flexibility to meet an expanded customer base across the U.S., Canada and Mexico."
As NatureSweet strengthens its foundation, the company has also been investing in new technology and people to improve its operations. "We started off with spreadsheets and standalone modules to understand demand and supply planning, but over the past 18 months we have replaced legacy systems and introduced several 'systems' beginning with a demand and supply optimization tool that provides a platform for a single source of information," Volker says. "Secondly, a formal P2P platform was introduced to automate procurement activities across a broad range of spend categories that has led to a transformation from tactical procurement activities to a strategic sourcing logic."
In addition to investing in Ariba SAP procurement software, NatureSweet has also implemented a new warehouse management system and transportation management system. "With an introduction of each system, we have seen the benefits immediately," Volker notes. "Real-time visibility, tracking and cost / service reporting, allows the organization to understand areas of opportunity involving cost, quality and service. Traditionally, we did a lot of the heavy lifting through spreadsheets to understand the logistics, which was open to data integrity issues because of the manual approach. Now that it's systems-generated, we can get results quickly and any issues around the data are realized and resolved in real time."
Moving forward, NatureSweet will remain focused on increasing volume and revenue through automation. "Our broadline programs that have been in place with strategic retailers since September have been very successful," Volker notes. "Our expectation is to expand the "Broadline offering" across North America. In summary, the evolution of customers' shift from tactical to broadline supplier partnerships, automation through systems support, and transformation of internal operational networks provides Naturesweet a window of opportunity for continued success in the immediate future."