Oceans Omega is poised to revolutionize the industry with its stabilization technology that maintains the sensory integrity of food and beverages fortified with omega-3s.
Dr. Volker Berl co-founded Oceans Omega in 2009 with the vision of delivering the health-enhancing benefits of omega-3 fatty acids to a broader customer base through conventional foods and beverages. "The demand for omega-3-fortified food and beverages is increasing, especially as consumers seek alternatives to softgels and more convenient ways to consume omega-3s," he says.
Based in Montvale, N.J., Oceans Omega is a leading supplier of water-soluble omega-3 EPA/DHA and DHA-only emulsions. Its mission is to address the ever-growing concern over brain, heart and eye health due to the lack of omega-3 fatty acids in the daily diet of average consumers. The average person consumes about 150 milligrams of omega-3s per day, but Berl says nutritionists recommend between 250 and 500 milligrams per day.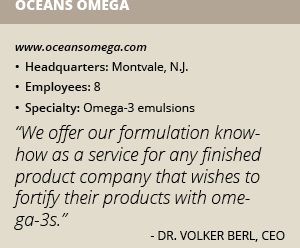 "There is a lot of pull from the market in terms of closing the nutrition gap," he adds. "Forty percent of Americans can't swallow large omega-3 pills, so our ingredients provide a unique opportunity for food (and especially beverage) companies to fortify their products and help close the nutrition gap. Omega-3s have the greatest consumer perception. They know about omega-3s and that they are good for them."
Omega 3-s are essential fatty acids, meaning our bodies cannot produce them. Consumers depend on naturally occurring sources like fatty fish, supplements, and fortified foods and beverages for our EPA/DHA omega-3 needs. This is why closing the nutrition gap is so important, since most of us are not getting enough omega-3s from conventional food like fish, or do not like taking pills; introducing omega-3s into new fortified foods and beverages will help consumers more readily incorporate omega-3s into their everyday diet.
Oceans Omega is the only company with patent-protected stabilization technology that offers a range of omega-3 emulsions that are water soluble, stable and clear in finished products. They have virtually no impact on taste, odor, appearance or texture. "It is very difficult to deliver omega-3 and maintain sensory integrity in a functional food or beverage if you are not capable of protecting the oil from oxygen, which will cause oxidation," Berl explains. "It will cause a fishy smell that will be unpleasant for any food product and preclude the edibility or joy of eating these foods."
How it Works
Oceans Omega's efforts have not gone unnoticed as it received in 2015 the Frost & Sullivan Omega-3 Visionary Innovation Leadership Award in North America. "We identified a need for creating a technology that addressed the sensory and non-refrigerated shelf stability of finished products that could not be achieved before, and that's exactly what we did," Berl says. "We created this new, patented, proprietary mixture of ingredients that we found and qualified to be vital to protecting omega-3s in the production of foods and beverages, and more importantly, in providing long-term shelf stability. We are pleased that Frost & Sullivan recognizes the importance of our contribution to omega-3 fortification of foods and beverages."
Oceans Omega partners with DSM Nutritional Products, KD Pharma and Bioriginal as suppliers for the premium fish and algae oils featured in the emulsions. DSM offers life'sDHATM, a fish-free, vegetarian, and sustainable source of DHA from algae oil. "life'sDHATM provides important brain, eye and heart health benefits," says Philippo de Simone, DSM Nutritional Products head of sales, North America dietary supplement business. "According to our market research, consumers who are aware of the health benefits associated with DHA omega-3 are willing to pay extra for it."
KD Pharma supplies its KD PÜR oils, offering both highly concentrated EPA/DHA and DHA-only oils from fish and algae. Bioriginal supplies an EPA/DHA oil that provides a balanced ratio of the two fatty acids, and is also Kosher. Oceans Omega emulsifies the oils to make them water-soluble, which is of utmost importance as the ingredients are added to enhanced waters, ready-to-drink teas, liquid nutritional shots, add-to-water concentrates and gels. In addition to being shelf-stable at room temperature, an aesthetically appealing side effect is that these products are crystal clear, a feature that is not easily achieved using conventional emulsions.
"The novel aspect of Oceans Omega's delivery technology – where all other technologies and approaches have failed so far – is its proprietary stabilization technology, which was particularly designed for effectively protecting omega-3 fatty acids from oxidation in micro-emulsions," Berl explains. "This crucial feature is a key success factor in the development and commercial viability of regular food and beverage products, where long-term, unrefrigerated shelf-stability and seamless integration into a mainstream food manufacturing process is required."
Trident Brands CEO Don MacPhee says Oceans Omega's scientific and formulation team has a deep understanding of its needs. "We have worked diligently with them to successfully fortify our Everlast Nutrition and Brain Armor shots being launched later this year," he adds. "This technology is revolutionary and we are proud to partner with Oceans Omega."
Oceans Omega's delivery technology also allows for the combination of omega-3s and other synergistic ingredients, including Coenzyme Q10, lutein, choline, L-citrulline, and more. For a finished product that aims to address a specific health concern, like cognition for example, then DHA omega-3s and choline is the natural combination. If cardiovascular health is the main focus, then the best two ingredients to combine are EPA/DHA omega-3 and CoQ10. The company sees significant demand for similar combinations as some customers seek to differentiate their products not only through the novel delivery format, but also with premium positioning when featuring multiple healthy ingredients.
Oceans Omega operates as a lean company with eight employees, so it complements its resources with those of its partners to leverage its technology. "We have our oil partners (DSM, KD Pharma, Bioriginal) to thank for the pristine oils featured in our emulsions, as well as our partners Prinova and Bioriginal, for manufacturing the emulsion," Berl says.
The company also partners with Mitsubishi International Food Ingredients Inc., Prinova, Molecular Health Technologies LLC., and other large international food distributors to sell its ingredients to the food and beverage market. "At Oceans Omega, we have a lot of know-how on the technology side gathered through years of experience and ongoing efforts to expand our offerings," Berl says. "We offer our formulation know-how as a service for any finished product company that wishes to fortify their product with omega-3s. We offer turnkey solutions with all the tools on hand to make this happen."
"Prinova is excited to introduce Oceans Omega's technology to our customers," Prinova's Commercial Director of Food and Beverage Larry Davis says. "It was difficult in the past to incorporate omega-3s in foods and beverages, especially clear beverages with an ambient, long shelf life. By partnering with Oceans Omega, we can now offer the functional benefits of omega-3s through their ingredients, and it offers us the opportunity to talk to our customers about innovative delivery technologies. We are seeing a growing trend of consumers seeking healthier products, and believe the growth prospect for omega-3 fortified foods and beverages is positive."
Oceans Omega provides customers with any level of support spanning from regulatory guidance to turnkey finished product solution. For example, the company can offer formulation and onsite research and development support. "When a project is ready to be scaled, we offer a huge know-how in terms of production support and having another set of eyes for quality assurance," Berl says. "Together with our trusted and valued partners, we make sure the ingredient is incorporated successfully."
Product Launch
The young company is just beginning to show the industry what it can offer, but Berl expects four products to launch later this year with Oceans Omega's ingredients incorporated. "This is just the beginning of what we believe will be a more broad rollout," he says. "There needs to be more industry recognition that Oceans Omega and the technology exists, and that omega-3 fortification is doable without impacting the sensory and taste profile of a product. That is always met with initial disbelief and hesitation in the market until they actually realize it does work."
Although Berl could not share which companies we would see using its ingredients in their products later this year, he did say the focus is on enhanced water, energy drinks, fortified soda and liquid nutritional supplements. Oceans Omega targets mid-tier to smaller companies in the United States that will be quicker to launch an omega-3 fortified product.
Moving forward, Oceans Omega wants to expand by offering more emulsions and incorporating other oils. The company wants to be part of broader fortification in the food, beverage and liquid nutritional supplement markets. "We would be thrilled to be the technology-enabling company to make that possible and open up product categories that have been precluded from fortification before," Berl says. "Nothing precludes us from incorporating other oils."