The perfect blend
With 13 locations across Scotland, and more on the way in 2021, OCO Westend is a Starbucks franchise business with ethics, sustainability and community at the heart of its success
For ten years, OCO Westend successfully operated six Pizza Hut franchises across Glasgow and Fife, Scotland. In 2011, however, Managing Director JJ O'Hara decided it was time for a change. Wishing to take OCO in a different direction, JJ set out to find a new franchise opportunity that would 'put a spring in his step'. The answer, he discovered, lay with Starbucks.
"When I came out of pizza, I wanted to do something that I loved," JJ recalls. "I enjoyed coffee, and I was a Starbucks customer anyway, so the Starbucks franchise opportunity was a really natural move.
"We opened our first store in 2013, just as Starbucks was beginning to franchise sites in the UK. It was a fantastic opportunity to roll up our sleeves and take a great brand forward in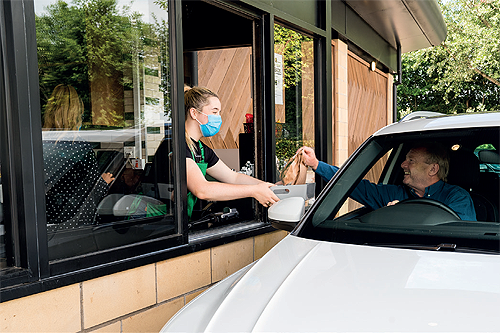 Scotland. Our aim from the very start has been to create a sense of belonging. I believe that, if you do the basics really well, then people will come back again and again."
Having grown quickly over the last eight years, OCO now operates 13 Starbucks locations in the West and Northwest of Scotland. Servicing locations such as Inverness and Perth, the firm's varied portfolio includes high street stores, drive-thru outlets and home delivery options.
"Five years ago, many people questioned drive-thru coffee, but the market and the brand embraced it immediately," JJ says. "Convenience has become a vital part of the offering and so today, alongside drive-thru, we also have delivery coffee, mobile ordering, takeaway coffee and sit-in coffee."
The diverse nature of OCO's retail mix has allowed the company and its Starbucks franchises to remain flexible throughout the last 18 months, enabling the business to grow in spite of the pandemic. Early in 2021, OCO opened a new drive-thru and café in Polmadie, Glasgow, and the firm hopes to operate 20 stores across Scotland by the end of 2022.
"We think there is probably room for around 30 stores in our territory in total, so we are actively looking at potential locations as part of a wider pipeline for growth," JJ reveals. "By the end of this year, we will have 14 outlets. We are in negotiations for number 15, which will likely be a retail park unit, and we already have five stores lined up for 2022. It's a very exciting prospect and an illustration of our intentions to expand with Starbucks."
Innovative ideas
Since establishing its first Starbucks franchise in Scotland, OCO has brought more than 250 jobs to the country, 100 of which of have been created in the last ten months when it opened five new drive-thru stores. Thanks to its personal approach and commitment to workforce development, the company's Starbucks stores enjoy a lower than average staff turnover rate and a higher than average proportion of skilled employees.
"We pride ourselves on our teams and spend a huge amount of time and money on training and development," JJ states. "We want to give our people the opportunity to be the best version of themselves. Starbucks recommends having at least one Coffee Master per store. Incredibly, we have 108 Coffee Masters across 13 stores, and that has really helped us create an inspirational environment for young people coming up through the business."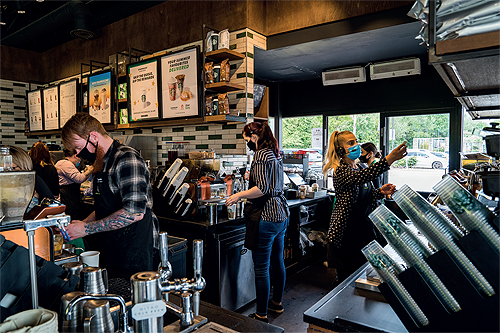 Encouraged by the strength of the Starbucks brand and the experience of the management team around him, JJ is optimistic about fulfilling OCO's objective of launching over 15 new units over the course of the next few years. Confident in the coffee brand's product offering and enduring popularity, JJ and his team now have their sights set on delivering innovative Starbucks outlets of the future.
"We have got great routes to market and we can service all of those with Starbucks' market-leading position on technology," JJ declares. "We are currently involved with Ionity – a high-power charging station network for electric vehicles to facilitate long-distance travel across Europe. Generally, with other providers, it can take 40 minutes to charge an electric vehicle to 80 per cent, but with Ionity, electric vehicles can be fully charged in 10 to 15 minutes.
"With the adoption of electric vehicles rising, we believe that Starbucks drive-thrus could be the service stations of the future, where people stop for 15 minutes, grab a coffee, and charge their vehicle. We've already installed Ionity chargers at Starbucks sites in Perth and Polmadie, and we expect to install them at other locations soon. Our sector provides an ideal opportunity to tap into the electrification revolution and Ionity is the perfect partner for that.
"In the future, we might become experts in multiple brands within our territory, but for now, OCO is focused on its long-term vision with Starbucks. It's a fantastic brand that we will help to grow across Scotland throughout the next five years."