Customers and franchise operators in Southern California are attracted to Oggi's Sports | Brewhouse | Pizza because of the care the brand takes with every aspect of its operation.
Fans of Oggi's Sports | Brewhouse | Pizza know the company's name means "today" in Italian, and symbolizes its dedication to fresh and current offerings. The operation may not be as large in size as the major chains in the market, but no other franchise offers everything that Oggi's does, and the brand continues to evolve while maintaining a dedication to quality. Recently, that involves using an operations team to visit its locations, and employing a "dough doctor" to ensure its pizza dough remains consistent at each site.
"There are so many competitors out there, and we want to make sure when consumers come to Oggi's, they're getting great food and great service," Vice President Estella Ferrera says. "Our operations team and dough doctor work with our franchise partners closely to make sure everything is exactly as it should be.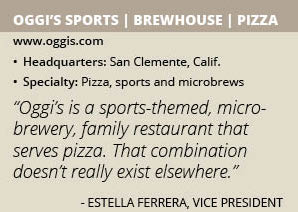 "We make everything fresh in-house –and it takes a lot to make sure it all comes out perfect," she adds. "Dough is finicky and it's a science, but we want it to be great because we use dough for a lot of menu items – pizza, flatbreads, garlic knots and cinnaknots, which are dough knots stuffed with cream cheese icing and covered in cinnamon and sugar. We make our Oggi's dough from scratch every day and hand toss each pizza, which is why our pizza dough has such a great French bread texture to it. No one leaves the crust behind at Oggis!"
Ferrera has full confidence in the quality of Oggi's menu, but she learned about the popularity of cinnaknots when she brought her daughter's softball team to one of the Oggi's locations after a game. "Oggi's is perfect for team parties – it's a casual environment with pizza and parents can have good food and good beers," she says. "We hooked up a slide show on the TVs so the players could see their highlights, and they really devoured those cinnaknots."
Fresh Flavors
The quality of Oggi's menu, the level of service it offers and its enjoyable atmosphere are all key aspects of the operation as it continues to expand and attract new customers. The company has 15 full-service locations and one Oggi's Pizza Express in Southern California, but it recently signed a three-store deal with a multi-unit operator who wants to expand the franchise. The first of these new locations will be in Fontana, Calif., and should be open in the first quarter of 2019, and the other two will likely be located in the state's Inland Empire region.
"Operators are attracted to our uniqueness," Ferrera says. "Oggi's is a sports-themed, microbrewery, family restaurant that serves pizza. That combination doesn't really exist elsewhere. We are sports-themed, but we are careful not to call ourselves a 'sports bar.' There are no fights at Oggis; families are coming here. The environment is so great, and that is coupled with really good food and really good beer."
Oggi's beer is made in San Clemente, Calif., and self-distributes its product offering to ensure it's as fresh as can be; Ferrera notes that most of the time Oggi's restaurants have beer that is just days out of the vat. This focus on freshness and flavor continues to earn the company medals for its beers with the most recent at the Great American Beer Festival, a silver medal for our McGarveys Scottish Ale in 2017. The same beer earned a Gold at the San Diego International beer competition in 2017 as well. She explains these are some of the biggest, most competitive competitions that exist, and 27 years after it started, the brand offers 10 full-time beers and constantly tweaks them to improve.
"We definitely say Oggi's has some of the best beers in the world," Ferrera says. "We use beer throughout our menu and do beer pairings because our executive chef has a real passion for it. We've really tapped into that and do beer-pairing dinners because it's an important part of our business. You come in and learn about the true complexity of the beers, and it's so much more fun to eat and drink when you've learned more and feel like you're a part of it."
Oggi's takes pride in the sports atmosphere of its locations, which makes it a perfect partner to a number of professional sports organizations. Oggi's is currently the exclusive pizza sold at the Los Angeles Angels' stadium and the official pizza of the San Diego State University Aztecs. Over the past 15 years, Oggi's also has partnered as the official pizza of the San Diego Chargers, the Del Mar Thoroughbred Club in San Diego, San Diego Padres, The Anaheim Ducks and The Phoenix Coyotes. With all of these partnerships, Oggi's is the exclusive pizza sold at each venue along with wings, and some of the locations also sell Oggi's beers.
"These are huge deals, and we've been working with some of these teams for 15 years," Ferrera says. "We run each concession from the corporate office, and Oggi's is the only pizza sold at these stadiums. We insist on making the product ourselves so the quality is in our hands, and we only have the best people in charge of these operations."
Brand Strength
Ferrera explains the concessions business may have a limited menu, but Oggi's does not want to sacrifice quality in any area of the operation. "One of our guys who kicked this off for us has been with us for 20 years, and the same goes for our concessions manager – he's been with us for 10 years," she notes. "This is a family business, and the whole team cares so much because we care so much. This energy filters through to the entire team – everything we do makes a big difference."
Ferrera takes pride in being part of the family who started Oggi's, and notes the family is excited to celebrate the company's 27th anniversary this August. She stresses that passion from her family is just one aspect of Oggi's that has kept the brand strong. Additionally, she notes, the company has great franchisees who work hard in their locations, and the brand's evolution continues to keep it fresh.
"We turned our focus inward over the last 12 to 18 months with minimum wage increasing and prices going up," she says. "We knew we needed to be better in order to compete. Being better all begins with how you look as a franchise and I am proud to say that most of our 15 full service restaurants have all done our complete remodel; there are four that are in the process. In addition to looking great, we have to give excellent service and have great food, consistently."
To ensure a consistent level of high quality, Oggi's implemented a secret shopper program in 2017, as well as a new training program and related materials for franchisees. Also, because it is "the core of who we are," Oggi's put extra focus on its dough, employing its "Dough Doctor" to ensure each kitchen follows its recipe exactly, as well as the handling and preparation specifics.
Oggi's also is automating more in the kitchen and launching a new online ordering and POS systems to be more efficient and elevate the customer experience. The company is working with more third-party delivery companies, like DoorDash and GrubHub, but Oggi's also continues to promote its own online and delivery service, because it sees a lot of growth in that area. To help promote all of its programs and products, Oggi's marketing team has elevated its advertising program with new photography, videography, ad development and innovative ad placements, Ferrera says.
These enhancements have yielded positive results, she says, in that the brand saw positive growth overall, compared to last year, and saw substantial growth in the San Diego market year to date so far.
"I am extremely proud of what we've been able to do with our brand, as well as the strength of our brand," she says. "The fact that my family built this, and we all still love each other, is great. My parents started this with my uncle, and now all of them are partially retired, but I run the franchises, my brother runs the brewery and our cousin works closely with us. We all work very hard and love each other, and that keeps our brand strong."