OH SNAP! proves there is no time for dilly dallying in the pickle business
OH SNAP! is known for its pickles. They're sweet, they're salty – and they're the favorite among many North Americans. But the company didn't begin with them.
Now a fourth-generation family-run business, OH SNAP! was founded back in 1900 and it had a peculiar claim to fame: it was the world's largest manufacturer of sauerkraut. The founder's great-grandson, Ryan M. Downs, who now serves as company CEO, recently sat down with Food Chain to discuss a rich history and a brine future.
"It's true!" he begins. "Well, we actually began life in the fresh produce cabbage business; the company would harvest cabbages and sell them to large, upper-midwestern cities. To put some perspective on how long ago that was, the cabbages were sent by railcar on ice blocks!"
Pickle perfect
Over time, though, a big surplus of cabbages built up. What was Ryan's great-grandfather to do with them? Turn them into sauerkraut, of course! And, as Ryan puts it, that's how the family business was born – and it was to be preserved in salty brine.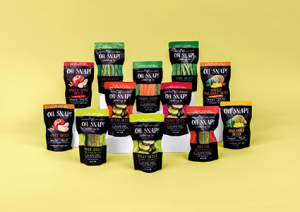 "The business continued to grow throughout the 20th century," he goes on. "Fast forward to 2005, I was living in New York City, but decided to move back and join the family business. We were still an exclusively sauerkraut-focused company, and our brands were number one nationally for both shelf-stable and refrigerated products. But we saw what others, including some of our packing customers, were doing with pickles and it gave us an idea."
Perhaps more specifically, OH SNAP! saw an opportunity and took it – with both hands. The company, which is comprised of local Wisconsinites, took the single-serve route with a new refrigerated brineless pickle. After pitching the idea to various industry players – and garnering positive feedback from them – the newest iteration of the company was formed.
In fact, just last year, OH SNAP! divested the sauerkraut part of the business. But what sets the brand apart from its competitors? Ryan underlines three hallmarks.
"Taste, convenience, and the right branding," he says. "I mean, obviously, North Americans eat a lot of pickles. The world eats a lot of pickles! We can't get enough. So, we thought if we could just put a twist on a high-consumption item (rather than, say, inventing something completely new), then that would be a ticket to success.
"But it all starts with taste," admits Ryan. "In our mind, at least, the product we have come up with is phenomenal – and the customers agree! Taste and branding aside, convenience is the next essential element to a successful launch. With OH SNAP! that comes from the brineless nature of the product."
Indeed, gone are the days of having a jar full of brine sitting in the cupholder of your car or vinegar drips dotting down your shirt. Whether its pickled cucumbers, green beans, baby carrots, or snap peas, OH SNAP! offers the convenience of brineless pleasures. More recently, though, the business has diversified: there is no longer just the pickle, but a family of them.
Savoury sisters
Meet Dilly, Hottie, and Sassy. We all know Dilly; she's a regular Joe. The classic dill pickle – also available in bite size form, Dilly Bites, which is the product line's biggest seller. Hottie is the same, but not quite. With added capsicum, this variety offers a bit of a kick – just enough to wake you up from that mid-afternoon slumber. Last in the trio is Sassy, the best of both worlds: a small kick and a touch of sweetness. The ideal in-between, you might say.
Flavor fusion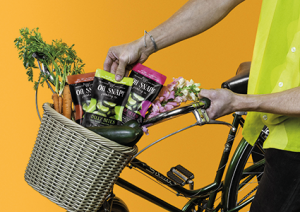 Newly released by OH SNAP! is a range of pickled fruit. Yes, you heard that correctly. Pickled fruit! As Ryan is keen to point out, though, there are numerous benefits to the at-first strange sounding food product. "We have two main kinds so far, each with a variation," he explains. "First is our pineapple bites and its spiced equivalent, and then we have our sweet and savory apple bites plus those with a touch of heat."
"It's the same formula as our pickles," adds Ryan. "Great taste, no brine, and the added benefit of a brilliant brand behind it. It will probably be a higher hill to climb in terms of adoption, sure, because people are not as familiar with pickled fruit (especially when compared to cucumbers). But given the success of our brand already, we trust that people will give them a go!"
With cinnamon, cloves, and hints of spice, there is more to these snacks than initially meets the eye. As Ryan points out, not only will OH SNAP!'s pickled fruit have a longer shelf life, but it can also prove much healthier than many other sugar-laden dried fruits or canned goods with added syrup.
A result to relish
OH SNAP! hopes it will be a winner. "The last item, which we are actually just about to introduce, is really special," hints Ryan. "It's a unique infused cranberry snack. For this one, we take cranberries and prick them with a cherry pitter, before pressing them at a specific temperature and pressure. In turn, this will remove the tartness and bitterness from the berry."
"When that juice has been leeched, we infuse the cranberry with natural juices (pear, apple, and so on), and this re-hydrates the cranberry, making it an amazing snack," he continues. "It's healthy. We think its phenomenal! In fact, we predict it will soon be the hottest item in the fruit line."
Looking at the year ahead, OH SNAP! intends to get its pickled fruit line off the ground (and into the hands of consumers). Though, outside of that, Ryan says the company is also launching a new product under separate entity, CLARK ST.: a fermented, fresh non-alcoholic pineapple beverage called Tepache. Beyond that, OH Snap! wants to become a household name – and if our conversation is anything to go by, it surely will.