When Olga Loizon began selling her trademark Greek-style sandwiches out of a small kiosk in a Birmingham, Mich., shopping mall in 1970, she knew the combination of seasoned, broiled beef and lamb topped with onions, tomatoes and tangy "Olgasauce" – and wrapped in her secret-recipe "Olga bread" – would quickly earn a fan following. But what she didn't know was that Olga's Kitchen would evolve into a chain of 34 successful restaurants in Michigan, Ohio and Illinois with two more under construction.
When a restaurant investor tried the Original Olga sandwich, he recognized its potential and offered to purchase the product and rights from Loizon in 1976. Olga's Kitchens began popping up in shopping malls across the state throughout the 1970s, 1980s and 1990s until shareholders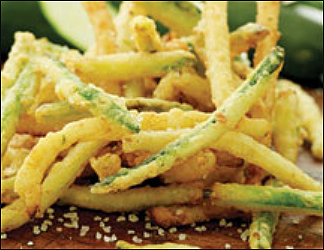 at the Troy, Mich.-based company noticed retailers were transitioning from regional shopping malls to big-box-anchored retail centers, and reacted to this new trend. It now operates more than half of its restaurants in suburban strip centers.
Olga's Kitchen underwent another tran­sition when current President and CEO Matt Carpenter joined the company in 2007. Carpenter's previous executive positions at Applebee's, Zio's Italian and Frisch's Restaurants allowed him to bring significant industry experience to Olga's Kitchen. "At Olga's, I saw a spectacular product with tremendous consumer appeal that could be developed and expanded," he says.
Olga's Recipe for Success
Even though the economy was still on the mend from a recession that seemed to hit Michigan especially hard, 2010 was a record year for Olga's Kitchen. Its top line was up by more than 5 percent from previous years.
Carpenter credits a number of factors. First, Olga's Kitchen continually improved its guest experience on a year-over-year basis. Internal data collected through its customer loyalty program showed its purchase loyalty had improved for 36 straight months, Carpenter notes.
"You can drive people in but what really matters is what you do once you have them," Director of Marketing Chad Oliver says. "The most valuable piece of information you can get from a loyalty program is the market insights or transactional data that those cards allow you to track on your consumer base. We use that data to determine what guests like to eat and what part of the menu they use the most so we can send out email offers that are pretty selective to the individual. The guests get what they want, and hopefully we'll get some extra visits out of that."
Another focus for Olga's Kitchen is on product innovation. It introduced 12 new menu items with bolder, more contemporary flavor profiles to strengthen its menu breadth and variety.
"Although our primary positioning is a premium sandwich offering, we also paid attention to introducing healthful alternatives such as entrée salads, or salads as a meal," Carpenter says. "I think the No. 1 trend in the past couple of years is value, and I wouldn't characterize that solely as price.
"We've been really focused on using high-quality, locally sourced ingredients while still paying attention to our price positioning in order to drive value," he continues. "We have also worked to create a family focused experience with moderately priced kid meals with healthful options."
In addition, Olga's Kitchen has enhanced its to-go experience for customer convenience, which now constitutes more than 20 percent of its sales. Patrons may call or order online and then pull up to a parking space outside the restaurant and have their orders brought to them in their cars.
The company is leveraging its presence on social media platforms such as Facebook, Twitter and Yelp to engage customer communication. "We have a presence on all of them to create an open, two-way dialogue with our guests," Oliver says.
"We're using what's out there to listen and be proactive about developing products and services that are tailored to our guests."
Now, Olga's Kitchen is gearing up for another growth spurt as it looks to expand through a master franchise system. "We are currently looking in nine markets adjacent to Michigan for the right franchise development partners," Carpenter says. "We have no agreements in place, but we are working on that diligently now."