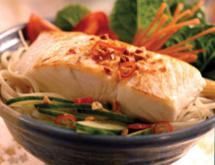 From great people come great products" is a philosophy that continually guides the business of Orca Bay Seafoods Inc. Not only does this refer to the company's more than 200 employees, but it also is a nod to the fishermen and seafood harvesters it works with. This philosophy, combined with its "winning formula" of quality, value and innovation, has made Orca Bay Seafoods a leader in the processing and distribution of seafood.
Based in Renton, Wash., Orca Bay distributes seafood for the retail and foodservice markets, and offers its own brand of club store and retail products. The company says it promotes from within, which has fostered a "fiercely loyal, experienced and dedicated crew." It also works closely with suppliers and the industry to ensure its "demand for the finest seafoods does not come at the expense of the individuals or oceans that provide them."
In a recent conversation with Food and Drink, President and CEO Ryan Mackey spoke about how Orca Bay maintains the quality in its operations, products and partnerships.
Food and Drink:
Can you explain how Orca Bay gets products to customers?
Ryan Mackey:
We have a team of purchasing people that are responsible for sourcing our products. We focus our efforts on building long-term relationships with vendors that share our goals. In some cases we have the final products processed at the point of origin and in some cases we do the final processing in our Renton facility. We believe that having the ability to do both is one of our competitive advantages.
FAD:
How do you ensure quality?
RM:
Quality begins at the source, so for us, the process starts with the cooperation with our vendors in developing specs and processes that will achieve the highest quality. In addition, we have each overseas' shipment inspected by SGS [an international testing and inspection firm] before it is shipped to us to ensure the quality standards are met, including not only the organoleptic testing for wholesomeness, but also the lab testing for species specific hazards – such as antibiotics in farmed fish or mercury in swordfish.
Once the goods have been imported into the United States, they are again inspected by our quality assurance team to ensure our standards are being accurately applied by the third-party inspectors.
FAD:
How do you maintain a culture that is focused on quality?
RM:
The overall theme is based on continuous improvement. For example, last year we started a program where we had an outside instructor come in and teach ESL classes to small groups of our employees in an effort to improve communication within a very diverse crew. By giving the employees a bigger voice in the process, they take more ownership of the final product.
We are very fortunate to have a very low turnover rate as well as having a company full of people who have advanced internally. I started as a forklift driver, our customer service manager Lynda Dart started as a truck driver, our Controller Pam Vessey started as A/P admin and Scott Russell, our production manager, started as a forklift driver, just to name a few examples of employees who have grown with the company.
Not only does this afford us a group of managers that are very well cross-trained in other departments, but the ground-up development also gives us the passion and commitment not typical of a company this size.
FAD:
What is the company doing to ensure sustainability?
RM:
Essentially our sustainability policy is based on making the best decisions we can. We know there is no magic bullet when it comes to sustainability but we believe if we work toward honest solutions, we will continually improve our processes and reduce our impact on the environment.
FAD:
What is your vision for Orca Bay?
RM:
The vision relates back to the goals that were outlined by Chihiro Tokushima, chairman of our parent company Tokusui, when I started, and that is to do business honorably, honestly and show continued improvement.
As a result of those goals, we believe we have consistently one of the highest-quality seafood lines in the industry, all the while maintaining our U.S. plant and providing jobs for almost 250 families right here in the Seattle area.