Now in its fourth generation, Orchard View Cherries specializes in growing, harvesting, packing and shipping fresh cherries to retailers around the world.
Orchard View Cherries is driven by its passion for cherries. Founded in 1923, Orchard View is a fourth-generation family owned and operated company, specializing in growing, harvesting, packing and selling fresh cherries. Brenda Thomas, who grew up on the farm and lives there today, became president in 2009. She oversees Orchard View's 2,500 acres of land and more than 14,000 tons of cherries harvested and packed per year.
"Our focus every day is cherries," Thomas says. "Unlike some other operations, we actually grow most of the fruit that we pack and sell. That way, we have full control through the chain. We've tried to extend our season with different varieties and locations. We have about an eight-week season to grow cherries so we need to ensure we have a constant supply for consumers. So, we're always ready."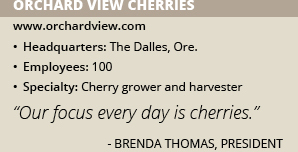 The cherry season is typically June to July every year. But Oregon-based Orchard View is always cognizant of the weather making the season earlier, later or more complicated. "Cherries are very sensitive to weather events," Thomas explains. "In the autumn, we have to worry if it gets too cold too fast. We want to make sure the trees are dormant when it gets cold. And in the spring, we don't want frost that could kill the cherry buds. We want a warm spring and moderate summer. Too hot is also hard on the cherries. Not too windy either – that scars and bruises the cherries. We don't like rain because it cracks the cherries. We become addicted to watching the weather reports. Not that there's a whole lot we can do about it, but we do the best we can."
Orchard View is not only at the mercy of weather, but also the market. Cherries are a demand-driven commodity and are best consumed shortly after they're picked, so the company cannot store cherries. Additionally, Orchard View diligently strives to secure enough pickers during the on-season, which can be challenging. It employs about 100 year-round people, many of whom have been with the company for 20 to 30 years. But during cherry season, there are about 1,000 people working.
"It's always an intense thing," Thomas says. "In the off season, we prune the trees and then we take care of the trees all year. Good or bad year, we take care of them. Working with cherries is like going to Las Vegas – every year is a gamble."
Always Fresh
To keep up with the demand of consumers, Orchard View completed major upgrades to its packinghouse in 2015. It uses a 48-lane Unitec automated sorter in which all cherries are graded optically and allows the company to better check the cherries for size and defects. "The human eye is not always consistent, but a computer is, and can handle the volume," Thomas notes.
The system checks 30 tons of cherries and loads one truck full per hour, which go out to various grocery retailers – such as Safeway, Walmart, Kroger and Sam's Club – across the United States. Orchard View also exports its cherries to Japan, China, Taiwan, Cambodia, Vietnam, the Middle East, Australia and the United Kingdom.
Orchard View uses a forced cooling system called Rapid Cool. The system allows the company to cool the cherries in a faster, more efficient way, so they are ready to be shipped to the consumer even sooner. "If you don't ship it out cold, then the shelf life is really reduced," Thomas explains. "Average shelf life really depends. If the cherries haven't had any weather events, we'll ship it in a container, and it could be on the water to China for three to four weeks. That's how we choose which cherries to send where."
To ensure its cherries are always fresh for importers and retailers, Orchard View developed View Fresh® in 1992, a proprietary modified atmosphere packaging technology that is used in fruit packinghouses worldwide. Cherries that are packed and sealed in View Fresh bags can retain their freshness and firmness for up to 60 days. The company is developing a new bag package called Spectrum that has a slider for closing the bag. The package extends the shelf life even more and is easier to use within the packinghouse.
"We will continue to upgrade our packing line to reduce labor needs and increase efficiencies and anything that will help us be gentler with the fruit," Thomas says. "In the packinghouse, we constantly make changes and upgrades because it has to be ready to go; we can't afford to have any downtime. Cherries run our schedule."