Cherries can be grown in most temperate climates, but their short growing season ensures they are not available in the stores for very long or very often. Additionally, the small, fleshy fruits can't be stored for an extended length of time when they are fresh, so it's likely the cherries you see in a store were harvested only a few days ago.
As a result of these characteristics, demand for cherries is high, but with more acreage being devoted to cherry cultivation, the growing industry is becoming very competitive. Orchard View Farms (OVF) Inc., a grower of cherries in The Dalles, Ore., remains competitive by focusing on cultivating high-quality products and extending its cherries' growing season.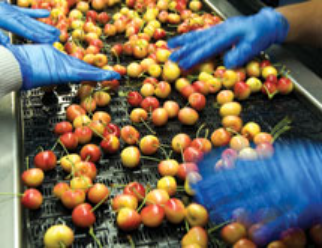 "Cherries are one of the last produce items that are very seasonal; you can't get them all the time throughout the year," President and General Manager Brenda Thomas explains. "This makes them a special product that is in high demand, but it's a benefit to our industry, as well as a challenge."
Thomas is part of the fourth generation of the Bailey family to run OVF; her great-grandparents – Walter and Mabel Bailey – established the operation in 1923. Today there are four family members actively involved. Brenda Thomas is general manager and the company's president, her father Bob Bailey is chairman of the board, Bob's brother Ken Bailey is vice president and Brenda's cousin David Ortega is production manager.
OVF farms more than 2,000 acres of 10 or 11 varieties of cherries, and packs approximately 10,000 tons of cherries each year. Primarily growing sweet cherries for wholesale to retailers, OVF runs its own packinghouse to serve a wide range of domestic customers and clients in 20 countries. >
Maintaining Control
Extending the growing season is a good way to keep a cherry business strong, and OVF is doing this by growing different varieties at different elevations. The company ensures quality and consistency by directly farming 70 percent of the fruit it packs, and the other growers it works with use similar practices and have like-minded values, Ken Bailey notes.
"Most cherry packers our size would use 20 or more other growers, and they wouldn't do as much growing of their own product," he says. "But quality is important to us, so we grow most of our own product and do our own packing."
Thomas estimates 30 to 40 percent of OVF's acres are "barely into production," because the trees are too young. During the 10 months when OVF is not harvesting, the company's attention is on maintaining and upgrading the orchards, and the packinghouse remains a primary activity.
"We are always upgrading and maintaining our packing house to get ready for the next season," she says. "We are constantly updating our line because of the competitive need."
Team Strength
OVF may be known for its consistent quality, but the company also has made its mark on the cherry industry with its View Fresh packing technology. Extending the shelf life of fresh cherries has been a concern of the industry for many years, so in the early 1990s, Don Bailey – Ken's father and Brenda's grandfather – began working on a way to achieve this.
View Fresh is designed to control the atmosphere for cherries that are sealed inside each package. This is achieved using a specialty plastic bag manufactured to achieve and maintain a specific atmosphere that extends the life of the cherries.
"Cherry producers throughout the United States use a wide variety of packaging to extend shelf life, but View Fresh is what my dad came up with," Bailey says. "It's not used a lot in the U.S. market, but we have licensed the technology to many other producers, primarily in Chile. More than 45 customers use the technology in Chile. Extended shelf life is extremely important to them because Chile is so much farther from the North American, Asian and European markets – their cherries have to travel a much longer way."
Thomas says OVF's willingness to adapt to change and hold off "internal and external forces" has made it incredibly strong. "With the team in place, we've divided up responsibilities and coordinated activities to become more effective," she explains. "That was a big step toward our goal of being a sustainable farm for future generations and remaining a competitive grower and packer."