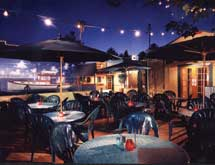 When customers dine at Oregano's Pizza Bistro, they get more than a meal – they get an authentic family based Italian dining experience. "If there's one underlying component or point of identification to our experience, it is that it's sincere and authentic," CEO Christopher Thomas says of the Scottsdale, Ariz.-based restaurant group. "We're not just going through the motions; there's a heartfelt feeling from each one of us that we truly care about our guests."
The restaurant's authenticity is deeply rooted in Founder and Exec­utive Chairman Mark S. Russell's up­­bringing in an Italian family in Chi­cago. Russell brought many of his family's pizza, pasta and sauce recipes – along with the authentic Chicago-style thin crust, pan and stuffed pizza varieties – to the restaurant he founded in 1993 in Scottsdale.
From the initial restaurant, Russell expanded to nine locations in Tucson, Flagstaff, Phoenix, North Scottsdale, Gilbert, Mesa, Tempe and Chandler, Ariz., with two new locations in Para­dise Valley and South Tempe opening this summer.
"This year – 2011 – is an important year for us, as it really inaugurates the growth phase for Oregano's Pizza Bistro," Thomas explains. "We've spent the past few years refining the brand. Now we're becoming a growth enterprise and creating opportunities for our employees and our guests."
'Recipe For Success'
Oregano's service, value and offerings have played a large role in its success and expansion amid a difficult dining market in the greater Phoenix area. "We've done very well in a weak economy," Thomas says. "Our comparative sales in 2010 were positive relative to 2009, and our sales in 2009 were higher than 2008.
"Our recipe for success, in very simple terms, is providing fresh, tasty food at a great value in a fun, high-energy atmosphere with exceptional guest service," he adds.
Within its market, Oregano's is among the leading emerging, family owned brands and enjoys high brand recognition. "Through combining phenomenal service, great value and tasty food, we've been able to create a cult following and a remarkably loyal customer base," he says.
Diner's Choice
Since its founding, Oregano's Pizza has been honored with a number of awards for its food. "This is a list we're really proud of," Thomas says.
Recent awards include a "Best Menu" nod in Frommer's Travel Guides; "Best Meal Deal" awarded by ZAGAT Sur­vey; and several "Best Pizza," "Best Rest­aurant," and other awards as the result of reader surveys in local publications in­cluding the Arizona Republic, New Times, Tu­cson Weekly and East Valley Tribune.
'Integrity and Spirit'
Oregano's focuses much of its efforts on product development and training. The company reviews its menu offerings every year and continually updates its recipes. "Part of the fun of operating and going to restaurants is experiencing new items to go along with classic favorites," Thomas says.
Oregano's serves a number of specialty pizzas including the Aunt Mar­gherita – fresh-cut Roma tomatoes, fresh sliced basil, and a four-cheese Italian blend – and the Pork-O-De Gallo Carnitas Pizza, which features a South­west-inspired sauce, pork carnitas, seasoned potatoes, three cheeses, pico de gallo and cotija cheese. One unique non-pizza offering is Oregano's Mine­strumbo Soup, featuring chopped meatballs, link sausage, zucchini and squash in a tomato broth served with a slice of provolone cheese floating on top.
Serving up Oregano's dishes is a staff of dedicated employees. "We hire people whose value systems match ours," Thomas says. "We're looking for people who are outgoing and have integrity and spirit."
This spirit, in turn, keeps Oregano's busy. "Our customers feel the energy in our people, in our food and in our environment, and it motivates them to keep coming back," he adds.
Restaurant management and staff go through two- to 12-week training and development programs fo­cused on and organized around the guest – from genuine hospitality to food preparation to menu knowledge to sincere hello, thank you and good-bye.
"All of our training is framed a­round providing an outstanding customer experience," Thomas says.
Community Ties
Participation in community organizations and charity events comes naturally for Oregano's Pizza Bistro. "Be­ing a part of the community is consistent with the Oregano's culture and values," CEO Christopher Thomas says. "Participation is just a natural act."
Oregano's has a long history of helping cancer-related charities, including the American Cancer Society and The V Foundation for Cancer Research. Other organizations include Phoenix Children's Hospital, Juvenile Diabetes Research Foundation, Childhelp, Fu­ture for Kids, Phoenix Rescue Mission, Boys & Girls Club in Tucson and others including Phoenix-area soup kitchens. The restaurant also sponsors the Billing Tree Rock Block Event in Phoe­­nix each year.
"Giving back is a value my parents taught me years ago," Russell says. "And in their honor, Oregano's Pizza Bistro donates to cancer-related charities in the hopes of improving lives and helping families share in more of life's great memories."