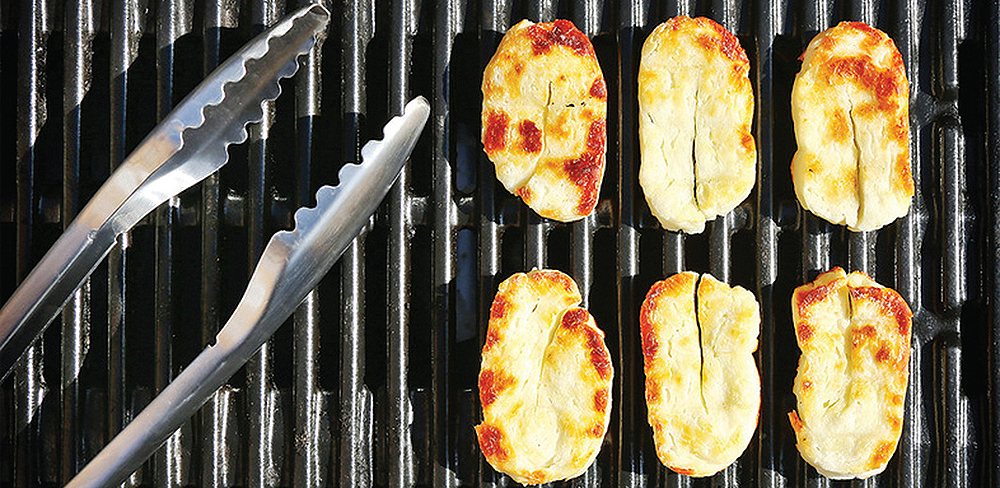 Made with love
Focusing on specialised dips for all ethnic backgrounds, Orexis Fresh Foods Ltd has built its success on three core objectives: quality products, unbeatable service and new product development
North London based leading food manufacturer Orexis Fresh Foods Ltd has been a recognised prominent producer in the chilled ready to eat market, with a particular focus on dips with a
predominantly Mediterranean feel, for more than 40 years. With an established following for its Greek speciality dips since the 1970s, the privately-owned family business uses recipes and techniques passed down by three generations to bring the finest quality products to market.
"In the 1970s I began operations as a specialist in Greek dips such as houmous, tzatziki and taramosalata and the company today is now a version of that. Having developed the business on houmous, which is a big thing these days, we focused on high quality, bespoke products as opposed to the mass production of dips. Today 90 per cent of what we do is dip-based products for our customers' own brands in the retail and food service markets, which is split 50/50 in terms of our activities. We do manufacture some products under the Orexis brand, but we mostly serve mainline supermarkets with speciality houmous and dips rather than bog standard ones. On top of this, our products are also used as accompaniments in items such as snack packs found in most supermarkets, e.g. a portion of our houmous to complement some carrot sticks, and we also provide a wholesale service for companies such as Costco that sell our products in bulk under the Orexis name," says Managing Director and Owner of Orexis Fresh Foods Ltd, Roy Stavrou.
Not only supplying supermarket chains and bulk packages to wholesalers as well as the catering sector in the UK, the company also exports to Europe and many other continents. On offer to these clients are a wide range of dips as well as a number of tapenades, olive blends and imported exciting appetisers from across the globe – the latter of which includes its authentic Cypriot Sparta halloumi cheese.
Award winners
"We are a big supplier of halloumi cheese in the UK and have won awards for this," confirms Roy. "The halloumi cheese segment of the business is a big growth area for us as importers. I have sourced a top quality manufacturer for the product which we then sell on here under the Sparta brand. This is something that has grown exponentially over recent years, with halloumi becoming one of the fastest growing cheeses in the UK." The company also wowed judges in the Great Taste Awards 2013 with the roasted red pepper and jalapeno houmous, broad bean houmous and roasted red pepper tapenade being awarded one star rating alongside the Sparta halloumi cheese. Additionally, Orexis Fresh Foods Ltd's pomegranate houmous won the one star award.
Aspiring to produce the best quality products at competitive prices, Orexis Fresh Foods Ltd uses only the finest of ingredients as well as recipes, techniques and its long-term experience to produce award-winning flavours and taste. Moreover, the company operates at its North London facility in accordance with HACCP and BRC guidelines and uses only BRC accredited sites to supply it with
ingredients that are free from GMO. To further ensure quality, Orexis Fresh Foods Ltd has a committed technical department that oversees all aspects of food safety and quality standards, with all shelf testing and microbiological testing sent to UKAS accredited laboratories.
"Being Greek, I like to use traditional recipes and good ingredients," says Roy. "What is paramount to us is quality and only then comes the consequence of price; it is about excellence through the use of superb ingredients and the knowledge I have obtained over many years of doing this. Ultimately, buying our products is like having home-made products that are produced on an industrial scale."
Solid growth
Alongside the delivery of high quality products, Orexis Fresh Foods Ltd is committed to two other core objectives: unbeatable service and product development, as Roy comments: "Our new product lines are bespoke as they are developed in conjunction with customers who formulate original ideas and recipes. For example, one well known Italian Food chain required an Italian style houmous so we used cannellini beans instead of chickpeas and used rosemary to give the product a more traditional Italian flair. As a bespoke producer, if there is enough volume we can deliver what our customers require and do so to a high standard."
This way of working has proven highly fruitful for Orexis Fresh Foods Ltd, which has generated a great deal of demand through word of mouth recommendations and the growth of its customers. "We are growing by ten per cent every year, which is organic growth as we don't go knocking on doors, so to speak. However, most of our ongoing growth is the result of our customers' successes; they add more outlets and get busier and, in turn, so do we," says Roy.
"Moving forward we anticipate solid, steady growth in our sector. Although the biggest growth area for us at the momentis mainland Europe, we will continue to focus on the specialised, smaller volume production of dips. We are not setting any targets over the coming years and are happy with organic growth as we always have plenty to do. Over the last 20 years we haven't ever been in a situation that has seen us have to go out looking forbusiness. It's a good place to be," he concludes.