Original Hooters Group's executive and management staffs prove the restaurant's success is more than just skin-deep.
Original Hooters Group's waitresses, or "Hooters Girls," have long been the public face of the company. Although the waitstaff, along with the company's famous chicken wings, continue to be a draw for customers, there are many others both in front of and behind the scenes who have helped Original Hooters remain successful for more than 30 years.
"Our greatest strength is our people. Many of our managers and assistant managers are long-time contributors," says Neil Kiefer, CEO of the Clearwater, Fla.-based company. "There aren't many people who leave the company once they get into the management ranks. We've had area managers who have been here since 1983."
Kiefer attributes the company's low executive turnover to Original Hooters' culture. "This is a great place to work, and we all get along well," he adds. "We have a fun concept, and we're very successful at executing it."
Clearwater is the site of the very first Hooters restaurant, which opened in 1983. The company's founders – known as the "Hooters Six" – incorporated the company on April Fool's Day, and opened the restaurant in October of that year.
The company today owns 25 restaurants in three markets: 12 in Chicago; one in Manhattan, New York City; and 12 in the Tampa/Clearwater, Fla., market.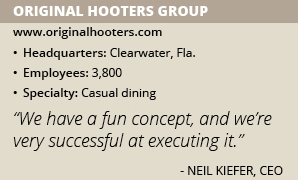 Original Hooters Group operates relatively independently from Hooters of America LLC (HOA), which franchises and owns roughly 400-plus locations in the rest of the United States as well as internationally. In addition to its restaurants, the Original Hooters Group also holds the rights to market and sell the brand's famous wing sauce and breading to grocery stores nationwide through its company, Hooters Foods, Inc. The Group also holds the exclusive license for gaming activities in the State of Nevada and licenses the owner/operator of the Hooters Casino Hotel in Las Vegas.
The company is privately owned, which Kiefer says is also an advantage. "A lot of companies are either public or are owned by private equity groups, and have to do a lot of number crunching before they do something," he notes. "We are nimble and entrepreneurial – if we want to do something, we can just go out and do it."
Giving a 'Hoot'
Original Hooters' entrepreneurial spirit is driving it to start a new fast-casual concept, known as Hoots. The first Hoots location will open in February in Cicero, Ill.
With 75 seats, the store has a smaller footprint than a typical Hooters restaurant, but offers many of the menu items for which the company is known. "Hoots will allow us to bring our world famous wings and other items into smaller markets," Kiefer says.
The Hoots concept is also a way for Original Hooters to take advantage of the growing popularity of its carryout offers. "One of the things unique to our stores is that approximately 14 percent of the sales in our 25 stores is comprised of to-go business," he adds. "In the Chicago region, several stores have to-go sales in the 20 to 25 percent range of total sales."
The Chicago market generates the highest average unit volume (AUVs) for the entire Hooters system. As such, it was a natural spot for the company's newest full-service restaurant, which opened in October 2016 in Gurnee, Ill.
The new restaurant is one of several investments the company has made in its properties. Original Hooters regularly remodels one or two of its locations annually; most renovation costs in excess of $500,000.
Guiding Growth
The average Original Hooters location reported revenue of $3.95 million in 2016. While many restaurants in the casual dining space experienced declining sales in 2016, the Original Hooters Group stores reported a sales increase of 5.62 percent across all of its locations last year, and $100 million total in revenue.
Kiefer also credits the company's management team for its success. In addition to Kiefer, who started with the company full-time in 1992, the management team includes Chief Operating Officer Sal Melilli, who started with the company as a back-of-the-house restaurant employee in 1991; Chief Marketing Officer Denise Williams, who has been with the company since 1985; and Chief Financial Officer Bruce Clark, who has been with Original Hooters since 1994.
Other key management team members are Vice President Bill Moore, a member of the Original Hooters team since the early 1990s who today oversees the Florida and New York City locations; and Vice President Steve Baldacci, who joined the company in the mid-1980s and oversees the Chicago area operations.
Together, the team hopes to further expand both the Hooters and Hoots concepts. "As our territories get more saturated with our full service units, we look to add more Hoots units and will also be looking at potential new concepts," Kiefer says. "We plan to make this a $200 million company."
Helping Out
Each Original Hooters location is involved in the communities it serves. The company's Florida locations work extensively with the Moffitt Cancer Center in Tampa, of which Original Hooters co-founder Ed Droste is Chair of the Moffitt Foundation.
Chicago area locations annually donate a portion of chicken wing sales to benefit the Holy Family School. The group makes contributions on a weekly basis to all types of charities ranging from schools, hospitals, police and fireman associations, food pantries and just about any charity one can imagine. "We don't turn a lot of people down," Chief Marketing Officer Denise Williams says.