Orion Food Systems brings solid solutions to its foodservice clients.
Orion Food Systems makes sure that its products have consumers coming back for seconds. "Our motto we go by is 'Quality products through quality people,'" CEO Steve Watkins says. "It's imperative that we're putting out products people want to eat more than once."
Sioux Falls, S.D.-based Orion is a multiple-branded distributor and supplier of food products for the convenience store, military, healthcare, education, transportation, grocery, and sports and entertainment sectors. The company also provides training, marketing and operational support for foodservice operations.
Orion started operations in 1986 in Webster, S.D., with its Hot Stuff Pizza concept, which is celebrating its 30th anniversary. "Our thesis was that we could sell pizza through what we would call 'non-traditional markets,'" Watkins says.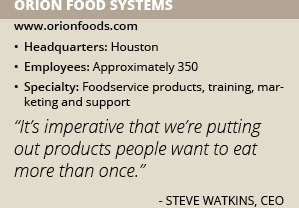 The company saw a unique niche and established its foundation by selling pizza at convenience stores, which was considered non-traditional in 1986. "Back then, foodservice wasn't a big option in convenience stores," he explains, noting that most purchases were related to impulse buys with items such as nachos and popcorn. "There wasn't really anyone else in the game."
The bet paid off, and Orion has enjoyed solid growth ever since. Today, "Foodservice is the No. 1 platform for profitability in the convenience store," he says. "It allowed us to grow from that first store to over 1,000 locations in the United States, including Alaska."
Orion's reach also has expanded into Canada and military bases in seven different countries, Watkins adds. The company recently entered into a franchisee agreement with Enoch, based in Dubai, for its Paavo's Pizza brand, which is designed for both quick-serve and fast-casual restaurants. But Orion's capabilities go beyond just selling food. For example, "If you're looking to open a food court, you have the ability to work with us directly," Watkins says, explaining that the company will assign a representative to its clients to help them with the layout, design and operations as well as the food offerings.
"You get the economics of having one manager, one partner and one vendor to call," he says. "Orion can take care of all your needs to design and operate a multiple-branded foodservice solution."
Grab-n-Go
Orion's newest offerings include a microwaveable pizza that was launched earlier this year. Unlike other products, "You don't have to unwrap anything," Watkins says. "It's designed to be a grab-n-go product from a warmer unit."
After being heated, the pizza has a two-hour shelf life. "We're not aware of any other pizza program out there that has this kind of simplicity," he says, noting that Orion launched a pepperoni topping, as well as a breakfast version.
"One of our best performing products that we have produced over the years has been our breakfast pizza," he adds, noting that the pizzas generate 25 percent of Orion's total business. "It is a really solid product and it's hard for some people to get their heads around it until they try it."
Healthy Options
Orion recently partnered with Sanford Health & MeritCare on lines of nutritional dough. For example, "We've developed a whole wheat dough that is considered a better-for-you product. We've also developed vitamin enriched doughs," he says, noting that the company also can provide this to its private label clients.
If one client wanted dough that is high in fiber, "We have the ability to do that specifically for [them]," Watkins says, noting that these could be for a grocer or retail chain. The company also has a line of simply made, preservative and additive free doughs and sauces that will be coming out in groceries soon. "We do a lot of private label development as our secondary line."
The company also is working with U.S. Navy chefs to develop "good-for-you entrees using our components," he says, noting the Navy must follow special requirements. "Their food offerings have to be under a certain amount of calories and salts."
Tasty Trends
Orion stays in tune with trends, including flavor profiles. Recently, "We developed a series of products with chipotle flavor," Watkins says. "We also launched Sriracha bites that have done really well for us."
These initiatives drove the company to look into Thai spices, and it has co-branded a beer cheese sauce with Johnsonville Sausage LLC that is used on a beer cheese and bratwurst pizza. "It makes an incredible pizza just in time for football season and tailgating," he says.
Game Changers
Orion recently won Convenience Store People's (CSP) Best New Product award for its Intelligent Grab N' Go (iGnG) technology, which consists of wi-fi enabled traffic counters and handheld scanners. "This gives you a window into several key metrics that most people don't fully realize," Watkins says.
"The first metric is traffic," he explains, noting that this allows convenience store operators to look at the habits of people walking in their stores daily, rather than just a simple traffic count. "You will see peak times, and then you'll see valleys."
The hand-held scanners, he notes, monitor food going in and out of the store's warmers. All the information is ultimately fed to Orion's database in Sioux Falls, allowing the company to generate reports that allows stores to look at predictable traffic patterns.
"It also gives you a window into how much product you had in the warmer, and what the potential lost sales were," he says. "You can educate yourselves better on opportunities for sales and manage waste better."
But iGnG's applications may go beyond convenience stores. "We think this is game changing for anywhere there's traffic and impulse buying," he says, noting that the system can be used at amusement parks or sports arenas. "We can look at traffic patterns that tend to be repeatable and help the operator."
In addition to its award, Orion has seen rapid growth in iGnG's use. "We have just over 300 locations that have it up and operating right now," Watkins reports, noting that the company installs approximately 20 a month for its clients.
Orion is excited for the future, Watkins says. "We actually have a vision of 2020 that we recently launched," he says. "We would like to go from 1,000 franchise locations to 2,000, and we've got $12 million in private label [sales] that we would want to grow to $50 million.
"Good things are going on in private label development," he says, adding that Orion is open to acquisitions. "I've got a couple of companies that I would want to buy, too."