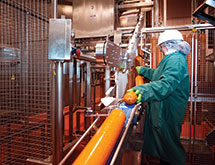 Based in Aurora, Ill., OSI Group has become a premier global food provider serving many of the world's leading brands. OSI is a privately held company that produces many private-label-brand foods and co-manufactures major brand-name products for foodservice and retail customers. It has more than 60 facilities in 16 countries with a product line that includes meat patties, bacon, hot dogs, pizza, fish, poultry, vegetables and specialty dough products.
"Our culture and our people are the reasons for our success," Chairman and CEO Sheldon Lavin says. "We have a unique, family culture that has led to a high degree of longevity with employees. We are also known globally for our food safety, which has led to key account business that is very substantial and made us a player around the world."
Customers Come First
OSI's approach to the market is to look for opportunities with mostly large accounts. The company is not structured in a way that is geared for small product runs, so it instead strives to work closely with major accounts on R&D, new products, production improvements and equipment innovation.
"We take our customer relationships very seriously," Lavin says. "At least one key person is assigned to all of our major accounts, as attention to the account is everything. By having a full-time executive assigned to that account and supporting them with a team of employees, the attention to each customer account is significant."
OSI doesn't produce its own products or focus on selling off-the-shelf services. It works on customized products made to customer specifications by listening to their needs, making suggestions and working together in partnership.
"We have a culinary center focused on R&D where we work extensively with our customers," Lavin says. "This includes a culinary innovation center at our headquarters in Aurora, along with our main R&D facility, which is about a mile away. Our chefs, R&D staff and customers work closely on all of the products that will come to market. Our R&D center has a pilot plant with smaller versions of our equipment so we can experiment."
The company also works closely with its own vendors, all of which are subject to periodic audits more than once each year to review their methods and safety protocols. Lavin says OSI's vendors adhere to all of its practices and expectations concerning safety and innovation, and that they tend to be very loyal since OSI is a fairly substantial customer.
Moving Forward
As OSI has been making investments in the organization in recent years, most of them have been in people. The company is always training for the future and making sure that all positions have an immediate backup in place.
"Process is secondary to people, and we have attracted great people to OSI," Lavin says. "We have a college internship program that we started almost 30 years ago that has been very successful. We also have a rotational management training program that takes people through training in each department in the company. Our people are critical to our success because they are the ones that develop and implement our operational procedures and processes."
Beyond people, the company is regularly investing in acquisitions. "As we look to grow, we have a strong M&A department that is always looking to add on to the company by finding complementary pieces to our operations," Lavin says.
OSI has also been making improvements to equipment. Some of the equipment in its facilities has been engineered and patented in-house. Additionally, OSI has expanded its footprint in the last few years, building a new primary processing facility in the UK, expanding a large facility in Riverside, Calif., and opening its first facility in Canada.
Staying on top of the various industry factors that have impacted the direction of its business is another focal area for OSI. Among the most important things that OSI has recognized as it has tried to stay ahead of the curve are the changing desires of the end-consumer.
"We can see it in the U.S. with the millennial generation and the changes in what kinds of products they want, such as natural or organic foods," Lavin says. "We try to stay way ahead of the market on those trends, and one of the ways we do this is by experimenting with products sometimes years before they start becoming more popular."
Of course, food safety will always be a major focus for OSI. The company works in many different countries and has to adjust to many different regulations. In Austria, for example, companies can sell only Austrian beef. Then there are GMO products, which are banned in some countries and approved in others.
"Our food safety team is well trained, very experienced and is always vigilant regarding food safety issues, around the clock," Lavin says. "As an organization, we want to succeed, and we have the right people in the right places with the right conviction."