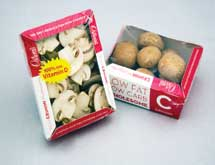 For decades, certain categories of mushrooms have had to fight off the stigma of being an exotic addition to luxurious entrees at high-end restaurants. With consumers committing to healthy food choices across a variety of segments, Ostrom Mushroom and the rest of the mushroom industry is hoping to make high-end mushrooms a staple with as much everyday appeal as the potato.
"The point we're trying to get across is mushrooms work in every situation," says Fletcher Street, director of sales and marketing for Ostrom Mushrooms. "Mushrooms have always been pushed as something to have with steak, but they are so much more than that. Similar to a potato, they can really take on a variety flavors."
Hand-Picked Daily
Ostrom Farms is located at Mushroom Corner in Olympia, Wash., and has been family owned and operated since 1928. The company's mushrooms are handpicked daily, refrigerated immediately and are en route to their destination within hours after harvesting, according to Ostrom Mushrooms.
Today, Ostrom Farms employs 300 people that grow and ship mushrooms for customers in the foodservice and retail markets in the Pacific Northwest, Alaska and Hawaii.
The company's offerings include white, portabella, crimini, shiitake, oyster, enoki and dried mushrooms. Ostrom Farms grows 10 million pounds of mushrooms annually at its Olympia farm, and another 3 million at its Bellingham, Wash., location.
A Healthy Alternative
Mushrooms on their own already have a number of nutritional benefits. However, in March 2011, Ostrom launched its vitamin D-enhanced mushroom.
According to Street, this product took two years to develop and interweave into the company's existing operations. To produce the vitamin D, these mushrooms are exposed to ultraviolet light, which the mushrooms convert to vitamin D naturally.
Street explains that a 3-ounce serving of these mushrooms provides 100 percent of humans daily recommended intake of vitamin D.
"Some people have issues with dairy and other sources of vitamin D like salmon or oily fish," Street adds. "Mushrooms are the only produce item with vitamin D."
While the science for enhancing mushrooms with Vitamin D was discovered about two or three years ago, Street says Ostrom is still looking for ways to expose whole mushrooms to the light without diminishing quality. "We would like to expand our offering of Vitamin D enhanced mushrooms and are working towards that goal," she adds.
Expansion Afoot?
Despite the economy, the Ostrom Farms business plan has kept the company profitable. The foodservice industry was hit particularly hard by the fallout of the recession, but consumers continued to purchase mushrooms at retail. At retail, mushrooms have performed better than the produce department in general.
In fact, that portion of business has been so strong, Ostrom Farms is considering expanding its operations for the first time in more than 10 years. Street says the demand for brown mushrooms is growing fast, 7 to 12 percent annually.
A New Generation
Since college-age consumers are among the healthiest eaters today, Ostrom Farms is marketing directly to this demographic to foster a new generation of mushroom fans. The company is working in conjunction with the Mushroom Council to build its base.
The company is using its partnerships with various foodservice clients that serve this market to create mushroom promotions at a number of colleges and universities.
The Mushroom Council is hosting a recipe contest with four different groups of colleges and universities, and Ostrom hopes to work with its local foodservice partners to draw the Pac-10 colleges into the contest.
"There is a high appeal to students because the younger kids eat more of a vegetarian diet," Street stresses.
"These are the folks that are coming up and are going to be our customers when they leave school and get into the working world."