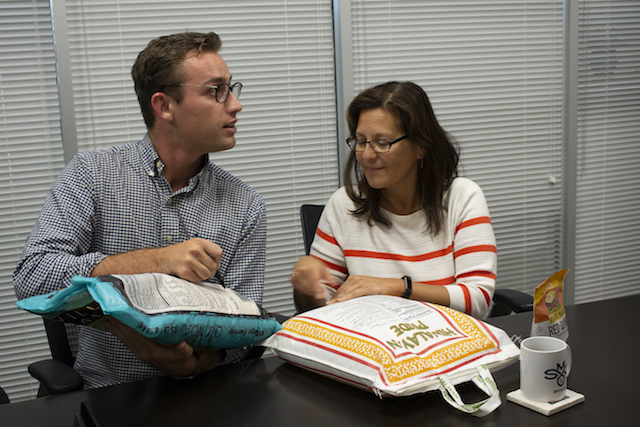 Otis McAllister sources wholesome food products to bring customers 'Convenience without Compromise.'
For 126 years, Otis McAllister has been a leader in the distribution of wholesome food products around the world. "We focus on giving consumers convenience without compromise throughout our brands," Project Manager Jack Iles says. "As consumers get busier and busier, they want to have a nice wholesome meal and drink and they should be able to do that without compromising their values. We ethically source the highest-quality ingredients from plant to plate."
James Otis, Jr. and M. Hall McAllister III, both members of two of San Francisco's most influential families, founded the Oakland, Calif.-based Otis McAllister in 1892 to pursue the expanding world trade market and eventually the company opened offices around the world in South America, Africa, the United States and Canada. Since then, Otis McAllister has expanded its business into more than 100 countries, representing buyers and producers in all corners of the world.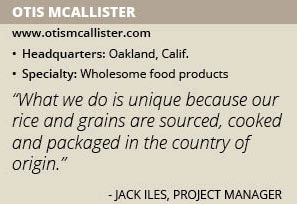 Today, Otis McAllister provides a wide range of products and services to a substantial and diversified client base that includes club stores, traditional and non-traditional retail, military, industrial and foodservice worldwide. The company's brands include Village Harvest, La Sirena Foods, The Good Cider and Super Lucky Elephant. "Our main three business sectors are grains and rice, travel retail and seafood," Iles says. "Grains and rice and seafood have historically done a good job at supporting one another. We have a good balance between those two lines."
Travel retail is a new market for Otis McAllister that has seen tremendous growth. As a key player in travel retail distribution throughout the Americas, Otis McAllister specializes in the cultivation and global exposure of world-renowned brands within international travel environments such as airports, border stores, onboard cruises, ferries, aircrafts, railway stations and downtown stores.
Brand Expansion
Otis McAllister's Village Harvest brand recently launched the Origins Collection, a line of organic ready-to-serve, microwavable rice and grains. The collection features authentic recipes from India and Thailand uncovered in the kitchens of home cooks and perfected at the dinner table.
"What we do is unique because our rice and grains are sourced, cooked and packaged in the country of origin," Iles explains. "We feature Thai Green Curry brown jasmine rice from Thailand and Tikka Masala from India that are made in small batches and fully cooked in a kitchen before being put into the pouch. Our suppliers cook with fresh ingredients and make sure that everything that goes into the pouches are things they would want to eat themselves."
Otis McAllister's La Sirena canned seafood has fresh and exciting product innovations in the pipeline that will revolutionize how consumers think about canned food, Iles says.
Otis McAllister also recently expanded its partnership with a family in San Sebastian, Spain, that has produced juice, as well as all-natural, gluten-free, craft-made hard cider for three generations since 1918. The Good Cider recently went to market and has been performing favorably in Texas and gaining momentum in California, Iles says.
"It does really well in the summer because it's such an incredibly refreshing product," Iles notes. "It's a fresh, clean apple juice that's lightly carbonated with a 4.5 ABV, so it allows you to be responsible while enjoying it socially."
Invaluable Partnerships
Developing long-term partnerships has been key to Otis McAllister's success over the past century. "The family in Spain, for example, we imported their juices and when we saw the success Angry Orchard was having we reached out to them to see if we could take a look at their cider," Iles says. "When I told them I was attending a wine and arts show in Orange County and that direct-to-consumer marketing is important in growing brands, they came out to the wine show. There weren't half as many people as the ticket sales would lead you to believe because of the weather, but they came out and had a great time talking about their cider. When a supplier gets on a plane to promote the product alongside you, it's invaluable."
Otis McAllister has a number of long-term partnerships and looks to grow its relationships by expanding brands where applicable. "Our supplier in India we have worked with for a long time and know they are reliable," Iles notes. "We want to thank all of our partners because we are not perfect. We are a small private company that has a lot of benefits, but has seen some bumps in the road, and we have phenomenal partners who have helped us out in numerous ways and we look forward to returning the favor."
Additionally, Otis McAllister values its trade partners who support its nonprofit initiatives. La Sirena consistently donates food to help people suffering from natural disasters and partners with orphanages around Central America that provide education, healthcare and spiritual formation for kids in need, and the rice division supports an orphanage in India, to name just a few initiatives. Otis McAllister believes that by working together with their trade partners we can all change children's lives, Iles says.
Moving forward, Otis McAllister's vision is to continue embracing the tagline for its Village Harvest brand, which is to deliver "Convenience without Compromise." To achieve that goal, the company will remain focused on consumer trends to bring new products to market and stay ahead of price volatility to play the market to its favor.