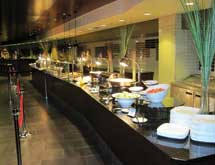 When the Portland Trail Blazers take to the court at the Rose Garden Arena in Portland, Ore., another team goes to work on ensuring the NBA team's fans leave with satisfied appetites.
Ovations Food Services, the arena's foodservice vendor since 2005, offers a number of dining and snack options for patrons attending games, concerts and other events in the 20,000-seat arena.
The company not only staffs the concession stands and specialty restaurants in the arena, but it operates ever-expanding premium offerings such as catering and service to the arena's club level and luxury suites, General Manager Tony Hendryx says.
At the club level, Ovations offers what Hendryx calls one of the largest all-inclusive foodservice offerings in an NBA arena, with carving stations, grill stations, pasta action stations and pizza ovens serving up a constantly changing, diverse buffet-style menu to 1,700 fans. Food services can be found throughout the entire level that features comfortable seated areas, intimate dining spaces and expansive lounge areas, Hendryx says.
"There are a lot of action stations there," he adds. "The level is 360 degrees around, and you can't walk too far without finding a food station."
Staying Fresh
Ovations Food Services provides foodservices to convention centers and sports arenas throughout the United States. The Lutz, Fla.-based company prides itself on its "Everything's Fresh!" approach to concessions and food, Hendryx says. Rose Garden Arena is one of the company's largest accounts.
"If you walk up to one of our concession stands, you'll never find a hot dog or a hamburger that's wrapped up and stuffed in a drawer somewhere," he adds. "All food is made to order throughout the entire company."
Last year, the Rose Quarter started offering fresh certified Angus beef hamburgers, locally made hot dogs and sausages, bakery products and craft beer.
"There are probably very few arenas of our size in the United States that do a fresh, never-frozen burger and hot dog program," Hendryx states. Ovations also offers a number of unique offerings, including the Oregon albacore tuna grilled panini sandwich on sourdough bread from a local Beaverton, Ore., bakery, topped with aged cheddar cheese from Tillamook Creamery, which is another local brand.
"We've really tried to focus on the quality aspect, with the thought process of providing the freshest local product attainable," he adds.
Hendryx considers the offerings, as well as other practices including offering compostable containers, recycling, and employing a sustainability coordinator to be an extension of the Rose Garden Arena's environmentally friendly approach. The building is LEED Gold certified by the U.S. Green Building Council.
Serving the Community
In addition to its environmental practices, the company also looks to improve its community through charity and volunteer efforts.
Ovations, Rose Garden's management company AEG Worldwide, and the Portland Trail Blazers organization and Wells Fargo recently came together to complete more than 50,000 hours of community service through the NBA-sponsored program 40,000 Hour Challenge program, Hendryx says.  Employees from all organizations volunteered in many different capacities including the support of area schools, serving Thanksgiving meals to 5,000 underprivileged people last year and supporting numerous charitable causes, he adds.
The company's "Food For Funds" program works with 25 Portland-area charitable organizations by training volunteers to staff Rose Garden concession stands throughout the year. The participating organization receives a portion of the sales proceeds from the stand it operates. The program has raised more than $10 million for local charities in its 15 years of existence, Hendryx says.