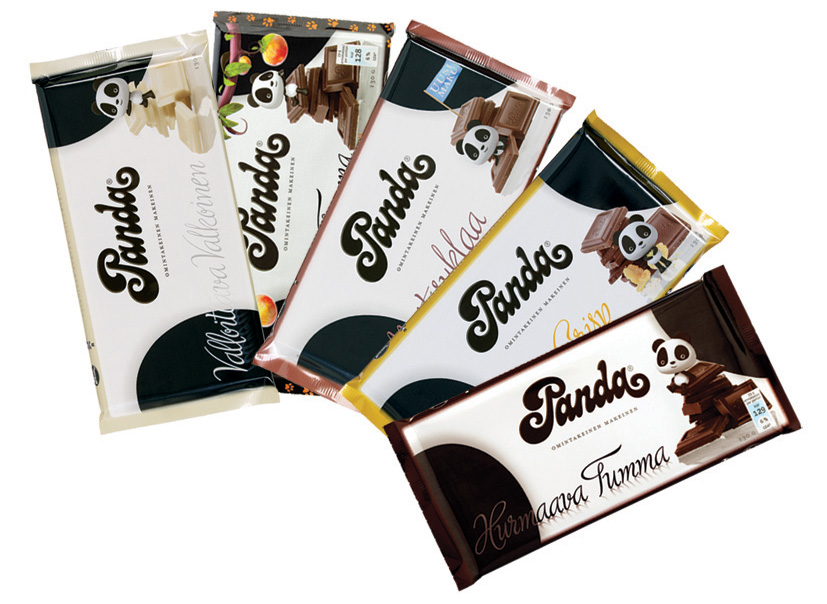 Natural quality
Finnish confectionery producer, Oy Panda AB, is extending its all-natural liquorice range to expand the business around the world
Enjoying a long and rich history in the field of confectionery production, Panda's experience in the confection industry dates back to 1920. Its main products have always been liquorice and chocolate confectionery items, ever since the company first began making liquorice back in 1927. It made the notable move into the manufacture of soft liquorice in 1933, marking the start of a hugely successful production area for the business, which would go on to generate a variety of different product lines. The company markets the same products to all of its export and domestic markets, focusing instead on promoting the natural goodness of its confectionery.
The Panda brand itself was established in 1952, and the company began exporting to Finland's neighbouring countries in Scandinavia and Europe soon after. In 1963 it made the strategic decision to begin exporting its liquorice products to the US market. Panda went on to create its hugely successful all-natural liquorice product, which it launched in the US in 1977, and to the UK market in 1982. While the company has extended its operations throughout much of Europe, it is still keen to grow further in this key market area.


Over the years Panda has added numerous product lines to its portfolio, all within the main areas of chocolate and liquorice. As Ami Wardi, managing director of Panda comments: "Half of our business is dedicated to our liquorice products, while our chocolate items make up the other half. Our main customers are located in the domestic market – predominantly these are the main chains in Finland. One third of our net sales are for the export markets. The biggest of these are the Nordic countries, the UK, the US, Canada, Spain and Germany."
Ami goes on to outline the importance of constant innovation in this fast moving and highly competitive industry: "Everyone in the confectionery business has to make huge investments in the drive to launch new products. Panda is no different, and we take great joy in the creative thinking behind innovating new product lines. At any given time we are in the process of introducing many new confectionery items to our domestic and export markets. Some examples of these include the development of our original liquorice, which is a simple product containing only four natural ingredients. In these health-conscious times when people are eschewing chemical additives, we are keen to promote the natural simplicity of one of our first products.


"Furthermore we have extended the brand by adding flavours to the original liquorice. These include raspberry and cherry, which are created using real fruit puree, maintaining the natural claim of the product. We are now actively shipping these products to the UK and US markets. Additionally we have created a mixed berry flavour for our domestic market, which combines a number of natural berry flavours with the original soft liquorice. Another new product is our innovative squeezable confectionery, which is sold in a tube. It comes in two flavours – chocolate and liquorice – and can be eaten straight from the tube or used as a spread. This is a completely new product and we are very proud to have invented something unique in this industry. In the field of chocolate products, we have launched a berry and fruit concentrate covered with different chocolate flavours – white, milk and dark. This has been very successful in the domestic and export markets. We have recently updated the range to include fruit flavours such as strawberry, blueberry, raspberry and orange."
As Ami mentioned, a unique selling point of the Pandacompany's liquorice products is its high quality, which is achieved using only four natural ingredients – molasses, wheat flour, liquorice extract and aniseed oil. The company is proud to have been using the same recipe since 1933, when it first began the production of soft liquorice. With the exception of adding new flavours to extend the brand, this recipe has proved so popular that there has been no need to alter it or include any chemical additives in its production. This is a unique perspective as so many of Panda's competitors produce sweets with a long list of chemicals included in the ingredients. Ami credits this simplicity as the "secret to Panda's success."
Looking to the future of the confectionery industry, Ami observes that there is no denying that it has hit hard times, but he is still hopeful for Panda's future development: "The competition is hardening all the time and that has been going on for the past 20 or 30 years. Competition used to be more local and now it's more of a global industry, which puts extra pressure on us in terms of costs. Although it's rough out there, we welcome the challenge to find ways to improve the business and become more of an international player. We have a revised strategy in the wake of the economic crisis, and we see that Panda is a growing and profitable company at the moment, and we can continue that in the future."