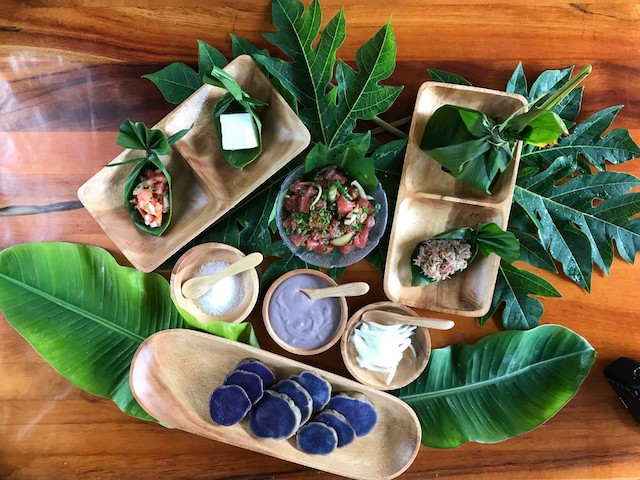 Pagoda Floating Restaurant & Catering
Pagoda Floating Restaurant & Catering celebrates its 55th anniversary.
Located near Honolulu's popular downtown locations, Pagoda Floating Restaurant has stood the test of time. Famous for its aesthetically pleasing ambiance and local Hawaiian foods, the popular dining establishment is celebrating its 55th anniversary this year.
"We want to move forward with the legacy of H.T. Hayashi and his vision," General Manager John Teruya says. "We are here to serve the people of Hawaii and we want to be around for another 50 plus years."
The restaurant/hotel was founded by H.T. Hayashi in 1964. His vision was to build a centrally-located destination near popular downtown attractions and create a unique dining experience for locals and tourists.
The Pagoda Floating Restaurant has accomplished its goal. It's become a place where Hawaii residents celebrate special occasions like birthdays, weddings and graduations. Its beauty also attracts tourists who enjoy being surrounded by a 360-degree view of Pagoda's Japanese koi pond and tranquil waterfall.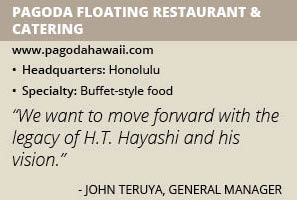 As the restaurant moves into its 55th year of operation, it is also evolving with the times as it moves in the direction of sustainability.
"We are moving in the direction of serving locally-sourced and sustainable products," Teruya says. "We started serving local beef and pork products with no antibiotics, no vaccines, no steroids and no hormones added. We are fortunate to live in a place where we have our own resources."
The restaurant's famous Local Flavors menu and buffet, created by executive chef Michael Arita, is designed to give customers a flavorful history of Hawaii. It features a chef's catch of the day, chef's chicken of the day, a daily steamed catch, beef and pork selections and seafood.
Guests enjoy house favorites such as prime rib, snow crab legs, shrimp tempura, sushi and Ahi Poke. "It's a mix of what locals like to eat," Teruya says. "And since we are trying to use more local products, we're hoping that we will be leading our industry to a more sustainable and healthier growth in Hawaii. If we are to live a longer and healthier life, we have to know what we eat."
Pagoda recently took up an initiative called Wine@5 on the last Friday of each month. The restaurant serves Byington Wines from a vineyard Silicon Valley, Calif. By impacting environment, policy and social networks, Blue Zones Projects are designed to help people make healthier life choices and live longer and more fulfilling lives.
"Have a glass of wine at five o' clock," Teruya says. "Come out of your house, go for a walk, enjoy a glass of wine while socializing and meeting new people – and eat the proper foods."
Local Roots
Pagoda's local roots run deep and the restaurant prides itself on its Hawaiian culture and traditions. In recent years, the restaurant and hotel were bought by aio, a company of diverse businesses that include some of Hawaii's most recognizable media brands, a digital consultancy, a longstanding restaurant, printing company and a bakery.
"aio has two meetings," Teruya says. "One is the energy behind the wave and the other is big love."
aio's founder and chairman Duane Kurisu was born and raised in the sugar towns of the Big Island's Hilo Coast – instilling in him the traditional values of Hawaii's plantation culture.
A graduate of the University of Hawaii-Manoa, Kurisu launched his first company in his late 20s to develop and manage commercial real estate properties in the Hawaiian Islands and on the mainland. He soon branched out into a variety of business interests, and the acquisition of his first magazine property in the 1990s led to the creation of the aio family of companies.
Giving Back
Today, Kurisu's plantation roots still shape his vision for aio and its companies. He believes that small-town values of family and community are equally important in the world of commerce and industry.
"He is not about how much more money he can make," Teruya says. "His legacy is how he can make a difference in the community. It's about giving back to our community."
For example, aio has raised roughly $500,000 to help with relief efforts after a tsunami hit Japan. In addition, it has helped establish Kahauiki Village, a groundbreaking initiative designed to create an affordable plantation-style community as long-term housing for Hawaii's homeless families.
"The homeless problem in our nation stems from the community," Teruya says. "The community needs to fix that problem. Duane Kurisu realizes that by building this community we have the opportunity to change lives and make a difference."