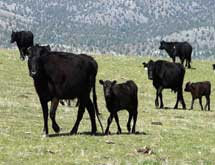 Painted Hills Natural Beef
For many years, efficiency was the name of the game in the food industry. As the post-World War II population exploded and technology made it possible, the industry's focus was on feeding a growing nation as quickly and cost-effectively as possible.
This led to a number of truly beneficial innovations, such as refrigerated shipping; however, there were others, like the use of hormones on cattle, that consumers are thinking twice about today. Although the use of hormones and antibiotics has made raising beef cattle easier and more efficient, there are many who believe they have caused the end-product to suffer.
It was this belief that led to the creation of Oregon's Painted Hills Natural Beef, formed by seven ranching families in the mid-1990s to produce and sell beef without the extensive processing and artificial ingredients common to most mass-market meat in the country. Even though this limited the company's reach and made profit margins thinner, the founding ranchers believed consumers would be able to taste the difference of a higher-quality product.
"Their goal was to create something new," Operations Manager Will Homer says. His father, Merhten, is current president and one of the founders.
Painted Hills specializes in natural beef, which means the cattle are raised differently than most ranchers do nationally. Painted Hills' cattle are not given any steroids, hormones or antibiotics before they are processed, and are fed a 100-percent vegetarian diet of barley, corn and alfalfa hay without any animal byproducts. Homer says consumers are beginning to get the message that cheaper is not always better, and that taste and quality are more important to many of them now than in the past.
Breaking Through
That doesn't mean, however, that it was easy for Painted Hills to convince customers to buy its products right off the bat. Homer says his father and his partners initially had their work cut out for them when it came to convincing local grocers to carry natural beef. "I tell everybody he drove the wheels off of two cars driving around trying to show off the product," he says.
The ranchers' original plan was to sell carcass beef to customers in the community of Bend, Ore., but the company struggled to make ends meet. Homer says the company discovered customers were looking for packaged beef, and before long, the company was in dire straits. "At one point, we found ourselves $5,000 from giving up," he says.
Fortunately, Painted Hills was able to connect with a meat packer with good credit and pushed itself harder to dig itself out of the hole. The key, Homer says, was providing smaller grocers with something different to distinguish themselves. Even though Painted Hills' product is a higher-cost item, the company was able to convince those smaller grocers to carry it, often by cooking it for them and letting them taste it for themselves.
"In the beef world, the motto is that beef is beef and cheaper is better, and it's hard to move past that," Homer says.
Working to Survive
Now that Painted Hills has been successful in showing customers the value of natural beef, the company's customer base ranges across the Northwest from the San Francisco Bay Area to the Canadian border. Homer says the company faces competition from traditional beef producers as well as other natural beef companies, but Painted Hills has the advantage of being rancher-owned and operated. The company also refuses to take any randomly fed cattle, choosing instead to source them all from the same feed yards for consistency.
Going forward, Homer says cost will be the single biggest determining factor in Painted Hills' continued success, but he has confidence that the public's growing appreciation of natural meat will help keep it rolling. "Cost is going to affect our ability to continue and produce this stuff," he says. "But at the same time, demand will pull through. I have faith in demand."
Homer says Painted Hills is working to increase its retail presence over the next few years, and also is working on publicity to get its name out on the national scene. Regardless of where its products end up, though, he says the company has no intention of leaving its modest headquarters in Fossil, Ore. "It's important to be right out there with the rancher and the cowboy," he says. "I want to see that livelihood survive."