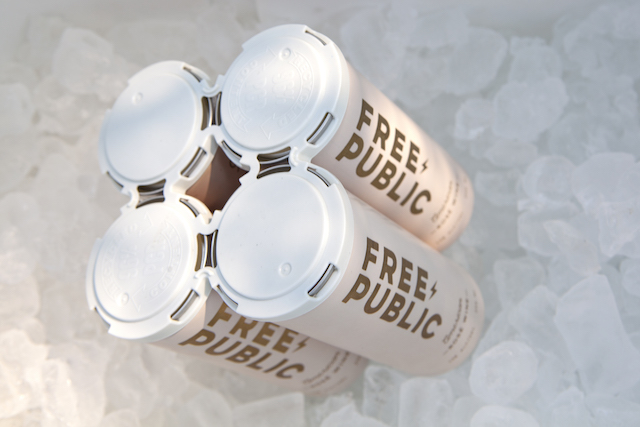 PakTech's products provide customers with sustinable options.
These days, people are more conscious about the impacts they make on the environment than ever before. And PakTech can help address their concerns when it comes to green packaging solutions for the beverage industry.
Based in Eugene, Ore., the company is a leader in 100 percent recycled and recyclable injection mold packaging handles and automated application equipment. The family owned company, which started operations in 1991, offers handles that are both attractive and innovative.
PakTech's easy-to-carry and remove handles feature a minimalistic design that complements the beverage artwork and eliminates the need for secondary packaging and printing. "Our packaging solutions deliver better market presence, enhanced consumer value, environmental awareness and improved sales," the company says.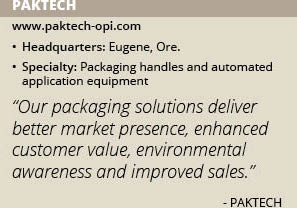 The Smart Choice
PakTech has adapted to the craft-beverages-in-a-can trend. Whether camping, picnicking, heading to the beach, hiking, or stand-up paddle boarding, people can enjoy craft can beverages while enjoying their favorite activities. "Canned beverages are booming because it's simple, sustainable and smart," PakTech says.
The company's Can Carrier Handle complements these attributes with an attractive yet minimalistic design that highlights the can's artwork. While other packaging options wrap and surround cans, PakTech carriers snap at the top so the brand will not be covered or obscured. PakTech offers flexible production requirements with the handles. Brands can apply the handles by hand if they are a startup or have a limited volume requirement.
They also can utilize PakTech's automated applicators ranging in speed from 120 cans per minute to over 1,500 can per minute if they have a higher speed operation. "PakTech's packaging solution is turnkey, making them the smart choice for your new, smart canned beverage venture," the company says.
The company's green focus can be seen in the Carrier design as well. In addition to easier can removal, PakTech's new handles stack more efficiently, which allows it to fit 40 percent more handles into each box and onto each pallet.
This not only provides a reduction in freight but also waste, which gives clients substantial savings in shipping. Today, the Can Carriers are available in a variety of configurations — including two, three, four, eight and 12 packs.
In addition, PakTech's Can Carrier environmental life assessments analysis outperform other packaging options due to its low weight, recyclability and use of post-consumer resin eliminating natural resource depletion.
From design to final handle application, PakTech's responsiveness, rapid turnaround time and comprehensive product offerings separate it from its competition. Tremendous value is what PakTech offers and what it delivers to its customers, its employees and the global packaging industry.
PakTech's recent products also include its newly designed bottle carriers, which have a built-in handle that extends above the line of the bottle caps. This provides a secure hold for your favorite beverage, and is available in four- and six-bottle configurations.
PakTech also enhances the value of its handles with multiple color options. With more than 32 standard colors and custom color match, the company is sure to have a match that meets its clients' branding needs. "Your product design will pop on the shelf with our color accent carriers," PakTech says.
Hand in Hand
PakTech's commitment to quality goes hand-in-hand with its green focus. Today, the company is dedicated to bringing the highest quality products to the market, but only with the least impact on the environment.
For example, the company's PCR production process uses 100 percent less petroleum, 90 percent less energy and emits 78 percent less greenhouse gases versus virgin plastic production. Using PCR limits the amount of new plastic that is being manufactured.
And when PakTech handles are recycled, they often see a second life as composite lumber, flower pots, pipe, and park benches, as well as other similar uses.
"This is full circle sustainability," the company declares.
PakTech's handles also are repurposed from HDPE No. 2 milk jugs. In fact, in 2017, more than 81 million plastic milk jugs were eliminated from landfills, only to be repurposed and reclaimed as the raw material that PakTech uses during the manufacturing process.