Palace Entertainment's parent company signs a licensing deal with Nickelodeon and Lionsgate to open more theme parks.
Forget about riding the wave. Palace Entertainment wants to push the ocean. As the nation's largest operator of water parks and family entertainment centers, the company is planning to splash its way into even bigger waters.
"We want to open more parks in the U.S. and in Europe in the next three years," says Albert Cabuco, vice president of food and beverages. Millions of visitors visit Palace Entertainment's 21 locations throughout the United States.
Millions more flock to 41 other locations throughout the world that are owned by Parques Reunidos, Palace Entertainment's parent company.
The recreation giant's theme parks are known for family-oriented attractions that include roller coasters, Ferris wheels, live shows, variable depth pools, water slides, animal shows, miniature golf courses and arcade games.
Palace Entertainment's plans for expansion include deals with the Nickelodeon cable television network and Lionsgate films. "It's going to be exciting," Cabuco says. "Since our company wants to expand and possibly add a substantial amount of parks, one way to do this is with Nickelodeon and Lionsgate theme parks."
With a TV network and a film company at its side, the variety of themes will be boundless. Specifics have yet to be determined but Palace Entertainment hopes to open Nickelodeon and Lionsgate theme parks in the near future.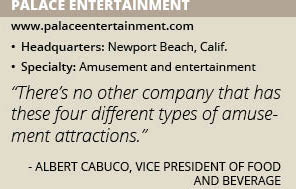 Evolving Foodies
Palace Entertainment's amusement parks are home to more than 350 different types of food concepts that include full service, quick service, buffet style and grab-and-go. Its food operations are either proprietary, licensed or franchised but they are all operated and managed by Palace Entertainment.
Since Parques Reunidos purchased Palace Entertainment in 2007, the company has seen a significant increase in food and beverage sales. It reports an increased percentage of food and beverage sales to total park sales from 16.7 percent in 2007 to 23.1 percent in 2016. Its average customer used to spend about $6.16 per visit on food and beverages in 2007 compared to $9.53 last year.
The evolution of amusement park food is another change. While deep-fried foods like Twinkies, Oreo cookies and peanut butter sandwiches are still the staple, healthier snacks are beginning to register on the grub radar. "In the past, it was OK just to have deep-fried foods," Cabuco says. "But the taste of the public is evolving. A small percentage is now looking for organic, gluten-free and healthy options."
Palace Entertainment is responding to the trend. "Where there is cotton candy and popcorn, there must also be espresso and cappuccino," Cabuco says. Several amusement parks have designated locations for gluten-free food offerings and 10 park locations now have organic menus in designated food units.
In addition, healthy and gourmet options are being tested at the company's Kennywood amusement park in Pittsburgh and Dutch Wonderland in Lancaster, Pa. The company has introduced Bean Sprouts franchises at those locations. "They use organic and natural ingredients in their sandwiches," Cabuco says. "So far, they have been successful. But children still gravitate towards the usual pizza slices, chicken tenders, funnel cakes, ice cream and grilled cheese and hot dog sandwiches."
Aside from evolving its menu, Palace Entertainment plans to add self-service kiosks at select locations that allow guests to place their food orders. "It has the potential of labor savings and an automatic up-sell to a higher average check," Cabuco says. "This technology has improved guest service altogether."
In addition, the company is adding digital menu boards at many of its food outlets. It allows food managers to change prices on demand based on weather, attendance, promotion, season and special events – without the expense of re-printing menus.
Unique Combination
Palace Entertainment operates a total of eight theme parks, eight water parks and five family entertainment centers in 10 states. Noah's Ark, America's largest water park in Wisconsin Dells, Wis., is among its most popular destinations. Others include Kennywood in Pennsylvania, Splish Splash Water Park in New York and Raging Waters in California.
"We are unique because other theme parks only have roller coasters," Cabuco says. "Our company has theme parks, water parks, animal parks like Sea Life, and we have family entertainment venues with miniature golf, rock climbing and arcades. There's no other company that has these four different types of amusement attractions."
Parques Reunidos, based in Madrid, Spain, is one of the world's leading global operators of regional leisure parks. With more than 50 years of experience in the industry, Parques Reunidos operates a well-diversified portfolio of 62 different attraction parks, animal parks, water parks, family entertainment centers and other attractions that are visited by roughly 20 million people on an annual basis.
In terms of visitors, Parques Reunidos is the second-largest leisure park operator in Europe and the eighth-largest leisure park operator worldwide. The company has a presence on three continents and in 14 countries. It has numerous parks throughout Europe, the Americas (United States and Argentina), Middle East (Dubai) and Asia (Vietnam).