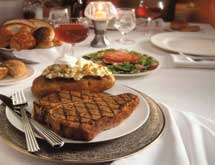 Palmetto Foodservice President Peter Landskroener says his company had to overcome a rocky start because of the recent economic downturn. Formed in 2007 by Landskroener and a partner, Palmetto Foodservice represented a "new beginning" for the partners after spending many years with another distributor, but that new beginning was a little shaky at first.
"We couldn't have started at a worse time," Landskroener says. "In 2008, the whole financial world fell apart."
As an exporter of beef and poultry to overseas foodservice distributors, the global economic meltdown was an extremely challenging backdrop for Palmetto Foodservice to make its debut. However, despite the challenges the company has faced in its first three years, Landskroener is happy to report that business for the company has been growing each year. He adds that the company expects to see another $10 million to $15 million of growth in 2011.
The formula for Palmetto Food­service's success even in the face of significant obstacles is a simple one, according to Landskroener. He says the company's focus on "hard work, customer service and strong faith" has been the difference-maker, and will continue to serve as the blueprint for its operations as it keeps growing.
"We focus on customer service, and that's where we like to hang our hat and that's how we differentiate ourselves from our competition," Lands­kroener says.
Global Market
Landskroener describes Palmetto Food­service's customer base as including some of the world's most discerning distributors. "Our customer base, in the simplest of terms, is companies that are the foreign equivalent of Sysco or U.S. Foodservice," he says. "These are distribution companies that cater to four- or five-star hotels and fine dining."
The global foodservice market has changed over the years, and Lands­kroener says that has been what created the opportunity for Palmetto Food­service to thrive. "As the rest of the world adopts the American foodservice model, which is what's happening, there are more demands for U.S.-produced products," he says.
These changes have come about because of many factors. "Twenty years ago, everything was based on price, but as the world has gotten smaller through food shows and travel, the overseas customer base has become aware of and accepting of American products," Landskroener says.
Palmetto Foodservice has found its place in the global foodservice market because it works with producers to find the best beef and poultry products to fit the market's new standards. "We try whenever we can to provide the highest-quality products as opposed to the price-sensitive ones," Landskroener says.
Palmetto Foodservice works closely with customers to find the best products without leaving any guesswork in the process. Landskroener says many of the company's customers have been working with him and his partners for many years before Palmetto Food­service was formed.
"They like working with us because we're very flexible and we're very clear about the details," he says.
The close bonds the company has with its customers is duplicated within it, as well. Because the company has less than 20 employees, Landskroener says a real "team spirit" is one of the most important things for Palmetto Foodservice to have. "We all look out for each other, so if someone's sick or has a child that's sick, there will always be someone who will pick up that person's job until they come back," he says.
'Stay Humble'
Palmetto Foodservice's flexibility and teamwork have served it well, and Landskroener says the company will need every advantage as protein prices continue to increase.
Despite its rapid growth, one of Palmetto Foodservice's main goals is to "stay humble," Landskroener says. Things are working out well now, but there is always room for improvement.
"What I know we have to do is we have to keep our focus and we have to strive to get better always," he explains. "If we do that, and we add a few more people who make sense for our model, I think we can get closer to the head of the class."