Pampa Beverages has relationships with retailers nationwide to sell its quality wines.
Foreign wines arrive on retailers' shelves in the United States through a three-tier system: Importers buy from wineries and then sell the products to a distributor that then sells to retailers. Pampa Beverages differentiates itself in the industry by eliminating the number of steps in the supply chain and lowering costs. "We are the winery and we are the importer," explains Matthew Long, regional sales manager.
Founded in 2003, Miami-based Pampa Beverages provides its three family owned wineries in Argentina with direct access to the U.S. market. Although the company has been importing for only 13 years, the Lavaque family's legacy in wines goes back as far as 1870 when Don José Lavaque planted the first noble vines in Argentina's Cafayate Valley.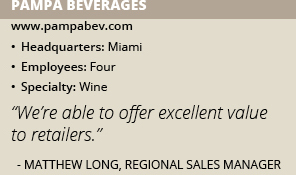 Nineteen years later, Félix Lavaque produced the first top-quality wine of the valley. By 1930, Gilberto Lavaque took his family's name to Mendoza, Arentina, and started Bodegas Lavaque. Today, Rodolfo Lavaque and his son, Francisco, are combining more than 130 years of tradition in the winemaking process with firm values and innovation, the company says.
The fifth generation continues to focus on the family tradition of producing excellent wines. Each wine has a unique character that reflects the land from which it came. Pampa Beverages has won a number of awards for its products from various competitions and publications. Wine critic Tim Atkin recently awarded 91 points to both its Quara Estate Torrontes and Quara Special Selection Malbec.
Streamlined Supply
Pampa Beverages imports wines from all three Lavaque Family Wines wineries for its network of wholesale distributors. The company prides itself on maintaining successful relationships with its distributors and retailers.
Pampa Beverages describes itself as a recognized value-added partner because it can offer its products at a much more competitive cost than wineries that rely on third-party importers. As a licensed U.S. importer, Pampa Beverages is vertically integrated, which allows it to achieve better costs because the company owns its products from Argentina, operates its own warehouse in Miami and deploys efficient logistics.
More volume means Pampa Beverages can ship full containers of product directly from the winery to the distributor, avoiding the added step of stopping in the company's warehouse. Being a winery direct importer allows the company to avoid added transportation costs in the United States, and extend that savings on to its distributors and retailers. "We have strong retailer partners due to the fact we're the winery and importer all in one," Long adds. "We have a strong logistics system with distributor partners nationwide."
Although typically difficult for smaller importers, Pampa Beverages has developed relationships with retailers across the country, including Publix, Giant and Harris Teeter, and it is always adding more accounts.
Pampa Beverages has found that more retailers want to have their own "control labels" or exclusive brands. The company does promote its core brands, but tries to tailor to the retailers' needs and come up with solutions. Pampa Beverages has the ability to adjust the style of the wines with its winemakers to achieve exactly what larger chains want. The company supplies the control label to some accounts that also take Pampa Beverages' core brand. The company says it's a win-win situation.
Staying on Track
Many U.S. and South American retailers and wholesalers have made Pampa Beverages their permanent vendor. The company is responsible for the entire process of sourcing international products whether it's the company brand or private label. By overseeing the supply chain, Pampa Beverages enables its clients to focus on generating value at their stores.
Pampa Beverages has made supply chain synchronization a major focus. "Pampa Beverages' state-of-the-art software plays a key role in keeping track of thousands of containers, inventories and deliveries to hundreds of end points," the company says.
The company's divisions manage a complex network of land, water and rail shipments, synchronizing each step of the chain to deliver orders right on time at any designated place throughout the United States, South America, Central America, China and the Caribbean.
A Recognized Partner
Long joined Pampa Beverages earlier this year after 14 years in the wine industry. "I saw it as an opportunity to grow personally and professionally, and make this company grow," he says.
Pampa Beverages recently hired a brand manager who will focus on further developing its brands in Florida, Virginia, North Carolina and Georgia. The company continuously looks to add new members to its team, especially on its sales team because it wants to grow not only with the chains, but also with independents.
Pampa Beverages is always focused on the achieving the next level by developing relationships with key accounts. Long says he predicts a strong future for Pampa Beverages and the company is already a recognized partner for several retailers that want unique wines for control labels. Although larger companies can supply volume, "They won't be able to supply the style of wines, the quality and uniqueness we offer," he adds.