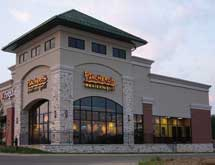 After 17 years, Panchero's Mexican Grill has gained a loyal following for its fresh pressed tortillas, President Rodney Anderson says. "When you start with a fresh tortilla, there's nothing better," he says. "We press [a tortilla] for each and every customer, and each and every order."
Anderson co-founded the Mexican restaurant concept in 1992, which originally started in college towns as a Chicago-style taqueria. After six years of business, "We [decided we] wanted to do things differently," he recalls, explaining that Panchero's wanted to adopt a more upscale format.
Today, Panchero's has 55 locations in 17 states that serve burritos, tacos, salads and quesadillas. The company provides a consistent level of service, Anderson says. "We designed everything in a way [so] that the employees can execute it every day and make the customers happy," he says.
Anderson notes that Panchero's most popular item today is its burrito. "Almost half the people that come [into Panchero's] order burritos," he says. "That's because we put so much effort into them."
When Panchero's presses the shell of each burrito, "It makes the burrito seal itself up at the end," he says. "You don't need a knife and a fork to eat it; the moisture in the tortilla seals that so well."
Important Knowledge
Anderson co-founded Panchero's after graduating from the University of Chicago with a master's degree in finance. "Two months and two days after graduation, we were open for business," he recalls, but admits that he did not have any previous experience in the restaurant industry.
However, despite his inexperience, Anderson did not find it to be challenging to adapt to the industry. "I realized [during] my first day in the restaurant [that] nothing mattered but taking care of the customer," he recalls, noting that this philosophy helped him adapt.
After all these years, Anderson says he has enjoyed making Panchero's a success and learning more about the restaurant industry. "I think it's very important in this business to know what you're doing before you franchise," he says, adding that the company did not open its first franchise location until 2003.
Today, Panchero's has 37 franchise restaurants. As he has recruited each franchisee, Anderson says he has looked for people who "understand the business" and strive to maintain high standards with their staff. "We really put that point to people and see how they respond when we're interviewing them," he says.
In addition, when constructing new franchise locations, Anderson says Panchero's excels at such aspects as site selection, design and construction. "We are efficient to the point where we build a really impressive restaurant at an affordable investment level," he says.
Panchero's Goal
With the economic downturn, Panchero's has found it challenging to find financing for franchises. But recently, "The interest in franchising has started to grow," Anderson says. "Hopefully, we're coming out of this recession and the financing will be there."
Although Panchero's will open fewer franchises than normal this year, there's more scheduled to open next year, Anderson says. He predicts that the company will have up to 65 locations by the end of 2011. Eventually, Anderson wants Panchero's to grow to a rate where it opens 20 to 30 locations annually.