Panola Pepper Co. wasn't founded on lofty ideas of creating a Louisiana-style hot sauce empire, but if that is what comes of the family owned and operated company, it will surely take it. To Panola Pepper, new business is an opportunity to employ another one of Lake Providence, La.'s residents.
Grady "Bubber" Brown, a farmer at heart, was torn at the end of each year's harvest, knowing he would have to send his employees home for the winter. With the motivation to fulfill his employees' desire for year-round employment, in 1983, Bubber cooked large batches of his mother's time-honored secret recipe for Panola Gourmet Pepper Sauce. At his own expense, he paid his farm workers to make and store the first batch. It was a quick hit, and turned into a year-round  and growing operation.
"Panola Pepper is truly an American manufacturing company, in a very rural part of Louisiana that's very impoverished and has history unemployment," says Mike Coullard, president, CEO and also son-in-law of the company's founder. "We have expanded from one sauce to over 30 different products. We also do a lot of private-label and co-packing, which is 85 to 90 percent of our business. Both aspects of the business have allowed us to hire more people in our community. We now have 40 full-time, year-round employees, and we're automated just enough to remain competitive while staying true to our culture, and that is providing employment."
Prime Products
Panola Pepper has continued to grow year-over-year with branded and private-label products. In its 150,000-square-foot facility, the company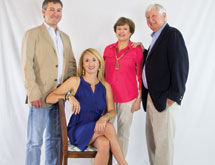 can run 180 bottles per minute on each of its three production lines. Between its cookers, fillers and mixing tanks, it can produce a range of products, including its signature hot sauces, BBQ sauces, wing sauces and marinades,Worcestershire and soy sauces, flavored mustards, stuffed olives and pickles, rice and other products.
When it comes to its private-label and co-packing business, which makes up the bulk of its revenue, Panola Pepper has worked with well-known names such as Goya Foods, for which it packs six SKUs, and up-and-comers in the business such as Slap Ya Mama and Musashi Foods. Musashi Foods was recently featured in the Huffington Post and USA Today for its green sriracha sauce and Japanese spicy mayo.
Panola Pepper also creates non-labeled bottles of its proprietary products for promotional items.
Brand-Building
In the other half of its business – branded products – Panola Pepper continues to grow its customer base via brick-and-mortar retailers and its e-commerce site. Coullard says growing brand awareness for Panola Pepper has been aided by a renewed interest in all things Louisiana.
"With shows like 'Duck Dynasty' and  other culturally focused themes coming out of Louisiana, things in Louisiana are really hot – no pun intended," Coullard says. "There is a growing interest in people wanting to try something truly made in Louisiana, and traditional Louisiana sauces."
Panola Pepper has been able to ride this wave to get more shelf space in grocery stores. Its products are available in retailers such as Fred's Super Dollar and Rouses Supermarkets. In May, the brand will launch in Kroger stores throughout the Midwest. It is also ironing out details on a deal to have its BBQ sauces available in military commissaries and food pavilions domestically and internationally. The military account would add another production line to the business and three or four new employees. Also, Walmart, which has carried a variety of its products for the past 15 years, is bringing more of Panola Pepper's items on board.
"There are about 200 [Walmarts] that have a Cajun food section," Coullard says. "Walmart is really excited about our company and this is the way they have outlined to introduce our product to more consumers. They want to start in the Cajun section and as we gain brand recognition, we will grow into the traditional sauce sections throughout Walmart."
For the past few years, Coullard says Panola Pepper's branded products have grown 10 percent year over year. The growth has been fairly equally matched by its private-label and co-packing division. Last year, the company grew 20 percent overall. Coullard says the company is definitely benefitting from a change in tastes as younger generations move toward more flavorful foods.
"When you see someone like McDonald's has a habanero sauce sandwich or Subway has a chicken sriracha sandwich, you know the public is more attuned to spicier heat levels," Coullard explains. "We've really noticed that greater heat levels are becoming more mainstream."