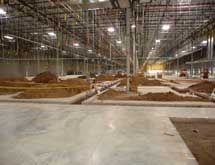 Papa John's Salads & Produce Inc.
More than 75 percent of consumers believe a fresh-food deli is an important feature in a grocery store, according to the National Grocers Association 2009 National Consumer Panel Survey. The same report shows 86 percent of consumers believe quality fruits and vegetables are "very important," and nearly 40 percent of consumers want stores to offer more fresh-made foods and gourmet items. It was about 15 years ago that Kevin S. Jones decided high-quality fruits and vegetables and fresh ready-made products would be the basis of his business.
As the owner of Papa John's Salads & Produce Inc., Jones supplies grocery store customers with high-quality fruits and vegetables, deli salads and various specialty items. The company has a new facility in the works, which will allow it to supply ready-to-go meals. In a recent conversation with Food and Drink, Jones explained how a focus on service is driving the company's expansion plans.
Food and Drink: How did Papa John's Salads & Produce get started?
Kevin S. Jones: I am from Omaha [Neb.] and was in a similar business with my father. After he sold the business to pursue other interests, I moved to Arizona and purchased Papa John's Salads & Produce. I decided to revamp it from the ground up.
My background had been in this sort of business for 15 years prior to purchasing Papa John's, but Arizona was a new territory for me. However, the prospect of a warm climate seemed a perfect opportunity to build a business around the kinds of products that could be consumed year round. I decided to take the challenge. I got here and realized there was a strong customer base for me to build upon. From my experience, I knew quality and service were the most important aspects of a business like this.
FAD: How did you demonstrate quality and service?
KJ: Well, before I could even manufacture quality products and deliver great service, I had to determine what kinds of products consumers really wanted. To gain the perspective I knew was required, I spent a great deal of time talking to many people. I soon realized that the main thing the market wanted was fresh-cut fruit and vegetables, as well as some basic deli items like potato salad. I really felt that these basic quality products and great service were missing in the market.
After we had developed our core products and were successful in their turnkey distribution, we began to build our product selection. We offered items such as twice-baked potatoes, dips, deviled eggs and desserts like strawberry shortcake. Our products gave the customer a choice in making a purchase that looked and tasted homemade without all of the fuss.
Our goal was to take care of my customers from start to finish. Papa John's customer service employees would call stores individually for their orders. Products were made fresh daily and delivered directly to the stores. We have our own trucks, which helped me control delivery times; we were able to ensure a turnaround time of less than 18 hours from the order. Not many people do direct store delivery, but we think that it is an important component of great service.
FAD: Did you develop a specialty in your product offering?
KJ: Papa John's became known for supplying everything in the perishable market, such as individually packaged chunked fruit and vegetables, fruit and vegetable party trays, kabobs and stir-fry blends. We have developed unique deli salads, cheese balls, eggs and sandwiches. We supply individual servings of desserts, quick-snack packs and lunch box products.
Our diverse line of products allows us to be our customers' own personal commissary. A customer can call us and request a certain product, and we will develop it for them. In addition, because we have our own trucks, we can serve several departments in a grocery store. That is good for my customers and great for Papa John's.
FAD: What is the geographic footprint of your business?
KJ: I started in the Phoenix area but now have expanded to cover most of the West Coast. This includes Wyoming, Nevada, Utah, Montana, Colorado, New Mexico, Arizona and parts of California. We cover the area west of Denver.
FAD: Aren't you also working to expand your operations with a new facility?
KJ: We are building a new facility; it is a planned move to give us more space and will be ready by September of this year. The focus with the new facility is to be USDA-certified, which will allow us to add new dimensions to our product line. Our current facility is FDA-certified only, but with USDA licensing, we can add meats to our product selection. We don't have the space for that now. Our goal is not to expand geographically too much. We can't expand much farther and maintain the same level of quality and freshness.
Our plan is to focus on meals-to-go programs. We want to supply quality meals for families, such as complete turkey dinners at Thanksgiving, meatloaf with mashed potatoes and gravy, and side dishes of steamed or grilled vegetables. We also have plans to develop the breakfast market with burrito, bagel and croissant sandwiches. Our new plant will provide us with the opportunity to manufacture specialty party trays with wings, meatballs and more. However, we will always continue to do what we've done in the past with our fresh produce products and deli salads. We have about 48,000 square feet of space right now, but the new facility will give us 203,000 square feet of space.
FAD: Is the addition of a meals-to-go program a response to market demand?
KJ: Yes, meals-to-go is big right now. Busy customers want an alternative to drive-thru takeout. We can supply fresh, ready-to-eat meals that are nutritious and taste homemade. We want to help our customers by supplying them with these quality products, where they can be purchased as the customer does his/her grocery shopping.
Much of our menu is seasonal – wrapped corn-on-the-cob is big in the late spring and summer. We supply many items that a grocery store can't keep up with – we try to be an extension of their own operations. Our customers want to provide their customers with product options that reflect their standard of quality. We can eliminate the overhead a store would have to incur, were they to process them in-house. We can guarantee stores a quality product at a fair price that they can manage with little to no shrink.
I am old-fashioned in how I want to run my business. I really like starting out a relationship with a handshake that means something. I'm not teaming up with a customer just to get a couple of dollars in sales – I want a lifetime partner. We want to take care of all of our customers' needs. We want to help them respond to their needs of today and be there to develop and execute their needs of tomorrow. Everyone knows that in order to succeed, no is never the answer. Nevertheless, to Papa John's, that is truly our creed. We vow to always maintain a can-do and innovative approach to all of our customers' requests.
FAD: How do you maintain an employee culture that remains focused on quality and service?
KJ: To maintain a high level of quality, we have a comprehensive food safety program. We are very focused on food safety – that is always our first concern. We believe quality is No. 1, and you need food safety to deliver quality.