Guilt-free snacking without compromise
ParmCrisps has seen success with its Original oneingredient cheese crisp since 2016; now the company extends its' lowcarb, high protein snack solutions with a successful Snack Mix range
A staple of charcuterie boards and lunch-boxes across the nation, ParmCrisps'products are known for their distinct flavor, simple goodness and diet friendly ingredients. The artisan crisp company is currently under the direction of Chief Executive Officer Samuel Kestenbaum, and the That's How We Roll brand. Through its efforts to pioneer simplified, better-for-you snack alternatives, the company has been able to partner with nationwide retailers, including Kroger, Amazon, Whole Foods and others, in order to distribute its diverse range across the whole of the US.
Falling under the umbrella of That's How We Roll's branding means that ParmCrisps joins Thinsters in the brand's over-arching mission to make the world healthier and tastier. That's How We Roll's parent company, Better For You Holdings, has established itself through the development and growth of delicious, on-trend products, which are composed of simple, well-known (and well-loved) ingredients. ParmCrisps has become an integral part of that mission, and its efforts certainly have not been in vain, as its products are now featured in the Safe Snack Guide.
Emerging from trends in the food market that demanded more transparent food items without an abundance of artificial flavors and chemicals, ParmCrisps has seen success with its dialed back single-ingredient approach. Made from 100 percent premium-aged Parmesan cheese, the crisps are oven baked to ensure the perfect crunch. A serving of original ParmCrisps contains a minimum seven grams of protein, and zero carbohydrates.
Flavor sensations
The Parmesan used in ParmCrisps is sourced locally around the US, and baked in small batches to ensure stringent quality control. The crisps are then seasoned with a special selection of all-natural spices for peak flavor, before being distributed and sold in a number of outlets across the country.
As a clean food alternative, ParmCrisps are safe for anyone on ketogenic or vegetarian diets, as well as any customers with gluten-free requirements. It is clear that stripping back on unnecessarily complex ingredient lists, and high sugar content, has spelled success for ParmCrisps, as the company has seen triple digit growth since its founding and is currently the category leader.
ParmCrisps has since diversified its original cheese crisp into a vibrant array of products. The 100 percent cheese crackers are now available as a 'snack pack', made of six individually wrapped packets for easy portion control, as well as a family pack that is made for at-home sharing. There are also a handful of new flavors, including the crunchy-with-a-kick Jalapeno, the authentic four cheese, and a savory Sour Cream & Onion flavor. Even as its product range grows, ParmCrisps has remained true to its original mission by ensuring that all crisps deliver healthy snacking solutions with low carbs, high protein, and without additional sugar.
The ParmCrisps range does not end there, either. ParmCrisps are also available in a 3oz tub, which include a larger crisp size that are perfect for entertaining as part of a charcuterie board, as a carrier for dips or any other pairings with the delicious flavors of Parmesan, Everything,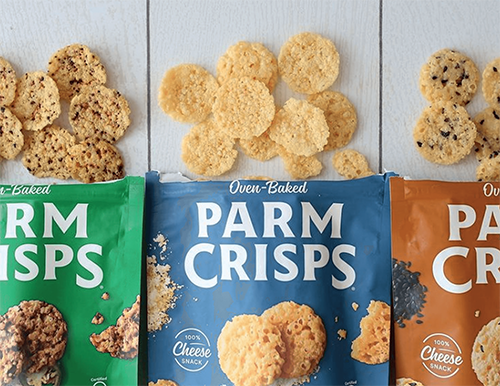 Four Cheese or Aged Cheddar. For those on-the-move, ParmCrisps also offers ready-made snack mixes, full of almonds and pistachios that are pre-mixed with the original ParmCrisps taste.
As a replacement for traditional carb-filled snacks, ParmCrisps is not only a healthy alternative, but one that satisfies consumer cravings for a crunchy crisp, full of mouthwatering flavor. A quick look at the ParmCrisps website can provide a wealth of snack inspiration, as the company showcases the numerous ways in which its product can help satisfy those snack cravings, whether paired with your favorite dips, a glass of wine or straight of the bag. It appears the options are limitless and that ParmCrisps will elevate any eating occasion.
New range
As the ParmCrisps brand promotes healthy snacking, and unlocks the possibilities of a creative diet, it has also been swept up in the latest entertaining trend: charcuterie boards. Browsing ParmCrisps' Instagram and Twitter, you can see and hear the voices of satisfied customers who have used ParmCrisps as a core component of their lavish meat, cheese and fruit grazing boards. The end products look delicious, and inspire a new, communal way of eating that seems to work hand-in-hand with the fact that these boards are made up almost exclusively of single-ingredient food items.
It appears we are in the midst of a whole-food movement, and ParmCrisps are providing the crunch at its core.
Having already proven that it can meet the needs of dynamic and emerging trends in the food market, ParmCrisps continues to deliver healthier alternatives with its new Snack Mix range. Available in three flavors, including Original, Ranch, and Smoky Barbeque, ParmCrisps' new Snack Mix combines the simple, yet crave-worthy ingredients of ParmCrisps and premium dry roasted nuts. ParmCrisps Snack Mix delivers satisfaction and nutrition, with high protein and low net carbs, without sacrificing taste.
The success of ParmCrisps and its recently released Snack Mix range is bolstered by the company's strong industry partnerships, not least with Whole Foods and its parent company, Amazon. With the strong logistics infrastructure of these two entities behind it, ParmCrisps has been able to expand its reach, and in turn its customer base. In addition, the company has recently partnered with Bread and Butter Wines, to provide its customers with luxury night-in deals.
It is clear that ParmCrisps is a company with its finger on the pulse. With a millennial-age CEO at the helm, the company is able to anticipate the needs and desires of a younger, emerging generation, who have grown up with food obscurity and want to take their diet back to basics. With the continued success of ParmCrisps originals and the new Snack Mix range alike, it is comforting to know that there are genuinely transparent food alternatives out there that do not compromise on taste. D
www.parmcrisps.com