PARS Group/Northwest Food Management Group aligns itself for continued success by focusing on being a good employer, business partner and community steward.
PARS Group LLC/Northwest Food Management Group founders Paul Urbina and Reza Khajavi make every decision with the long-term success of its Jack in the Box franchise in mind. "We signed a 20-year franchise agreement, so we are basically married to Jack in the Box and feel very blessed to be," says Urbina, co-founder and vice president of operations. "We focus on investing in our people, growing sales and being the best business partner for years to come."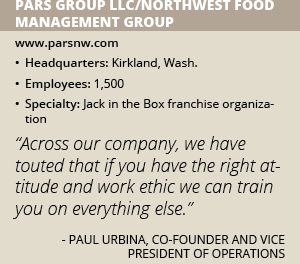 Urbina and Khajavi were both corporate employees at Jack in the Box and have 45 years of combined experience in the industry. Jack in the Box began to franchise heavily and the pair in 2010 decided to begin making purchases. "We developed two on our own and purchased 65 corporate locations – the last restaurant we purchased in 2012," Urbina remembers. "We operate 67 locations from Des Moines, Wash., to Canada."
Founded in 1951, Jack in the Box is among the nation's leading fast-food hamburger chains with more than 2,200 quick-serve restaurants in 21 states and Guam. The company emphasizes on-the-go convenience with about 85 percent of the half-billion guests served annually buying food at the drive-thru or for take-out. Most restaurants have indoor dining areas and are open 18 to 24 hours a day. "Today, Jack in the Box offers a selection of distinctive, innovative products targeted at the fast-food consumer, including hamburgers, specialty sandwiches, salads and real ice cream shakes," the company says.
Although Jack in the Box has plenty to choose from on its menu, hamburgers represent the core of the menu including its signature Jump Jack®, Sourdough Jack®, Ultimate Cheeseburger and Buttery Jack™ burgers. Also popular among its customers are Jack's Deals, which include value-priced products like tacos, chicken nuggets, a chicken sandwich and junior bacon cheeseburger.
Urbina and Khajavi experienced Jack in the Box's dedication to its products, employees and customers, which is why they decided to franchise. "It was the best opportunity for Reza and I," Urbina says. "We had the experience with the brand and corporate already, and we thought that would be a good recipe for success. We know what goes on top to bottom, were consultants to franchisees in the past and we are the definition of brand ambassadors. Jack in the Box has an old-fashioned, traditional way of doing business and we really appreciate that."
Staying Competitive
PARS Group LLC/Northwest Food Management Group is listed as No. 2 in the Seattle area marketshare, coming in behind McDonald's. "We are in a fairly saturated market and we want our existing location base to increase sales and marketshare," Urbina says. "We are a great distance behind McDonald's, but we are slowly taking from them and our other competitors."
The way to convert customers from its competitors has a lot to do with the quality employees Jack in the Box hires. "Our labor challenges are no different than anyone else in our industry or within the Seattle market," Urbina explains. "The challenge we have is to work harder at recruiting. Across our company, we have touted that if you have the right attitude and work ethic we can train you on everything else. We want a positive attitude, someone who is friendly, interactive and approachable."
Joining the PARS Group LLC/Northwest Food Management Group results in health benefits, a best-in-class bonus program and competitive compensation. "In Seattle, we are working our way up to $15 minimum wage and we see smaller franchisees staring to go out of business," Urbina says. "We have a competitive advantage because of the size we are and that we are doing business in so many cities the increase doesn't hinder us. It helps us gain marketshare and bear some of the market changes."
The Right Tools
New employees attend orientation where store managers and district managers provide training and ensure every employee knows they are valued. Both Urbina and Khajavi's cell phone numbers are given to every employee so they know PARS Group LLC/Northwest Food Management Group has an open-door policy. "We are operating 67 locations and this business is 24/7, but employees are never left without assistance," Urbina says.
PARS Group LLC/Northwest Food Management Group prides itself on promoting from within. For example, 95 percent of its restaurant managers worked their way up from being a crew member. "That has been a successful approach for us," Urbina says. "We identify team leaders and work with them to get them up to the restaurant management level. Our company is only six years old and we started identifying those were diamonds in the rough."
In addition to the seven district managers visiting stores in their territory on a regular basis, Urbina schedules visits to every location once a quarter. "I like to check in, talk with the guests and a lot of my interviews or meetings I hold in the restaurants," he says. "There's nothing like being on the ground and seeing what's going on."
In addition to the right personnel, PARS Group LLC/Northwest Food Management Group is performing a number of equipment upgrades over the next couple of years in all of its locations. "We are implementing a new POS system, a lot of new kitchen equipment that is more environmentally friendly with energy savings and upgrading our holding system," Urbina says. "After we cook the food, we have updated our system so the food is hotter and fresher for the guests."
Because the company is only six years old, reimaging its locations is not yet on the company's radar. Urbina says that cycle usually happens every seven to eight years. "We work very hard to maintain our facilities from a guest perspective," he adds. "We have a full-time building maintenance team that travels to take care of carpet, broken glass or anything else to ensure our guests feel welcome."
Getting Involved
PARS Group LLC/Northwest Food Management Group is focusing more on community involvement and reaching out to invite more guests into its locations. The company sponsors the Seattle Mariners and Seahawks and participates in charitable events with the teams. "With the Mariners we partner with them and Seattle Children's Hospital on a cancer research program," Urbina says. "We sell $1 Mariner's decals and all the proceeds go to the hospital. We raised $35,000 last year and $50,000 this year. We are working on matching program to double that."
The company sponsors the Richard Sherman Celebrity Softball Tournament that raises support and awareness for charitable causes. A portion of the proceeds go to the Richard Sherman's Blanket Coverage Family Foundation. PARS Group LLC/Northwest Food Management Group donated $20,000 and raised another $60,000 in auction items. "We are getting involved in the local communities and put a five-year market on more community involvement," Urbina says. "It feels good that we are on the right track and consistently reaching out to the community."