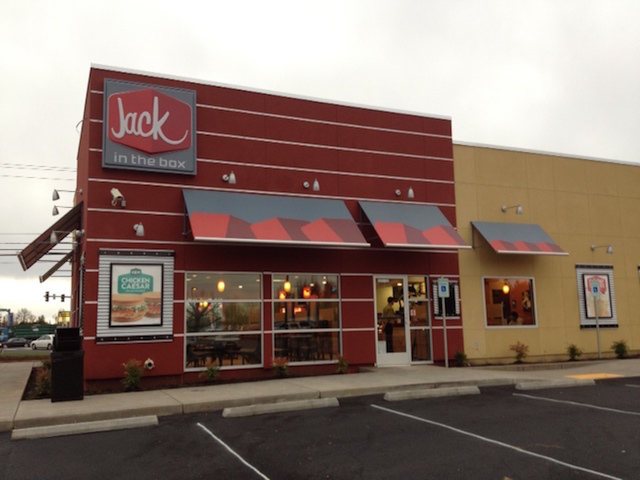 PARS Group/Northwest Food Management Group
PARS Group makes sure to stay current with the market at its Jack in the Box locations.
After eight years, PARS Group LLC/Northwest Food Management Group thrives by staying nimble and flexible. This allows the company to keep up "with the current market," Vice President of Operations Paul Urbina says.
Urbina and partner Reza Khajavi founded the Kirkland, Wash.-based PARS in 2010, after working as corporate employees for Jack in the Box Inc., one of the nation's leading hamburger chains. When the company started franchising, the two began making purchases.
Since then, PARS has grown to own and operate 67 Jack in the Box locations. "We've felt really good about what we've done in the eight years we've been here in the state of Washington," Urbina says, noting that it holds the No. 2 share of the Northwest market.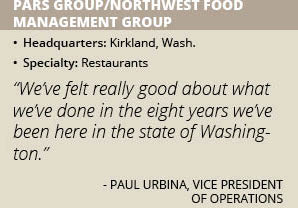 PARS has earned this status partially through brand recognition of Jack in the Box, which has upwards of 160 locations in Washington. "We've been here a long time," he says.
Another factor has been the long-term approach it not only takes to serving its guests, but also dealing with its employees. "We have an office staff here that's solely responsible for supporting our field operations," Urbina says.
The team handles everything from payroll to human resources issues. "The office does an outstanding job of treating the field [staff] like they're customers," he says.
Brand Pride
As a former corporate employee of Jack in the Box, Urbina has enjoyed his time as a franchisee. "It's been awesome," he raves. "Jack in the Box is a great franchisor and brand.
"I just feel blessed to have the opportunity," Urbina continues. "It's been a great ride and I definitely believe in the brand."
Jack in the Box, he notes, is currently updating the look of its locations with an exterior remodeling program. "It's something that brand is working on with all of the franchisees," he says. "We've tried to jump on top of it."
These renovations will give PARS' locations a brand, new contemporary look that will help them keep pace with the market. "There's going to be new, upgraded LED lighting and all new landscaping," Urbina describes.
The locations also will feature different color schemes. "The exterior of the building looks completely different," he says. "It almost looks like a scrap and rebuild."
Community Commitment
Urbina takes pride in PARS' contributions to its community. The company largely focuses on giving to the Seattle Children's Hospital, March of Dimes, No Kid Hungry and Big Brothers Big Sisters of America.
PARS regularly makes contributions to quarterly fundraisers that the organizations hold. These can range from providing lunch for events or small items that can be sold to collect donations for the organizations.
Currently, PARS is selling rubber bracelets for $1 that will benefit March of Dimes. "Our company will match the sales to meet the commitment," Urbina says.
Holding Steady
PARS is coping with changes in its industry, including consumers' increased appetite for chicken. "What we've noticed is Chick-fil-A has had an incredible amount of success coming into the market," Urbina says.
"There appears to be more of an interest in chicken than we previously thought," he says, noting that Jack in the Box has some chicken options, but will consider adding more.
The company also is adjusting to the most recent minimum wage hike. However, "We're all for it and we want to be taking care of our employees," he asserts.
He sees a strong future for PARS, which will keep holding steady during market changes and continue with Jack in the Box. Although the company has a 20-year franchise agreement with the chain, "We don't intend to stop at the 20-year mark," he asserts.