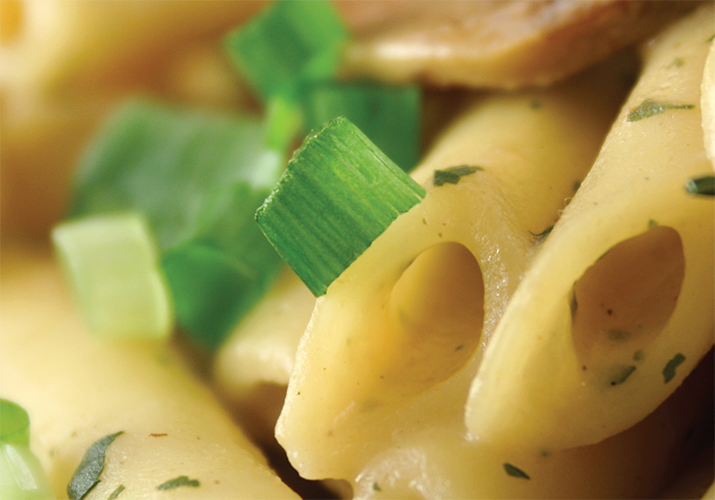 Pasta perfection
Pasta Foods supplies a range of pastas and snack pellets to major customers in the food processing industry
Pasta Foods is one of the world's leading manufacturers of snack pellets used in the production of savoury snacks, and is the UK's leading dry pasta producer. The company, which has been operating in Great Yarmouth for more than 40 years, offers extruded snack pellets, Pasta Rapido – an instant dried pasta that only requires rehydrating, dry pasta for food processing, and semolina milled from durum wheat.
Mark Husband, sales director at Pasta Foods elaborates on the company's current operations: "The business is an industrial ingredient supplier that manufactures three products, or manufactures within three product categories. Firstly, we produce pasta for the food processing industry, which is used in a number of applications by some of the best know brands on the market. We make a vast range of pastas that are used in a number of applications, such as ready meals, dried pasta meals, canned pasta products and salads.
"We offer numerous varieties of pasta, including low moisture, high temperature, and salad stable pastas," says Mark. "We also produce Pasta Rapido, a pasta that will rehydrate in as little as 20 minutes even in cold water, and if cooked in boiling water will cook in as little as two minutes. This particular range is extremely useful and can be used in a number of applications, including cold salad production where heat must be avoided in the production area."
Moving on, Mark elaborates on the company's other product areas: "We also produce snack pellets, which are used for nearly all savoury snacks. We manufacture the snack pellets using similar technology as the pasta production, but we use a whole different range of materials to produce them, including maize, peas,
potatoes, wheat, rice, and pulses such as lentils. Lastly, our third product category is semolina. We are net importers of durum wheat, which is the only wheat that can be used to make high quality pasta. Semolina is made by milling the durum wheat, and this is also sold on to the food processing market."
As sales director, Mark is responsible for expanding Pasta Foods' already impressive customer base: "In terms of total sales, we export around 40 per cent of our business, although within the snack category it is probably nearer to 80 per cent. Our biggest market is in the Benelux region where some of the products that we export are brand leaders in their particular sectors. One of the reasons for my appointment 18 months ago was to extend our business further afield. I have already travelled as far as Korea, Thailand, Australia, Scandinavia, and Spain, and we have just entered the Romanian and Polish markets, which are proving to be very good for us."
He elaborates: "We have accelerated our business in snack pellets by around 15 per cent during 2007, and we have signed seven new contracts. Product development, and continuous innovation are very important factors in winning new contracts. We receive around six new product enquiries each week, with customers typically coming to us looking for a maize-based product with very specific characteristics such as colour, texture, or flavour, and we are nearly always able to do this. In Romania and Poland we have already launched four products, and we are looking to launch another three inside the next nine months."
Pasta Food takes healthy eating, and the quality of its products, very seriously: "The real challenge in the savoury snack industry is the consumers' awareness of the health matters attached to such products. It is an indulgent market and consumers understand that they are eating something that has a higher than average oil content, and may well contain higher levels of salt. However, we have completed an awful lot of work to try and improve the health profile of our products. Very often the industry uses oils that do not contain saturated fat, and we do not use trans-fats in our products. There are two key objectives that we aim to achieve – to reduce the fat content and salt levels of the products, whilst maintaining the flavour and the enjoyment that they deliver."
The business employs a number of manufacturing and processing methods to achieve these results: "Traditionally crisps and savoury snack products are deep fried and seasoned with flavourings that contain salt. However, there is an alternative process that can be used called hot air expansion. Instead of deep-frying the products are dropped into a machine that has a high-temperature flow of air, which expands the snack pellet to twice the original size, making it highly consumable, but using no oil or frying. The process is relatively new to the snack business, but I believe that as consumers continue to be interested in health and diet it will continue to grow, which means that we need to continue to invest to remain at the forefront of new technology."
Looking to the future, Mark believes that securing highquality raw materials will pose the biggest challenge: "There is a large pressure on supply at present, which means that the prices have increased. We buy a number of materials, but predominantly we use potato and wheat based products, both of which have experienced price increases of more than 50 per cent. The price of wheat has increased by almost 70 per cent in the last year, and some potato products have risen by almost 60 per cent, and I really don't see these prices softening for at least a good couple of years.
"Despite this we have an aggressive plan for growth based on how the needs of the consumers develop. I am very confident that we produce very high quality products,
very efficiently, which offer an indulgent experience. We will continue to expand further, whilst concentrating on improving our quality and the healthiness of our products so that they continue to be appealing to our consumers," Mark concludes.